After a tumultuous season that had seen them negotiate a myriad of different obstacles, the Washington Football Team became only the third team in NFL history to win a division with a losing record as it clinched a first playoff spot since 2015.
Washington defeated the Philadelphia Eagles 20-14 on the road on Sunday Night Football to finish top of the NFC East with a 7-9 record and becoming only the third team after the Seattle Seahawks in 2010 and the Carolina Panthers in 2014 to win a division title after finishing the regular season with a record below .500— excluding seasons that were shortened by strikes or lockouts.
By comparison, each of the other seven division winners all won at least 11 games this season and with the exception of the Chicago Bears five of the six wild card teams all won at least 10 games.
The reward for Washington is a date with the Tampa Bay Buccaneers, who will visit the nation's capital on Saturday night in the NFC Wild Card round. Facing Tom Brady in the playoffs is a prospect few teams have relished over the last two decades, but there are positive omens for Washington.
The Bucs were Washington's opponents when the WFT last won a playoff game in 2005—Washington won 17-10 in Tampa Bay in the Wild Card round—and both Seattle and Carolina won their first playoff game despite entering the postseason with a losing record.
The Seahawks went 7-9 in 2010 and defeated the New Orleans Saints 41-36 before losing in Chicago 35-24 in the divisional round, while the 7-8-1 Panthers beat the Arizona Cardinals 27-16 and then lost 31-17 in Seattle.
Furthermore, current Washington head coach Ron Rivera was the man in charge of Carolina in 2014.
Regardless of whether Washington can upset Tampa Bay, Rivera's season has already been remarkable from a professional and personal standpoint. The 58-year-old took charge of a team that had finished 3-13 last season and that spent much of the offseason dealing with a myriad of off-field issues, from being pressured into changing its name and drop a reference to Native Americans to allegations of sexual misconduct aimed at franchise owner Dan Snyder and several former team employees.
On the field, Rivera boldly bet on Alex Smith to be his first choice quarterback as he returned from two seasons on the sidelines following a life-threatening leg injury and was not afraid to drop and subsequently cut Dwayne Haskins, the 15th overall pick of the 2019 NFL Draft.
After coming off the bench in Week 5 and Week 9, Smith was promoted to starter in Week 10 after Haskins was benched and his replacement, Kyle Allen, was injured. Washington won five of the six games Smith started and was 2-8 with anyone else under center.
Rivera dealt with all the issues while simultaneously battling a form of skin cancer he was diagnosed with earlier this season and which he successfully overcame.
"This one's special just because of how hard it was," Rivera said after WFT's 20-14 win in Philadelphia.
"How tough everything was, how it's been on the guys, the organization. There's a great group of young men in there and we're trying to do things the right way. It's really a cool thing to come out and get the division."
Washington, who will make only its sixth playoff appearance since Snyder bought the franchise in 1999, arrives in the playoffs on a remarkable run of form, which has seen it win five of its last seven regular season games.
The bookmakers have Tampa Bay as a seven-point favorite, but Washington has made a habit of defying the odds this season.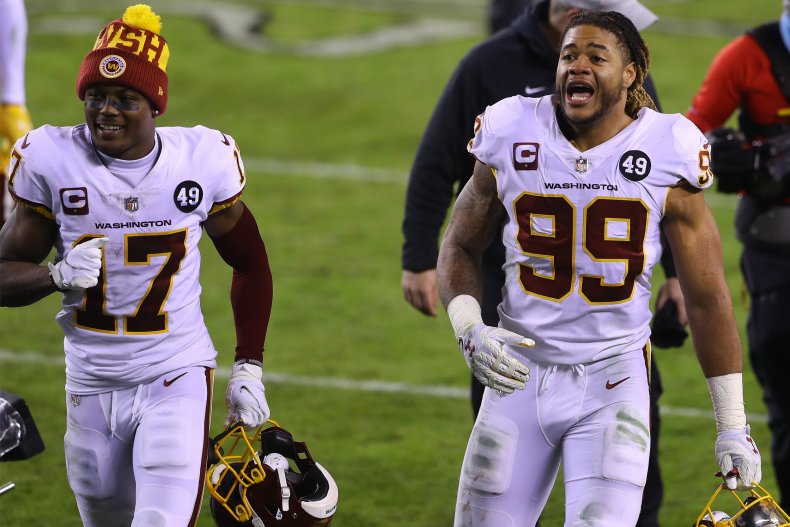 Uncommon Knowledge
Newsweek is committed to challenging conventional wisdom and finding connections in the search for common ground.
Newsweek is committed to challenging conventional wisdom and finding connections in the search for common ground.
About the writer
Dan Cancian is currently a reporter for Newsweek based in London, England. Prior to joining Newsweek in January 2018, he was a news and business reporter at International Business Times UK. Dan has also written for The Guardian and The Observer.