Watch: Anderson Cooper Berates Donald Trump for Playing Golf, Tweeting During Florida Shooting Victims' Funerals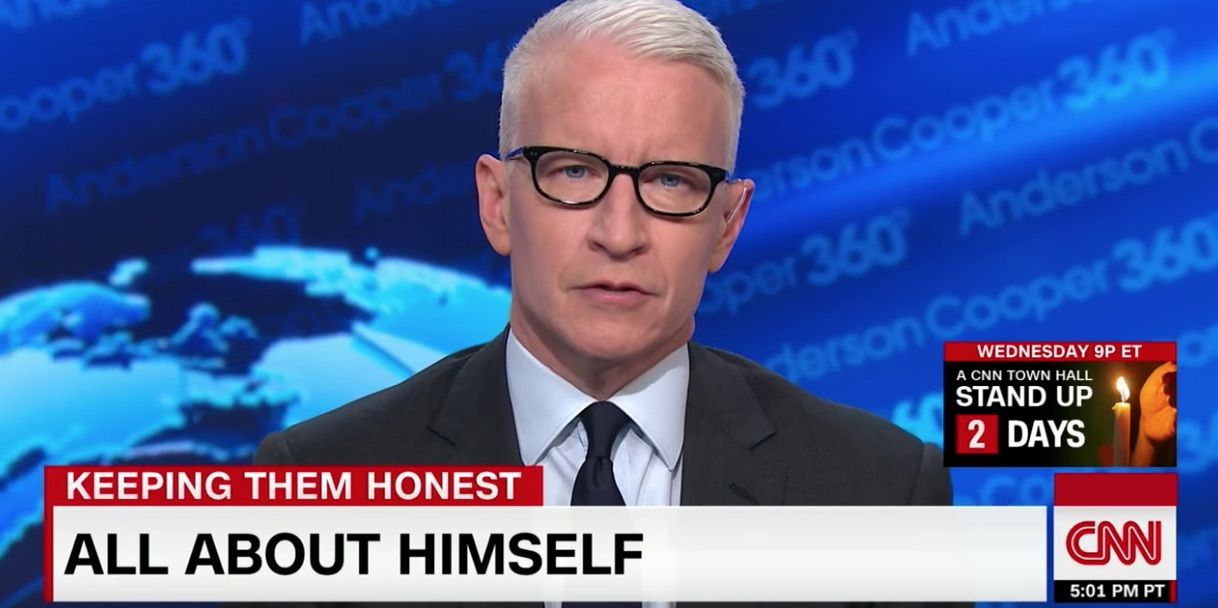 CNN's Anderson Cooper addressed President Donald Trump's response to last week's school shooting in Florida in his trademark cynical tone Monday night. The bottom line, Cooper said, is that Trump has managed to make a tragedy that claimed 17 lives all about him.
Cooper pointed to Trump's tweets over the weekend, which directed blame at the FBI for failing to stop gunman Nikolas Cruz before the February 14 massacre at Marjory Stoneman Douglas High School. The president accused the bureau of spending "too much time" investigating Russian collusion in the 2016 presidential election.
The social media posts were made as grief-stricken families buried their dead in Florida, said Cooper.
"What all these tweets reveal is the thinking of the most powerful man in the world and his priorities," Cooper said. "And some would argue, his humanity."
A nonplussed Cooper said, "Not far from Mar-a-Lago, there were funerals today for Luke Hoyer and Alaina Petty. Two classmates will be laid to rest tomorrow and funerals continue throughout the week. The president tweeted and played golf today, a day that saw two families bury their children. He did not mention them in his tweets."
"He tweeted yesterday. Teacher Scott Beigel's funeral was yesterday. The president did not mention him either. Nor did he mention the funeral for Alyssa Alhadeff, 14 years old, when he tweeted on Friday," said Cooper in a continued verbal evisceration of Trump.
Trump "tweeted Saturday" about the shooting, Cooper said, but "not in the kind of way that would be remotely comforting to anyone."
Cooper called out Trump for his tweet about the FBI, saying it was a "pivot away from the murder of 17 people to himself."
"He made that tweet everything about himself and nothing about those 17 lives," said the CNN anchor.
Cooper concluded his segment by again reiterating that, "This morning he tweeted, 'Have a great, but very reflective, President's Day,' and then he went to play golf while they held funerals for two teenagers nearby."