Russia's Most Elite Military Units Will Be Weakened for Years: U.K.
Some of Russia's most elite military units will be weakened for years due to damage sustained during its invasion of Ukraine, according to British intelligence.
The British Ministry of Defence tweeted early Monday morning that more than one-quarter of the 120 battalion tactical groups that Russia committed to the conflict have been "rendered combat ineffective" and that the nation's most elite forces have "suffered the highest level of attrition." The 120 battalion groups represented about 65 percent of the country's ground combat strength at the start of the invasion.
The news is the latest sign that Russia has struggled to sustain momentum during the invasion. Some experts initially thought Russia could quickly take Ukraine, but after two months of fighting, Ukraine continues pushing back against Russian troops.
The ministry specifically pointed to Russia's military airborne force, the VDV, as suffering significant losses since the invasion began in late February. The ministry did not clarify how its intelligence was obtained.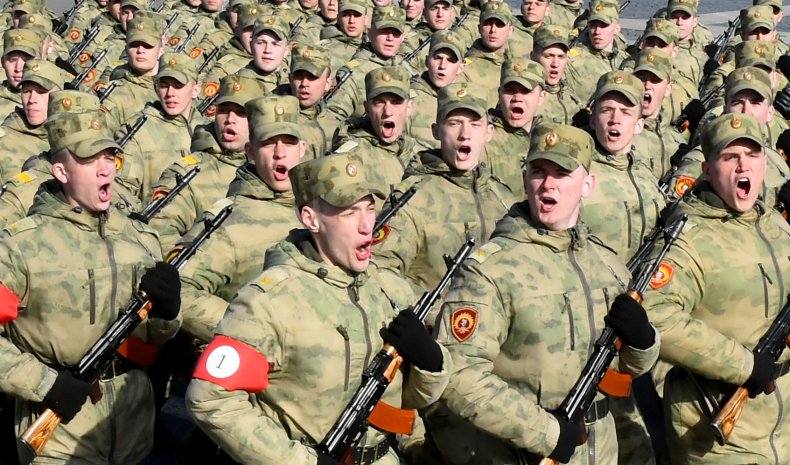 "It will probably take years for Russia to reconstitute these forces," wrote the ministry.
Ukraine's Defense Ministry claimed on Monday that Russia has suffered a loss of 23,800 troops. Ukraine also listed 1,048 tanks, 2,519 armored personnel carriers, 459 artillery systems, 194 aircraft and 84 cruise missiles among Russia's losses. In late March, NATO estimated Russia had lost between 7,000 and 15,000 troops.
Ukraine has said that up to 3,000 Ukrainian soldiers have been killed in the war, CNN reported. However, this figure has not been independently verified.
On Monday, Ukraine's Chief of General Staff Valeriy Zaluzhniy claimed that a Ukrainian drone destroyed two Russian Raptor-class patrol ships near Snake Island in the Black Sea.
Ukraine's Defense Ministry also said on Monday that Russia is "intensifying" a campaign to recruit new military volunteers to replace the number of troops it has lost since the invasion began. However, it noted that recruitment was not taking place in Moscow, Russia's largest city.
"Campaigning events are held to motivate 'volunteers' to serve. In particular, traditional Russian narratives about the 'collective West' and 'non-existent Ukraine' are repeated. Increased material security and benefits are also promised," an English translation of the message read.
There have also been recent signs of a lack of morale among both soldiers and the Russian population.
A poll released last Thursday showed that amid the significant losses, there has been a drop in support for the conflict. The poll found that 74 percent of respondents said they supported the actions of the Russian military—down from 81 percent in a poll in March.
However, as Russian losses continue mounting, the threat of Russia's use of nuclear weapons continues to rise, Senator Bob Menendez, chairman of the Senate Foreign Relations Committee, said during an appearance on Fox Newsover the weekend.
"Well, one of my concerns is that, ironically, the more success that the Ukrainians have, the greater the risk that Putin will do something because he's losing and has to save face at home," Menendez said.
Newsweek reached out to Russia's foreign ministry for comment.