A Ukrainian drone destroyed two Russian Raptor-class patrol ships near Snake Island on Monday, Ukraine's military chief said.
"Two Russian Raptor-class boats were destroyed at dawn today near Zmiinyi (Snake) Island," the Chief of General Staff Valeriy Zaluzhniy wrote on his social media channels.
Zaluzhniy posted a 17-second video that reportedly shows the moment a Ukrainian Bayraktar drone struck two Russian Raptor fast-attack craft near Snake Island, in the Black Sea, early on Monday. "#Bayraktar works," the military chief wrote, referring to the Bayraktar TB2, an unmanned combat aerial vehicle manufactured by a Turkish company that reportedly helped sink Russia's flagship cruiser Moskva on April 14.
Ukraine has bought dozens of the drones from Turkey since 2019, according to Al Jazeera.
Zaluzhniy said the drone struck two Raptor-class assault boats, which are built by Russian shipbuilder Pella. The high-speed patrol boats are capable of engaging in search-and-rescue, anti-sabotage, and anti-terrorism operations.
"Together to victory!" Zaluzhniy added.
The Russian patrol ships were reportedly destroyed near Snake Island, where Ukrainian border guards told the Russian warship Moskva to "go f**k yourself" before they were captured, and subsequently returned to Ukraine in a prisoner exchange.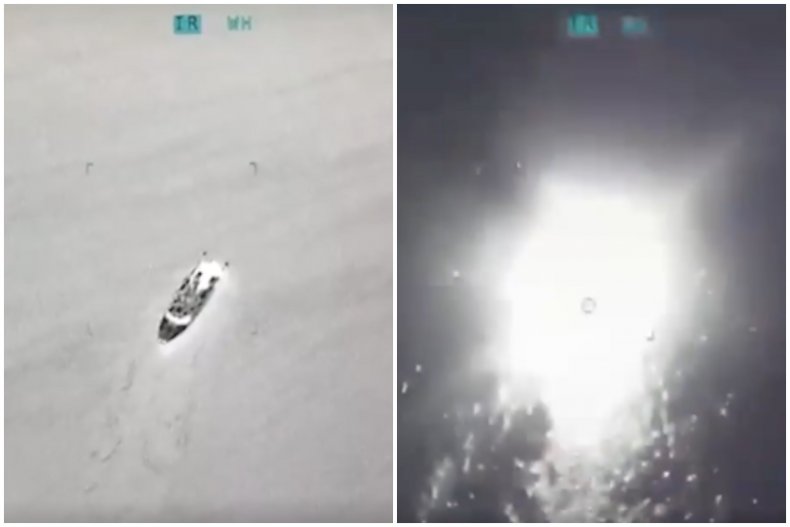 Snake Island, also known as Zmiinyi Island, is located some 30 miles off the southern tip of the Ukrainian mainland. It is of strategic importance due to its location near Romanian territory in the northwestern Black Sea.
Russian officials have yet to comment on the reports. Newsweek reached out to the Russian Ministry of Foreign Affairs for comment.
The incident comes weeks after the flagship of Russia's Black Sea Fleet sank shortly after Ukraine claimed to have dealt significant damage to the vessel with Neptune missiles.
The Middle East Eye reported that the TB2 Bayraktar was used to assist in the sinking of the Moskva.
"Ukraine's anti-ship missile Neptune has some guiding issues. A TB2 Bayraktar must have resolved it by pinpointing the ship," the news outlet reported, citing an unnamed source.
Newsweek has been unable to independently verify the reports.
Russian officials claimed that the Soviet-era vessel was damaged after a fire onboard caused ammunition to detonate. The cause remains disputed.
The British defense ministry in an intelligence update on Monday said it is likely that more than a quarter of the Kremlin's battalion tactical groups assisting with the Ukraine war have been "rendered combat ineffective."
"Some of Russia's most elite units, including the VDV Airborne Forces, have suffered the highest levels of attrition," the update said. "It will probably take years for Russia to reconstitute these forces."