Dr. Deborah Birx expanded her recommendations for mask use past public areas on Sunday, in light of increasing COVID-19 cases reported across the U.S.
During an appearance on CNN's State of the Union Sunday morning Birx, a physician and the White House Coronavirus Task Force coordinator, said some people should consider wearing face coverings inside their homes. She directed the suggestion toward those living with high-risk individuals in areas where virus transmission is spiking.
"We keep saying, no matter where you live in America, you need to wear a mask and socially distance, do the personal hygiene pieces," Birx told CNN correspondent Dana Bash during Sunday's interview.
"But more importantly, if you're in multigenerational households and there's an outbreak in your rural area or in your city, you need to really consider wearing a mask at home," she continued. Birx noted that assuming "you're positive" for COVID-19 and taking precautions accordingly will better protect "individuals in your households with comorbidities."
Leading public health officials, including Birx and task force colleague Dr. Anthony Fauci, have stressed that individuals of any age are susceptible to contracting COVID-19 and developing subsequent health complications as a result. However, hospitalization and mortality data collected throughout the pandemic indicates older individuals and those with underlying medical conditions have an increased risk of becoming severely ill from the virus.
On Sunday, Birx emphasized the U.S. outbreak "is different" in July than it was near its onset in March and April, describing the current conditions as a "new phase."
"It's extraordinarily widespread," she said, noting recent resurgences across both rural and urban areas.
In late July, a federal report issued to U.S. governors by members of the task force assigned "red zone" labels to 21 states, meaning each reported at least 100 new COVID-19 cases per 100,000 people during the third week of the month. The list included three more states than the task force's previous report, sent to governors two weeks earlier. The New York Times obtained and published a copy of the full report last week.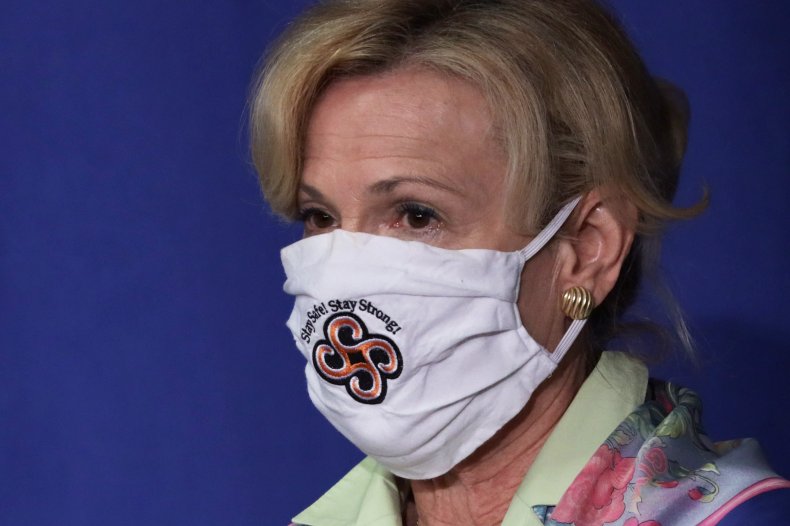 President Donald Trump appeared to take issue with Birx's comments to CNN on Sunday, which also briefly addressed House Speaker Nancy Pelosi's criticism of the federal government's pandemic response strategies. Although Birx defended the federal approach to virus management, her warnings about the outbreak's seriousness departed from Trump, who continues to insist the situation is improving.
"In order to counter Nancy, Deborah took the bait & hit us. Pathetic!" Trump wrote on Twitter Monday morning.
Newsweek reached out to the White House for comments but did not receive a reply in time for publication.
More than 4.6 million people have tested positive for COVID-19 in the U.S. as of Monday, August 3, according to Johns Hopkins University's data. Of those diagnosed with the virus, almost 155,000 people have died. The country is diagnosing roughly twice as many average cases per day in July than it was in April, according to a New York Times database.