Brides on Asking for Money Instead of Wedding Gifts
Weddings are rarely cheap. The average cost for the big day plus the engagement ring was $33,900 in 2019, according to Statista. After a pandemic lull, costs are expected to rise again this year.
This might explain why more and more engaged couples are asking their wedding guests for money rather than gifts—whether it's to help pay for the celebration or the honeymoon, or for their future life together. It's a tricky topic, though. Cash gifts are common in a number of cultures, but some people find the idea unromantic or even vulgar.
One bride's "best friend" went viral on social media last month after recounting how she defied the couple's request for money, because she was so convinced they would love the "gorgeous gift" she had found. Although some Mumsnet users came to her defence, the vast majority disapproved of her decision to ignore her friend's wishes.
Newsweek has asked two brides—one who had her wedding last month and another who is about to celebrate hers—why they asked for money and how their guests reacted.
Why Do Couples Ask for Money Instead of Wedding Gifts?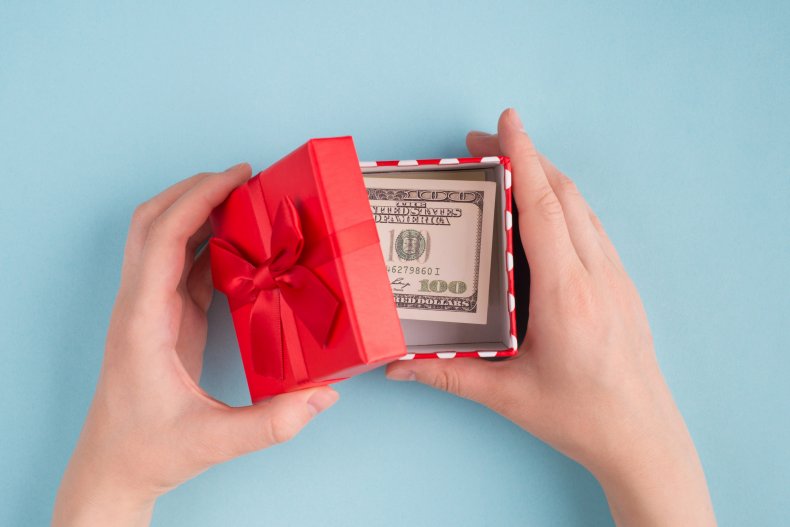 Ceza Ouzounian, from Glasgow in Scotland, married Russell Lauder on April 23. They requested money from guests because they were already living together and didn't feel they needed anything for their home.
"Neither of us wanted more stuff for the house and didn't want things we didn't need just for the sake of having a gift list," Ouzounian told Newsweek. "Monetary contributions are better because we can choose how to spend [them]."
Denise and Stephen Bernstein, who live in London, tied the knot officially last year after their wedding had to be postponed because of the pandemic. They will be hosting a ceremony and celebration for family and friends on May 29 and have also asked for monetary gifts.
Denise Bernstein said they arrived at their decision because the wedding is abroad and transporting gifts back to London would likely be challenging. "Most gifts are usually household items such as toasters and kettles, which would not be of use to us," she said.
She pointed out that guests would be contributing to their future by helping them save for a house and a future baby.
Similarly, Ouzounian and her husband spent some of the money on their honeymoon to the Dominican Republic. "But the majority is going towards us buying a house."
How Did the Wedding Guests React?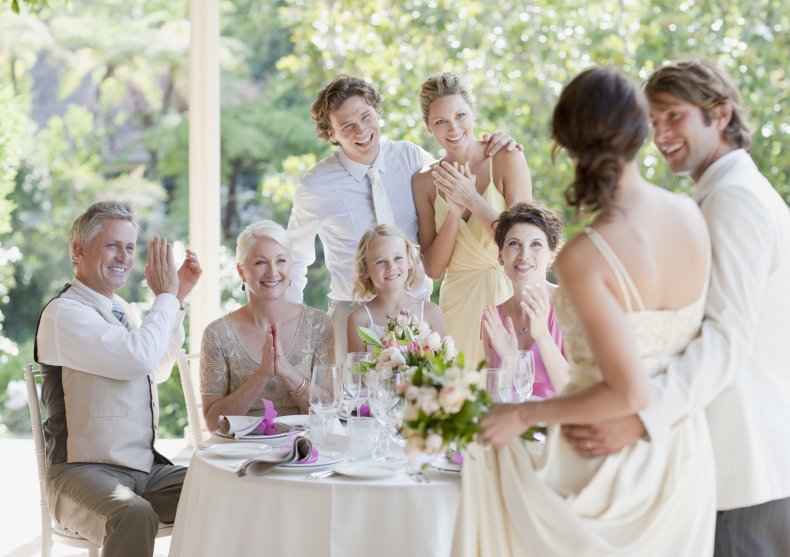 Ouzounian was initially concerned about how guests would respond. "I know that for British people, asking for money might come across as rude or impersonal," she said, "but as someone of Armenian origin, this is a normal thing."
To ensure the guests weren't offended, Ouzounian and Lauder sent out lighthearted invitations explaining that they already had everything they needed. If friends or family wanted to give them something, they added, they would prefer money.
"It also meant that any guests who couldn't afford to give us anything didn't have to," Ouzounian said.
The Bernsteins found that friends and relatives were generally supportive, because they knew their contributions would go towards the couple starting a family.
On average, guests spent $160 on a wedding gift in 2021, according to a survey conducted by planning website The Knot—up from $120 in 2019. Guests might be concerned that their gifts will be forgotten if they come as an envelope of cash or an electronic money transfer. Both couples disagreed, however.
"Physical gifts would be easily forgotten since on the day, it all gets mixed up," pointed out Denise Bernstein.
For Ouzounian, putting the money toward honeymoons or house deposits actually makes guests' contributions more special. "I am so grateful for their gifts," she said. "The money will be going towards something that will make a difference to our married life."
Denise Bernstein advised couples and guests to "do what makes you happy and contributes to long-term goals rather than clutter."
Ouzounian suggested explaining to concerned family or friends just how meaningful money for those goals would be to the couple
She added: "If you're really worried about it, there are companies online where you can set it up as a gift list"—so your guests buy a nominal toaster or honeymoon experience—"but you get the money as a lump sum."