The Week That Shook Memphis
Memphis residents breathed a collective sigh of relief as a man who drove around the city shooting people was taken into custody on Wednesday.
Four people were killed and three others wounded during the hours-long rampage that led authorities to order people to stay indoors.
The attack capped a week that saw a police officer shot on patrol, while the city mourned Eliza Fletcher, the granddaughter of the late billionaire Joseph Orgill III, after her body was found on Monday.
The Memphis Police Department said the officer, who hasn't been identified, was shot while patrolling for stolen vehicles at around 12:45 p.m. on August 31.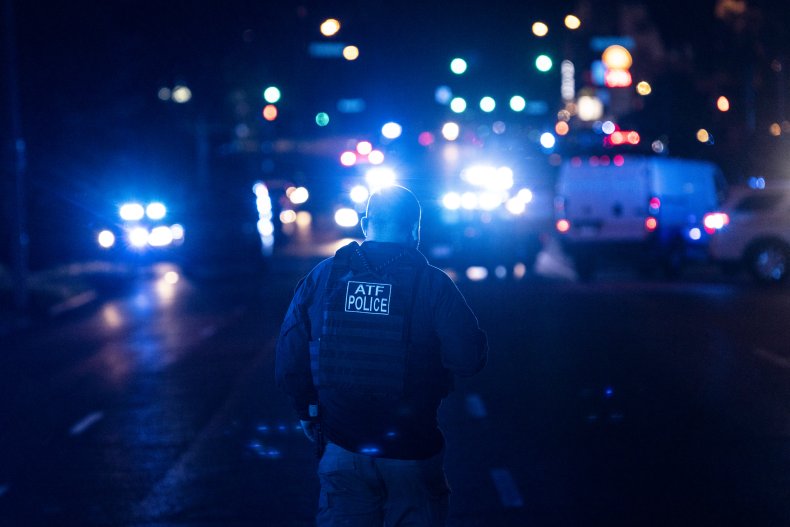 He was taken to hospital by a fellow officer in a critical condition, police said at the time. A second officer who was responding was hurt in a crash with another car. That officer was taken to a hospital in non-critical condition, police said, and the driver of the other vehicle was also taken to a hospital.
Four people have since been charged in connection with the incident, ABC24 reported.
According to an arrest affidavit, officers searching for a dark gray Infiniti Q40 involved in the incident came across a vehicle matching the description and a silver Infiniti.
Both vehicles drove off when officers tried to initiate a traffic stop. Officers later found the silver vehicle and its 22-year-old driver, Drama Compton, tried to run away, but was apprehended after a brief chase. Three others—Kayvus Jones, Keyon Moore, and Zancarrion Johnson—were arrested on September 2 in connection with the shooting.
Days later, the Memphis community was shaken by the the abduction and killing of 34-year-old Fletcher. The kindergarten teacher and mother was abducted on September 2 while out on a morning run.
After an exhaustive search over the holiday weekend, police confirmed on Tuesday that a body they found the day before was Fletcher's.
Cleotha Abston, 38, was arrested and is facing first-degree murder and other charges. Police said they linked him to the abduction after detecting his DNA on a pair of sandals that were found near to where Fletcher was last seen.
Shooting Rampage
And after a terrifying day in Memphis on Wednesday, police arrested 19-year-old Ezekiel Kelly and lifted shelter-in-place orders.
The rampage began at around 1 a.m. and continued until around 8.30 p.m., with at least eight crime scenes across the city, Memphis Police Director Cerelyn "CJ" Davis said.
The suspect allegedly live-streamed at least one of the shootings on Facebook.
As the gunman terrorized the city, public bus services were suspended and some parts of the city were placed on lockdown.
Kelly was taken into custody at around 9 p.m., police said
The week's events have taken a toll, with a reporter breaking down on the air while reporting on Wednesday's deadly shooting.
"Memphis is tired right now," said Joyce Peterson, an anchor and correspondent for Action News 5.
"The Eliza Fletcher kidnapping and abduction and murder, the other crimes we had this year leading up to this. It's difficult right now. Bear with me.... It's been difficult in Memphis."