Weird Al's Five Best Parodies, in Honor of His New Biopic Trailer
As noted philosopher Homer Simpson once said, "He who is tired of Weird Al is tired of life." And although "Weird Al" Yankovic has kept a schedule of regular touring and TV cameo appearances since the release of 2014's Mandatory Fun, the musical parodist will soon appear on TV screens all over the country.
Yankovic is returning with a new movie—his first since the 1989 cult classic UHF—and the trailer for Weird: The Al Yankovic Story dropped Monday. The new film, starring Daniel Radcliffe, himself no stranger to strangeness with films like Swiss Army Man under his belt, is a warts-and-all biopic of the comedy legend.
But as Weird Al's own Behind the Music episode revealed, his life doesn't have too many warts. So, Yankovic and co-writer Eric Appel had to make some up for the over-the-top parody of musical biopics like Respect, Rocketman or Elvis. Though the real Yankovic is relatively straitlaced, the movie version is a hard-drinking, hard-loving man who had a tumultuous relationship with Madonna.
With Weird Al turning his parodic lens to the film world, Newsweek compiled this list of five of his best works in the genre he's most famous for, song parodies.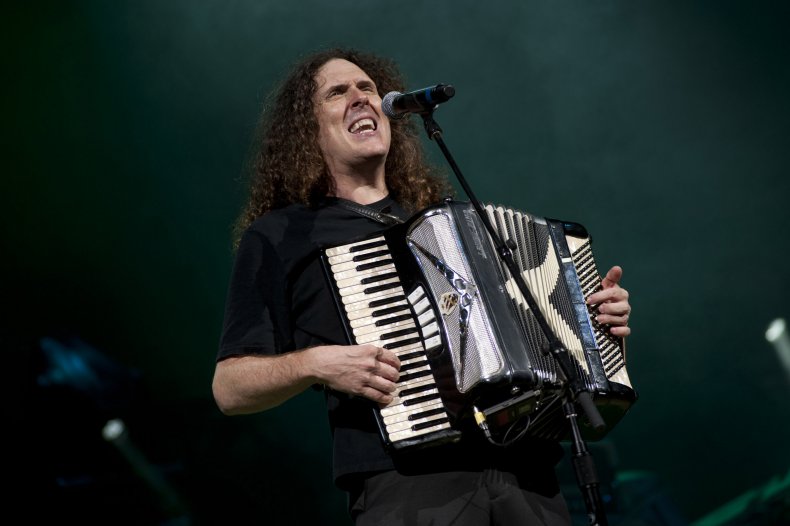 Weird Al's Best Song Parodies
1. "White and Nerdy"
One of Yankovic's most underrated skills is that of a rapper. His lyrical dexterity is on full display for one of his biggest songs—if not the biggest—"White and Nerdy." A parody of Chamillionaire's "Ridin' Dirty," Yankovic's nerd cred is all over the track with references to the debate on Star Trek's Captain Kirk vs. Captain Picard, the long-forgotten programming language Pascal and one of the biggest titans of nerd culture—aside from Yankovic himself—Monty Python and the Holy Grail.
2. "Word Crimes"
Obviously, Yankovic takes words very seriously; it's impossible to write lyrics that are so clever and match the meter of an existing song so perfectly otherwise. Yankovic takes Robin Thicke's controversial hit "Blurred Lines" and instead, uses the opportunity to take listeners through Strunk and White's Elements of Style in under four minutes.
However—like the original song, "Word Crimes" saw some controversy of its own. Some listeners objected to the use of the word "spastic" in a derogatory sense. Yankovic addressed the controversy on Twitter, saying "If you thought I didn't know that 'spastic' is considered a highly offensive slur by some people... you're right, I didn't. Deeply sorry."
3. "Yoda"
"Yoda" is one of Yankovic's earliest and most-popular parodies. His demo version—available on Medium Rarities, the odds-and-sods collection that comes with the box set Squeeze Box—was recorded in 1980, three years before his debut album. The track also made frequent appearances on Dr. Demento's "Funny Five" countdown.
The song was eventually released on Yankovic's third album, Dare to Be Stupid, five years after he wrote it. The issue was in getting permission—while George Lucas gave his blessing, the publishers of the original song, "Lola" by the Kinks, turned him down. Luckily for Yankovic, he happened to meet Kinks singer and the songwriter of "Lola," Ray Davies, who revealed that his publishers never asked him if he'd allow the parody, and gave Yankovic permission.
Since then, Yankovic says he typically tries to go directly to the songwriter when possible, but sometimes that doesn't work out. "Amish Paradise," a parody of Coolio's "Gangsta's Paradise" caused a brief feud, as Coolio's managers had given the OK, but Coolio himself had not. And in an echo of "Yoda," Lady Gaga's management turned down his request to record "Perform This Way" to the tune of "Born This Way," only to have the decision reversed when Gaga herself said no one had asked her, and she quickly agreed to the parody.
4. "Peter and the Wolf"
"Peter and the Wolf" is an odd entry in the Weird Al discography. The album it comes from, Peter and the Wolf/Carnival of the Animals, Pt. II, is rarely considered one of his "real" albums, and is the only disc to not appear in the career-spanning box set, Squeeze Box.
His version of "Peter and the Wolf" is performed with synthesizer legend Wendy Carlos, and is Yankovic's only foray into classical music. "Peter" takes up the whole first side of the album, and is a hilarious goof on the original story and composition by Sergei Prokofiev.
The second side takes Camille Saint-Saëns' "Carnival of the Animals" as a framework for something entirely original, with Yankovic writing Ogden Nash-esque poetry about animals Saint-Saëns didn't touch, like the aardvark, poodle and amoeba. Each poem is paired with original music by Carlos.
5. "King of Suede"
Though "King of Suede," a take-off of the Police's "King of Pain," didn't get a video and wasn't a hit—peaking at No. 62 on the Billboard Hot 100 charts in 1984—the song shows Yankovic's knack for character study. The song is about the titular King of Suede, a man who runs a moderately successful clothing store in a strip mall.
The original melody gives Yankovic's new lyrics an air of tragedy as well—the King of Suede says he "never made it past the second grade," devoting his life to a budget-priced leather shop, admitting he's got "tough competition" and his "staff is underpaid." Though he's the King of Suede, it sounds like he's just getting by, and his humble reign may not last.
Honorable Mention: "The Hamilton Polka"
While not necessarily one of his standard parodies, Yankovic has included a polka medley on nearly every album. The only exceptions are his debut self-titled album, the aforementioned Peter and the Wolf, 1988's Even Worse and 1992's Alapalooza, though that one did feature a polka-style cover of Queen's "Bohemian Rhapsody."
For this one-off single, originally released as one of Lin-Manuel Miranda's "Hamildrops," Yankovic crams just about the whole musical into a five-minute runtime. Not only is it a rollicking good time, but the "Washington on Your Side" bit of the medley is jaw-dropping, both for Yankovic's delivery and Miranda's twisting rhymes.