Were Mark Meadows Voter Registrations Legal? What We Do Know, What We Don't
Former White House chief of staff Mark Meadows had a well-established role in popularizing the false notion that the 2020 election was stolen from ex-president Donald Trump.
Meadows is facing a storm of bad press as the January 6 committee hearings continue. A report by Rolling Stone, published July 13, 2022 claims that Meadows may take the fall for January 6, including potential criminal charges.
In December 2021, Meadows handed over a Powerpoint presentation to the House Select Committee investigating the Capitol riots titled "Election Fraud, Foreign Interference & Options for 6 Jan," allegedly detailing how the Trump administration planned to overturn the contest.
But in an ironic twist, now Meadows finds himself targeted by accusations that he may well have committed voter fraud, amid reports claiming he was registered to vote in three states.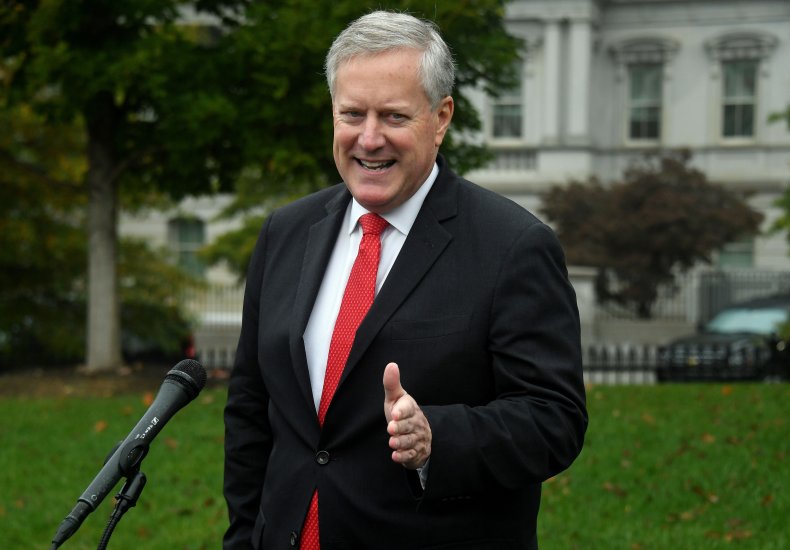 In March 2022, The New Yorker reported that Meadows and his wife, Debra, had submitted voter registration forms for a mobile home in Macon County, North Carolina, even though they reportedly didn't live or own the home there.
His vote was then cast as an absentee ballot, registered in North Carolina, during the 2020 presidential election.
Meadows, who represented North Carolina in the U.S. House until resigning in 2020 to take his position in the Trump White House, had not registered to vote in Virginia, where he was living with his wife prior to the election, The New Yorker reported.
Weeks before North Carolina's registration deadline, Meadows reportedly filed to continue voting in absentia in North Carolina using a new address, later shown to be a mobile home in Scaly Mountain.
The Washington Post separately reported that Meadows had been a registered voter simultaneously in the Carolinas and Virginia, for a period of around three weeks.
Allegations of potential voter fraud led North Carolina investigators to look into Meadows' registrations; in April 2022 his North Carolina registration was removed by Macon County officials.
The Associated Press reported in April 2022 that Meadows was still a registered voter in both Virginia and South Carolina.
Is It Legal to Be a Registered Voter in Multiple States?
The former Trump staffer faced further scrutiny by the North Carolina State Bureau of Investigation for voter fraud.
Under North Carolina law, in order to vote you must have resided in the state for at least 30 days prior to an election. The New Yorker report from March 2022 said Meadows did not own his property in North Carolina and it was "not clear that he has ever spent a single night there."
Some believe that the registrations alone constitute an offense. "Mark Meadows illegally registered to vote in 2 states using a trailer home he never lived in," wrote the Democratic activist Lindy Li in a July 14 tweet liked more than 6,000 times.
"His wife illegally submitted 2 voter forms. Yet he helped Trump accuse Americans across the nation of voter fraud when HE HIMSELF was the fraudster. Every GOP accusation is a projection."
Multiple registrations aren't illegal per se, and can happen without voters realizing it. Research from 2012 showed that 2.75 million Americans were registered to vote in more than one state.
As an article by Pacific Standard says, multiple registrations often happen when someone moves states and their records aren't updated accordingly.
Older records are meant to be canceled, although the reliability and methodology of this process have been called into question during other elections.
However, it is illegal to vote in more than one state.
The National Conference of State Legislatures says that double voting is "often listed as a felony in states," with the caveat that prosecutions are rare because of difficulty identifying the crime.
Furthermore, people may only register to vote in the state that they consider to be their primary place of legal residence. In other words, voters can't cherry-pick which state they vote and pay their taxes in.
So, while it is technically legal to be registered in more than one state, it is illegal if you cast a ballot in more than one state or have violated state law requirements for voting, such as not residing in a state for more than 30 days.
While the investigation into Meadows' actions here is ongoing, it is too early to state definitively that he had broken any laws.
Separately, former federal prosecutor Glenn Kirschner said the Department of Justice's legitimacy will be brought into question if Meadows does not face criminal charges for his actions in the January 6 attack.
And Steve Bannon, a former senior White House adviser, has also questioned why Meadows has escaped prosecution for not complying with congressional subpoenas issued by the House Select Committee investigating the January 6 attack.
Newsweek has contacted Meadows' Conservative Partnership Institute and the North Carolina State Bureau of Investigation for comment.