WH Press Sec Kayleigh McEnany Insists Absentee Ballots Invite Election Fraud Despite Having Voted by Mail 11 Times Since 2010
White House Press Secretary Kayleigh McEnany continued to defend President Donald Trump's claims that voting by mail invites election fraud despite doing so 11 times in the past decade.
According to the Tampa Bay Times review of McEnany's voting history, the press secretary has voted by mail in every Florida election since 2010, including her most recent vote in the state's March 2020 presidential primary.
Trump also voted by mail in the same election after officially making Florida his permanent residence.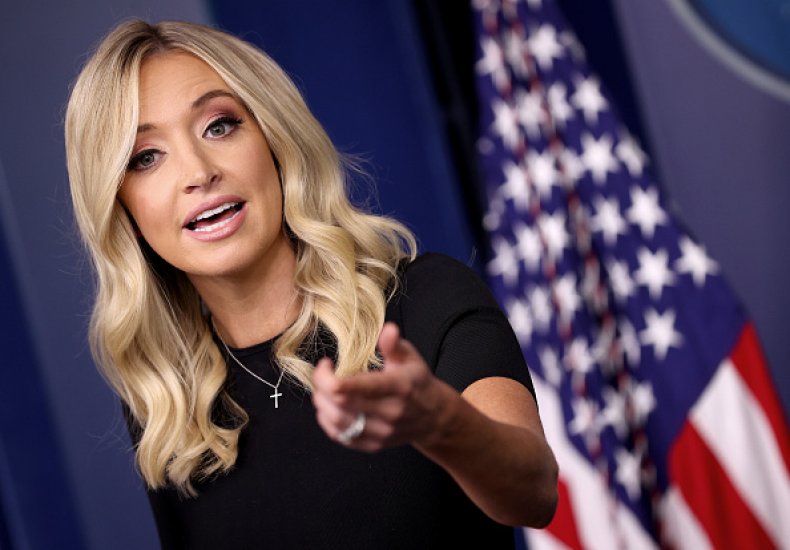 McEnany says there's a distinction between her votes-by-mail and the push for greater access to mail-in ballots during the coronavirus pandemic.
"Absentee voting has the word absent in it for a reason. It means you're absent from the jurisdiction or unable to vote in person. President Trump is against the Democrat plan to politicize the coronavirus and expand mass mail-in voting without a reason, which has a high propensity for voter fraud. This is a simple distinction that the media fails to grasp," McEnany said in a statement sent to Newsweek.
Florida, McEnany's home state, has no-excuse absentee voting, which allows any voter to apply for an absentee ballot without having to provide any justification.
The global health crisis has forced election officials to reevaluate how to allow voters to safely cast their ballot during a pandemic. Primary elections faced a shortage of poll workers and decreased polling stations. After Wisconsin's controversial decision to hold in-person voting for the state's primary election on April 7, dozens of voters and poll workers tested positive for COVID-19 and a study by the University of Wisconsin Oshkosh and Ball State University showed it may have lead to a surge in coronavirus cases.
Democrats have called for a universal vote by mail in efforts as to not compromise voter's health and safety during elections. Trump has attacked states that have tried to expand voter access to mail-in ballots, threatening to withhold federal funding from places like Michigan and Nevada.
The president has also argued that mail-in ballots invite widespread election fraud.
He took to Twitter on Sunday to warn that, "The United States cannot have all mail in ballots. It will be the greatest rigged election in history. People grab them from mailboxes, print thousands of forgeries and 'force' people to sign. Also, forge names. Some absentee OK, when necessary. Trying to use Covid for this Scam!"
However, there is little evidence of voter fraud. In fact, an investigation the Trump administration launched in 2018 found no widespread fraud in the 2016 elections.
"We have seen isolated incidences of criminals engaging in wrongdoing. We do need to be worried about Russian cybercriminals trying to interfere with our elections, but it is extraordinarily rare for a voter to try and perpetuate fraud among other voters," Myrna Pérez, director of the Voting Rights and Elections Program at New York University's Brennan Center for Justice, told Newsweek.
McEnany continued to dispute that voter fraud is common in a Twitter thread on Tuesday.