What Bernie Sanders Has Said about Becoming the Biggest Meme of 2021
Bernie Sanders has suddenly found himself becoming the biggest meme of 2021 so far but the Vermont senator is insisting he was simply "keeping warm."
The former presidential candidate discussed the frenzy surrounding the image of him and his now-famous mittens at Joe Biden's inauguration telling Seth Meyers he was "just sitting there, trying to keep warm, trying to pay attention to what was going on."
By now, the meme has been reimagined thousands of times, with the grumpy Democrat placed in endless scenarios, providing a hilarious reprieve from more serious news.
Sanders appeared on Thursday's Late Night With Seth Meyers and addressed all the viral attention that has been placed on him this week.
"I heard about that," the 79-year-old laughed and admitted that he has seen some of the memes that have been made.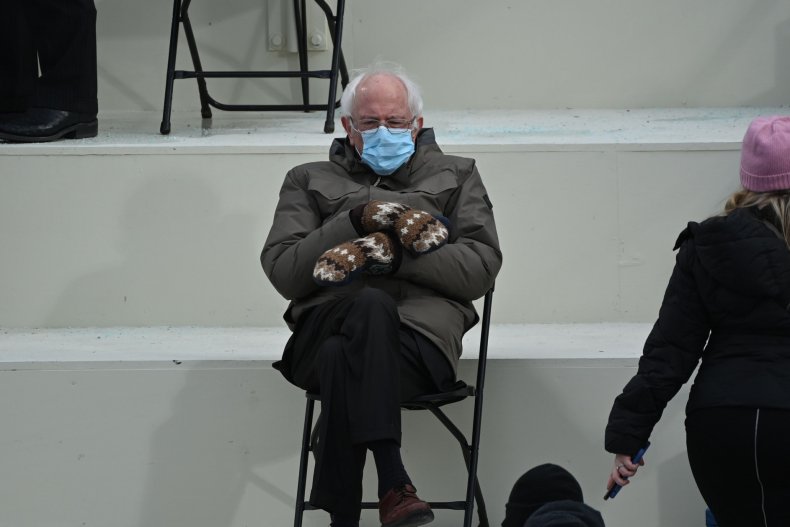 Meyers showed Sanders a number of the memes using his image, including one of him replacing Kim Cattrall in Sex and the City.
In photographs from the inauguration, Sanders could be seen carrying a manila envelope with legions of people joking about what the contents could be. But when Meyers asked what was in it, Sanders said: "I'd love to tell you Seth but it's top secret."
The mittens were made by Essex Junction, Vermont teacher Jen Ellis and gifted to Sanders a few years ago, according to independent Vermont weekly newspaper Seven Days.
"What was really nice Seth is the woman who made the mittens ... she is a schoolteacher [and] is a very very nice person," Sanders told Meyers. "And she's been somewhat overwhelmed by the kind of attention that is being shown to her mittens."
Ellis has since said she is "overwhelmed" with the response to her mittens.
"I don't have any mittens to sell. I don't really do it a lot any more. I'm flattered that they want them, but there are lots of people on Etsy who sell them and hopefully people will get some business from them. But I'm not going to quit my day job," Ellis told the Jewish Insider in an interview on Wednesday.
The meme has even inspired some Bernie mitten merchandise with bobbleheads, stickers and more now available to buy.
Following Wednesday's ceremony, Sanders told CBS' Gayle King he was not trying to make any kind of statement with his mittens.
"In Vermont, we dress warm, we know something about the cold," Sanders said. "And we're not so concerned about good fashion. We want to keep warm. And that's what I did today."
"Mission accomplished," King responded.