Former President Donald Trump officially left office at noon on January 20. He's now been a former president for nearly a week and there's been little indication of what he plans to do next.
Many former presidents keep a low profile immediately after leaving office and Trump has been no exception. This may be due to the fact that he was permanently suspended from Twitter, his favorite social media site, as well as a slew of other platforms.
Trump is now staying at his Mar-a-Lago club in Florida where he's been spotted playing golf and wearing his trademark "Make America Great Again" baseball cap. He spent a lot of time on the golf course during his four years in the White House.
The former president was seen waving to a small group of his supporters as his motorcade drove him back to Mar-a-Lago last week but he's had no official engagements or public appearances so far.
On Tuesday, Trump launched "the Office of the Former President," which appears designed to keep him in touch with his supporters following his multiple social media bans.
"The Office will be responsible for managing President Trump's correspondence, public statements, appearances, and official activities to advance the interests of the United States and to carry on the agenda of the Trump Administration through advocacy, organizing, and public activism," the new office said in a statement.
Aside from playing golf at Mar-a-Lago and setting up his new office, there is no other public information about his activities in the past few days. Newsweek has asked Trump's office for comment.
The former president's next steps were a matter of widespread speculation before the deadly Capitol riot on January 6, with many asking what he would turn to next. Former presidents have written memoirs, set up charitable foundations, or worked on their presidential library.
Trump has given no sign of what his plans are but it's not unusual for a former president to avoid the spotlight at the beginning of his successor's term. However, Trump is facing a second impeachment trial in the Senate and it's not clear if he'll have to testify.
He also faces potential legal jeopardy at a federal and state level. Manhattan District Attorney Cyrus Vance and New York Attorney General Letitia James are carrying out separate investigations into his business dealings, he's being sued for defamation, and he could even face charges arising from Special Counsel Robert Mueller's investigation.
The graphic below, provided by Statista, illustrates the impeachment process.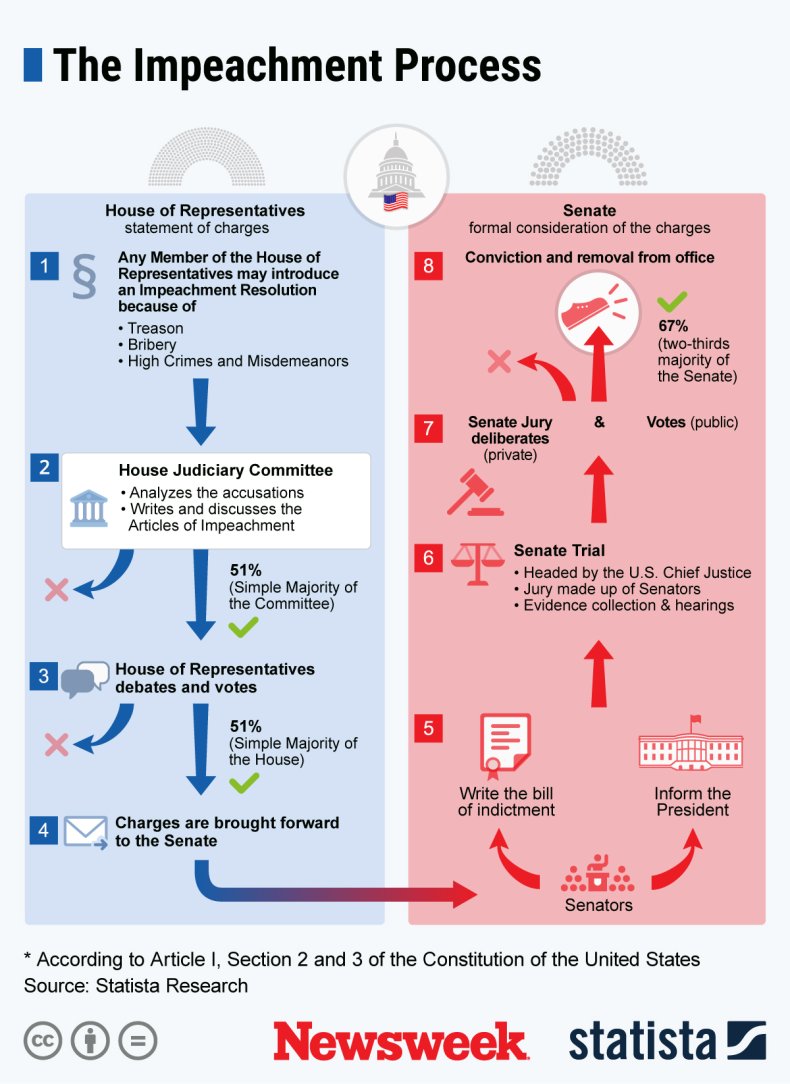 Despite speculation, no charges have been brought against Trump thus far since he left office.
Former President Barack Obama spent his first week out of office quietly, telling talk show host David Letterman in 2018 that on his first day as a private citizen he "sort of enjoyed puttering around the house, trying to figure out how does the coffee maker work and fighting with Michelle for closet space."
Former President George W. Bush returned to his ranch in Crawford, Texas upon leaving office and entered a relatively quiet retirement, while also taking part in the Dallas social scene.
By the time former President Bill Clinton left office in 2001, his wife Hillary was already a senator and the couple would continue to be a major feature in the Democratic Party, culminating in her 2016 presidential run.