What Happened to Candy Montgomery's Lawyer Don Crowder and Where Is He Now?
Candy explores the 1980 murder of Betty Gore by her friend, Candy Montgomery, who killed her by striking her 41 times with an ax.
The Hulu drama features a number of people who really existed, including the killer's lawyer Don Crowder, who successfully argued that the attack was in self-defense.
Crowder is portrayed by Raúl Esparza in the true crime show, who found he liked his real-life counterpart's "bravado" and "audacious" nature.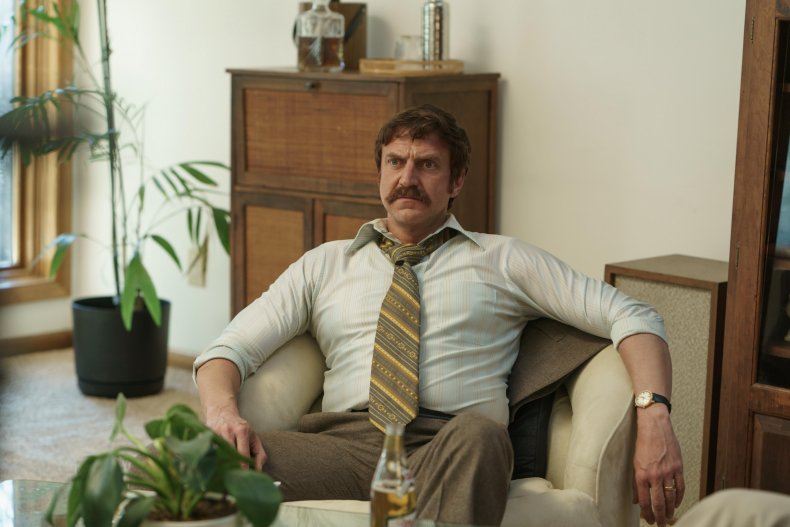 In an interview with The List, Esparza said: "I liked Don's bravado. I liked the humor in the piece. I liked the sickness of the piece, too.
"I was attracted to the fact that he was completely audacious for a first-time trial attorney who managed to really pull off some extraordinary accomplishments without the experience behind them."
Here, Newsweek looks at Crowder in real life and what happened to the defense attorney after representing Montgomery at her murder trial.
What Happened to Don Crowder and Where Is He Now?
Crowder wasn't experienced in criminal law when he took on Montgomery's case, and in fact the trial marked his first criminal case.
This isn't to say he was unfamiliar with the law. Crowder worked in civil law and had created a firm with fellow law graduate Jim Mattox, named Crowder & Mattox, in 1970, the Dallas Observer reported.
Crowder knew Montgomery through their shared membership of the United Methodist Church of Lucas, and she came to him after the police began to find evidence linking her to Gore's death, the publication reported.
Reflecting on what Crowder was like in court, Collin County attorney Howard Shapiro told the Dallas Observer: "When he was your lawyer, he was a passionate advocate for you. When he was your opponent, he was tenacious."
His "audacious" nature, as Esparza put it, during Montgomery's trial landed him a four-day jail sentence for contempt of court, with Shapiro saying: "The joke around the courthouse was who was going to get more time, Candy or Crowder."
Jim Atkinson, who co-wrote the book Evidence of Love about Montgomery's case with John Bloom, said that the community was "upset with Crowder for having defended this brazen hussy," but said the attorney simply saw her as a "poor woman" no one would defend.
Crowder had a successful career as a Collin County lawyer after the trial, and for 22 years he was the city attorney for the town Allen.
Crowder even made a bid for governor in 1986, per the Dallas Observer, and while he didn't win, he did receive 118,530 votes, which was more than 11% of the total and a good showing for someone seen as "unknown" in politics.
However, Crowder's mental health began to decline when his brother Barry died in a tragic accident on August 15, 1997, and he started to rely on substances like alcohol and cocaine, according to the Dallas Observer.
On June 21, 1998 Crowder received a DWI in Allen, which the Dallas Observer reported he found a "humiliating" experience.
On October 25 —his 56th birthday— Crowder attempted to take his own life.
After surviving the attempt, he spoke to the McKinney Courier-Gazette on October 29, per the Dallas Observer, and he claimed the Montgomery trial "was maybe the zenith of an extraordinarily successful career, or the demise of what could have been" and added that the faces of Gore's family "still haunt[ed]" him.
On November 10, 1998, Crowder took his own life at his home.
Candy is available to watch in full on Hulu now.
If you have thoughts of suicide, confidential help is available for free at the National Suicide Prevention Lifeline. Call 1-800-273-8255. The line is available 24 hours, every day.