'The Staircase': What Happened to Elizabeth Ratliff?
In the first three episodes of The Staircase on HBO Max, there have been subtle mentions of a woman named Elizabeth Ratliff, and in Episode 4, audiences learn a little bit more about her.
Elizabeth's Ratliff's sudden death in November 1985 became of great significance in the case against Michael Peterson during his trial for the murder of his second wife, Kathleen Peterson. So much so, that Elizabeth Ratliff's body was exhumed and a second post mortem carried out by the Durham Medical Examiner.
The defense would go on to use Elizabeth Ratliff's death as part of their case against Michael Peterson, which also led to tensions within his own family, particularly between his adopted daughters, Martha and Margaret Ratliff.
What happened to Elizabeth Ratliff? Newsweek has everything you need to know.
Warning: This article contains spoilers about The Staircase on HBO Max
What Happened to Elizabeth Ratliff?
On November 25, 1985, Elizbeth Ratliff was found dead at the bottom of her staircase, in an eerily similar way to the way Michael Peterson's wife, Kathleen Peterson was found on December 1, 2001.
Elizabeth Ratliff and her husband, George Ratliff, were close friends of Michael Peterson and his first wife Patricia Peterson when they lived in Germany in the 1980s. Patricia Peterson and Elizabeth Ratliff had worked together at an elementary school on a U.S. Air Base and lived close by with their families in the town of Graefenhausen.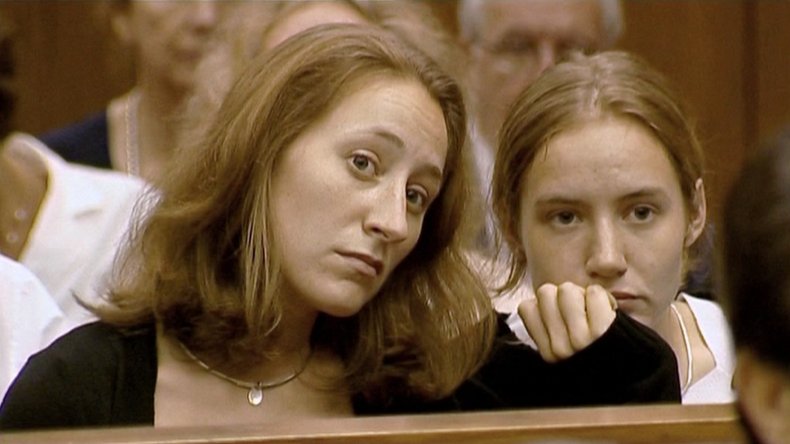 Together, Elizabeth and George Ratliff had two daughters, Margaret and Martha Ratliff, who Michael Peterson would adopt following their deaths. Margaret and Martha would be raised by Michael and his second wife, Kathleen Atwater, whom he met in 1986.
George Ratliff died in a military operation in 1983, and two years later, Elizabeth Ratliff, 43, was found dead by her children's nanny, Barbara Malagnino, at the bottom of her staircase on November 25, 1985. The last person believed to see her alive was Michael Peterson the night before when their families had dinner together in her home.
The similarities between the deaths of Elizabeth Ratliff and Kathleen Peterson raised eyebrows among the Durham authorities. So much so, that the court in Durham ordered the exhumation of Ratliff's body from her grave in Texas.
Like Peterson, Ratliff was found at the bottom of her stairs with injuries to her head. At the time, her death was investigated by the U.S. military police in Germany and an autopsy concluded she had died from an intracerebral hemorrhage.
In April 2003, a second autopsy was carried out by a Durham medical examiner, who concluded Ratliff's cause of death was "homicide". The medical examiner found Kathleen Peterson and Elizabeth Ratcliffe suffered similar blows to the head, including seven lacerations which were sustained by blunt force trauma.
At the time of the exhumation, Michael Peterson's lawyer, David Rudolf, requested that a "neutral" pathologist from Texas carry out the second autopsy. However, it was carried out by Durham-based state pathologist Dr. Deborah L. Radisch.
In her report, Dr. Deborah L. Radisch concluded that Elizabeth Ratliff's injuries were "inconsistent with a fall down a set of stairs."
She continued: "Rather, they are indicative of multiple blunt force impacts, either from blows to the head caused by a blunt object or by the head being forcibly struck against a hard surface.
"It is further my opinion that these injuries were incurred while Mrs. Ratliff was alive and are of sufficient severity to have caused her death."
Bloody Death Scene
The nanny who found Elizabeth Ratliff's body in 1985 also took to the stand at Michael Peterson's murder trial and testified to witnesses about a large amount of blood at the scene. A friend of Elizabeth Ratliff's also testified about a bloody death scene.
Despite speculation that Peterson may have killed Elizabeth Ratliff 16 years before Kathleen's death, something he has always strongly denied, the prosecution in Michael Peterson's trial didn't accuse Peterson of being responsible for Elizabeth Ratliff's death.
Instead, they used her death as an example of an incident that could have helped him "fake" Kathleen's accident.
In the end, Michael Peterson was convicted of murdering Kathleen Peterson. He was sentenced to life imprisonment without the possibility of parole in October 2003.
He was released on bond in 2011 pending a retrial. In 2017, he entered an Alford plea to the reduced charge of manslaughter, meaning he admitted the evidence against him would likely lead to a finding of guilt beyond a reasonable doubt but he did not have to admit he committed the crime.
Elizabeth Ratliff's daughter, Martha and Margaret Ratliff stood by Michael Peterson and believed him to be innocent.
The Staircase airs Thursdays on HBO Max and Sky Atlantic.