What Happens if Trump Vetoes the Second Stimulus Bill?
President Donald Trump on Tuesday railed against Congress' new economic relief bill, demanding higher direct payments and potentially slowing down the process of distributing aid to millions of Americans.
The $900 billion package was passed by lawmakers on Monday and includes $600 stimulus checks for most Americans and an additional $300 a week in unemployment benefits.
But the president called those provisions "a disgrace" in a video on Tuesday night and demanded that Congress increase the "ridiculously low" payments to $2,000 for individuals and $4,000 for couples. The president also called on Congress to provide more assistance to small businesses and restaurants.
"I am also asking Congress to get rid of the wasteful and unnecessary items from this legislation and to send me a suitable bill," the president added, citing the billions of dollars allocated for foreign aid.
Trump did not say if he would veto the package. After Congress passes a bill, the president has 10 days to review the legislation. He can decide to sign the bill into law or send it back to Congress without his signature.
At that point, Congress can either override the president's veto with a two-thirds majority vote or scrap the legislation and hold off on giving federal aid and resources to struggling Americans and businesses for now. Additionally, since lawmakers linked the relief bill to a 2021 government funding measure, the government would shut down on December 29.
The bill was passed on Monday with overwhelming support from both Democrats and Republicans, who spent months trying to reach a deal. In the Senate, 92 voted for the bill and only six voted against it, while the House approved the package in a 359-53 vote. Those votes mean a two-thirds majority exists for an override of a Trump veto.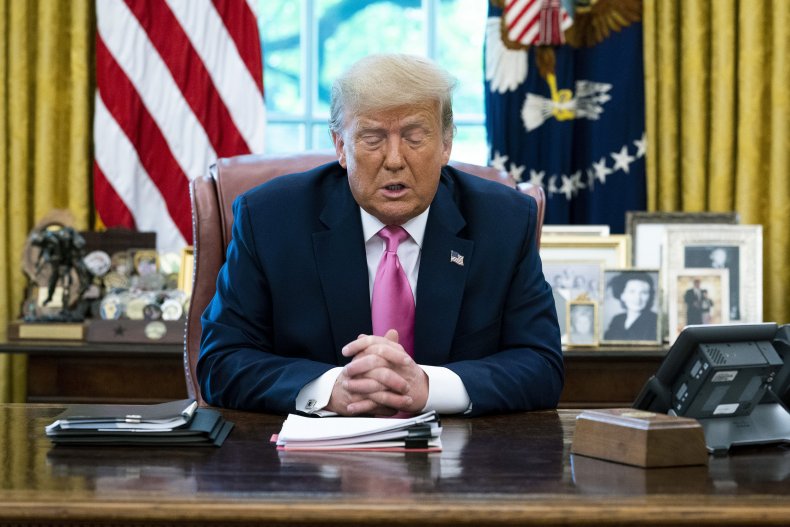 But bringing a veto to a second congressional vote would likely delay the process of getting stimulus checks to Americans as quickly as planned. On Monday, Treasury Secretary Steve Mnuchin told CNBC that Americans could see their $600 payments in just a matter of days.
"The good news is this is a very, very fast way of getting money into the economy. Let me emphasize: People are going to see this money at the beginning of next week," he said.
Following the president's remarks, Democratic lawmakers said they supported raising the direct payments, a provision they had pushed for in the package since negotiations first began. But they urged Trump to sign the bill into law for now.
"Trump needs to sign the bill to help people and keep the government open," Democratic Senate Minority leader Chuck Schumer said, according to the Associated Press.
House Speaker Nancy Pelosi tweeted, "At last, the President has agreed to $2,000. Democrats are ready to bring this to the Floor this week by unanimous consent. Let's do it!" An aide said she would put forward the proposal on Thursday for a vote, the AP reported.
During a press conference on Sunday, Pelosi said the package was just a "first step" and suggested more economic relief would be provided under the incoming Biden administration.
Trump's demand for higher stimulus payments goes against the views of some Republican lawmakers, who have said that increased direct payments as well as federal unemployment benefits are unnecessary at this point in the pandemic.
On Tuesday, Trump said that if Congress doesn't provide a more suitable bill, the next administration would be forced to do so, but refused to acknowledge that Joe Biden will be the next president.
"Send me a suitable bill or else the next administration will have to deliver a COVID relief package, and maybe that administration will be me, and we will get it done."
Newsweek reached out to Trump's press office for additional comment but did not hear back in time for publication.