What Joe Manchin, Kyrsten Sinema and Mark Kelly Have Said About Biden's Stimulus Plan
Democrats will need to mount a united front to pass President Joe Biden's relief plan without Republican support and if Senators Kyrsten Sinema, Mark Kelly or Joe Manchin, who haven't publicly announced how they intend to vote, break from the rest of the party, it could kill the effort.
COVID-19 relief was a cornerstone of Biden's campaign and budget reconciliation would allow Democrats to pass Biden's package with a simple majority of 51 votes. Senator Bernie Sanders is confident Democrats have the votes they need to push the package through and with a 50-50 split in the Senate, they have no room for error because it'll already take Vice President Kamala Harris' tiebreaking vote to push them over the 51-vote margin.
Manchin's become one of the biggest focuses of the debate because he's already said he won't back a provision for a $15 minimum wage. An advocate for the relief package being a bipartisan effort, Manchin told CBS News there needs to be an open process for amendments to be made. While an amendment may not pass, he advocated for following the process of allowing people to have their say.
The West Virginia Democrat supports extending unemployment benefits, stimulus checks and help for small businesses—all of which is in Biden's package—but said it must be targeted on the COVID-19 crisis with a "laser focus." In the past, Republicans have criticized Democrats for including measures in relief packages that have little to do with the pandemic and they're currently pushing for a $618 billion plan, leaving a $1.3 trillion gap between the two parties.
It's little surprise that Manchin isn't ready to commit to the party line, as he's said in the past that he's going to do what he feels is best for his constituents regardless of party politics and led a bipartisan effort to pass a package in December. He's not the only potential wrench in the Democrat plan, though, and Arizona's senators have signaled they may need some persuading.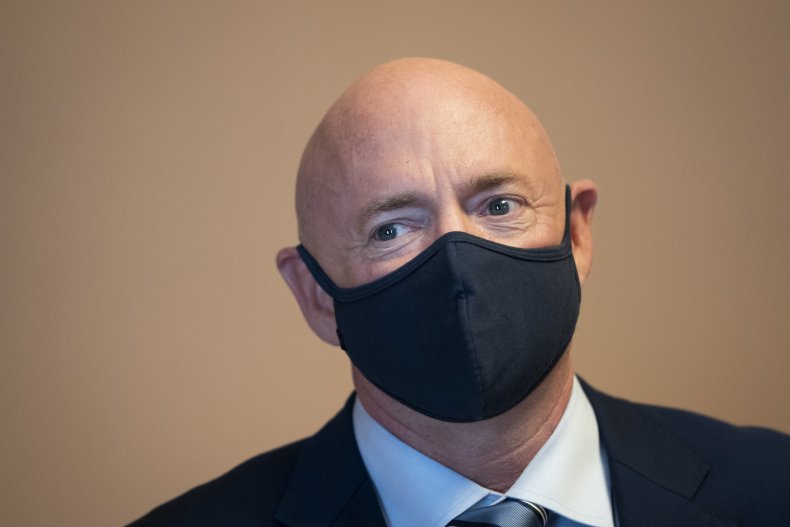 Shortly after being sworn into office on December 2, Kelly joined bipartisan talks for a relief plan and last week, participated in a call between a group of bipartisan legislators and Biden officials
"In order to tackle this crisis we're going to need to work together, Republicans and Democrats, to find common ground," Kelly said in a statement after the call. "This was a productive conversation and an important one to ensure we get relief to Arizonans who need it most and vaccinations out into our communities to beat this virus."
Kelly told AzFamily.com there was broad agreement on improving vaccine distribution and that different areas require a different amount of attention. He didn't say one way or another as to how he felt about the $1.9 trillion price of the package.
Both Kelly and Sinema are in a tough political position because progressive Democrats helped send them to Washington, D.C., but Arizona is very much a purple state. A progressive PAC has already launched a search to find someone to challenge Sinema in 2024.
She's already spoken out against ending the filibuster and advocated for working with Republicans to pass targeted relief that expands vaccinations, extends unemployment insurance and supports schools, businesses and families.
On Tuesday, the Senate and House voted to advance a budget, setting the reconciliation process in motion. Every Senate Democrat voted in favor of advancing the budget resolution and every Republican, minus Senator Pat Toomey who was absent, voted against it.
Newsweek reached out to Senators Mark Kelly and Kyrsten Sinema for comment but did not receive a response in time for publication.