What next for Jimmy Butler after His Sensational Rant Against Minnesota?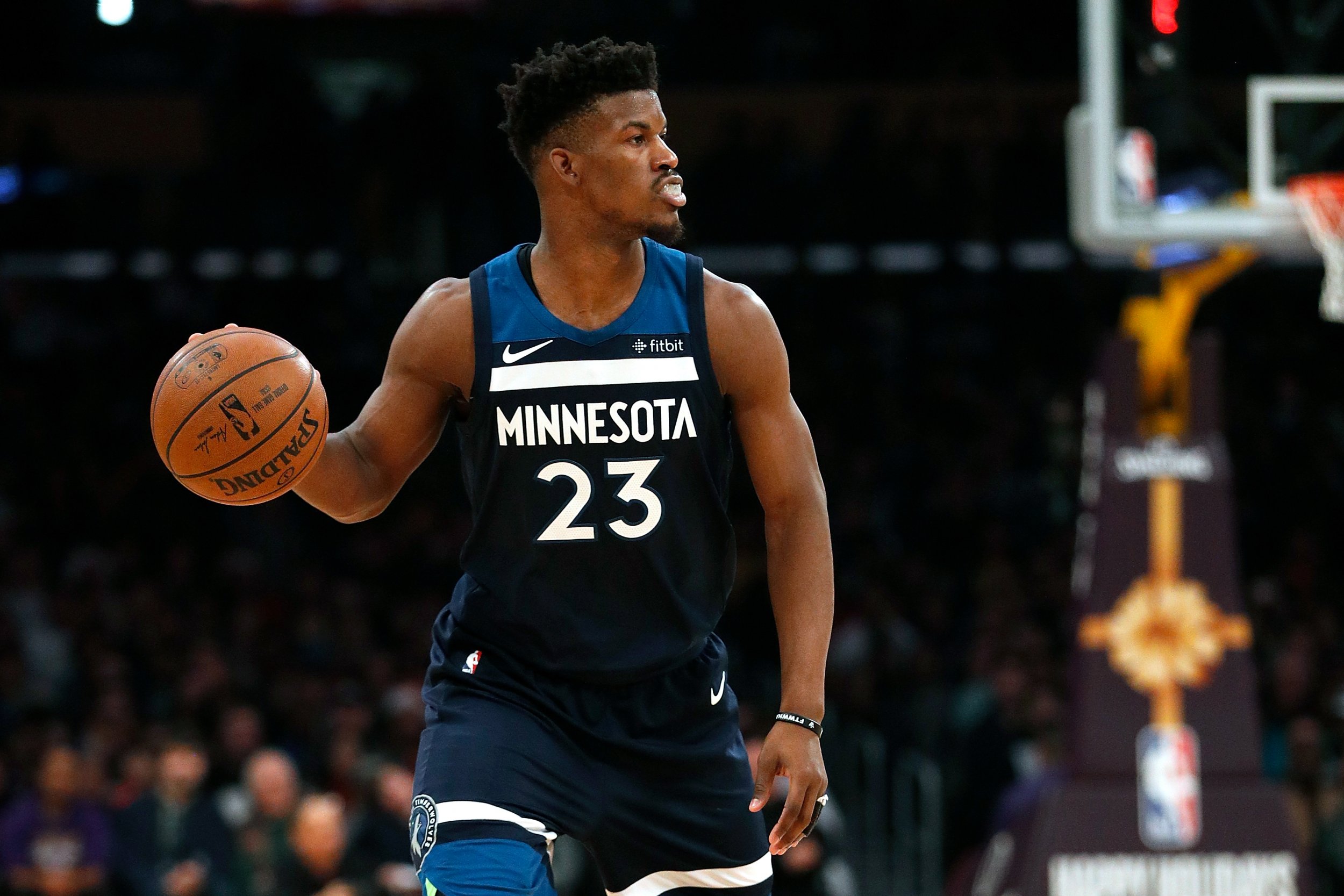 After spending the last three weeks agitating for a trade, Jimmy Butler eventually reported for practice in Minnesota and he took no prisoners.
On Wednesday afternoon, the 29-year-old arrived at the Timberwolves' training facility, before launching into a remarkable tirade against teammates, coaches and front office executives.
The remarkable exchange was reported by ESPN's Adrian Wojnarowski, who described Butler as "vociferous and emotional at times." Butler went after Minnesota coach/president Tom Thibodeau as well as his star teammates Karl-Anthony Towns and Andrew Wiggins.
Citing league sources, Woj reported that Butler yelled at Minnesota General Manager Scott Layden, saying: "You f***ing need me. You can't win without me."
The expletives-laden rant made an already explosive situation even more volatile and it will be fascinating to see what the future unfolds for Butler and the franchise.
Where do the Wolves and Butler stand?
Butler wants out of Minnesota and has made no mystery of it. On September 20, the 29-year-old requested a trade but in three intervening weeks very little progress has been made.
The Athletic's Jon Krawczynski reported the Wolves want a package that includes a replacement wing, a promising young player and a draft pick. However, with Butler set to become a free agent in 2019, no team is going to put forward such a trade package without assurance that Butler will commit to a long-term deal.
Which teams want Butler?
When Butler first requested a trade last month, he listed the New York Knicks, the Brooklyn Nets and the Los Angeles Clippers as his preferred landing spots.
None of them signalled any intent of signing the Texas native, but the Houston Rockets and the Miami Heat did.
According to ESPN, the Rockets were asked for a package including shooting guard Eric Gordon and forward PJ Tucker, but they were reluctant to part ways with the latter.
Meanwhile, a proposed deal between the Heat and the Wolves which would have taken Josh Richardson and a protected first round pick to Minnesota collapsed over the weekend.
On Wednesday, Woj reported the Heat remained keen to sign Butler and were hopeful talks with the Timberwolves' front office would resume.
Why does Butler want to be traded?
Whichever way one tries to dress it, Butler wants to win and he feels he can't do so in Minnesota. Last year, in Butler's first season in Minnesota, the Timberwolves reached the playoffs for the first time since 2004. In an ultra-competitive Western Conference, the Timberwolves are not equipped to go deep into the postseason.
On top of that, Butler, who has averaged over 20 points and over five rebounds per game over the last four seasons, feels his teammates are not motivated enough to win.
"I think that's the part everybody doesn't see," Butler said in a wide-ranging interview with ESPN's Rachel Nichols to discuss his outburst.
"I'm not going to say no names. I'm going to be honest: If your No. 1 priority isn't winning, people can tell. That's the battle. Now there is a problem between people. That's where the disconnect is."
The problem, as Butler pointed out in his tirade, is that the Timberwolves are nowhere near as good without him as they are with him.
Can Minnesota keep Butler?
Before Butler's remarkable rant on Wednesday, the Timberwolves' front office was said to be hopeful of keeping Butler this season.
While the 29-year-old's tirade reportedly left his teammates energized, there appears to be little chance of Butler remaining in Minnesota.
Not only he wants out, he has now criticized pretty much everyone within the organization. The only reason why Butler hasn't left the Timberwolves yet is that the franchise has dragged its feet in the hope of finding the best possible trade deal.
Minnesota opens its NBA season with a road game against the San Antonio Spurs next Wednesday but it remains to be seen whether Butler will still be on the roster.