What Is People of Praise? 'Cult' Tied to Amy Coney Barrett
A sworn affidavit from the 1990s from a former member of a secretive religious group with alleged ties to Supreme Court Justice Amy Coney Barrett described an environment of complete control one woman faced during her involvement.
The affidavit, which was detailed in a report by The Guardian published Monday, also described alleged instances in which the founder of People of Praise and his wife took part in "sexual displays" in front of children and others.
Barrett's alleged involvement with the religious group, which was scrutinized after former President Donald Trump nominated her to replace the late Justice Ruth Bader Ginsburg on the Court, has gained new relevance after a leaked draft opinion showed that the Court's majority was poised to roll back the constitutional right to an abortion. While the draft opinion does not signal a final decision by the Court on 1973's Roe v. Wade decision, critics have decried it as a move driven by religion.
People of Praise, a self-described "charismatic Christian community" that encompasses a variety of churches, includes Roman Catholics, Lutherans, Episcopalians and Methodists. It was founded in 1971 in South Bend, Indiana, by Kevin Ranaghan and has since drawn about 1,700 members, with a presence in 22 cities across the U.S., Canada and the Caribbean.
The group says on its website that its "community life is characterized by deep and lasting friendships."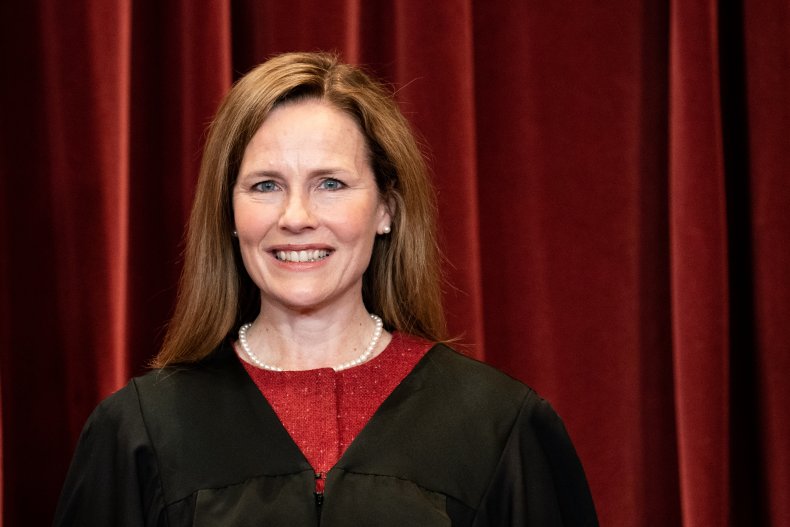 "We share our lives together often in small groups and in larger prayer meetings. We read Scripture together. We share meals together," People of Praise wrote. "We attend each other's baptisms and weddings and funerals. We support each other financially and materially and spiritually. We strive to live our daily lives in our families, workplaces and cities in harmony with God and with all people."
To become a full member of People of Praise, those interested must make a "covenant commitment," which the group says "is made freely and only after a period of discernment lasting several years."
"Our covenant is neither an oath nor a vow, but it is an important personal commitment," the group says. "We teach that People of Praise members should always follow their consciences, as formed by the light of reason, and by the experience and the teachings of their churches."
But the affidavit viewed by The Guardian and stories from former members shed light on a darker existence that they saw as their reality while involved with People of Praise.
In a September 2020 interview with Democracy Now!, former member Coral Anika Theill said that while many describe People of Praise as a community, "I describe it as a cult." She described alleged abuse and torture from her husband at the time, as well as "shunning, shaming and a smear campaign" that she said was conducted against her when she ultimately "escaped and left."
In response to the allegations in the affidavit, People of Praise said in a statement shared with Newsweek: "Since 1967 Kevin and Dorothy Ranaghan have been known and respected for their tireless work sharing the free gift of the Holy Spirit with hundreds of thousands of people around the world. We are proud that they are members and leaders of the People of Praise."
Asked about Theill's allegations of abuse, torture and shunning, People of Praise directed Newsweek to a statement it made to The Washington Free Beacon in 2020.
"Neither the men nor women leaders in the People of Praise Corvallis branch are aware that there were ever any allegations of physical or mental abuse concerning Ms. Theill and her husband at the time," the group told the website. "Her charges of the mistreatment of women, insularity, lack of privacy and shunning are contradictory to our beliefs and our practices as a community."
It has been reported that Barrett lived in a South Bend home owned by Ranaghan while she was a law student. She has not spoken publicly about her alleged involvement, and the group has declined to confirm her membership, The Washington Post reported.
Newsweek reached out to Barrett for comment.
Update 06/06/22, 1:10 p.m. ET: This story was updated with comments from People for Praise.