What Ron DeSantis Has Said About Jan. 6 as Donald Trump Under Pressure
After the Congressional committee investigating the January 6 attack on the U.S. Capitol has held its fifth televised hearing, one person who may be thrilled with how proceedings have gone so far is Florida Governor Ron DeSantis.
The panel has presented a host of evidence to suggest that Donald Trump was personally involved in a number of schemes and plots to overturn the 2020 election results, despite knowing some of the tactics were illegal.
With the hearings set to continue in July, Trump will likely face continued pressure as more evidence comes in, which ultimately could result in the Department of Justice launching criminal proceedings against the former president.
Even if he is not indicted, Trump also risks being barred from running for office again over allegations he was a part of an insurrection attempt, which could end up playing in DeSantis' favor.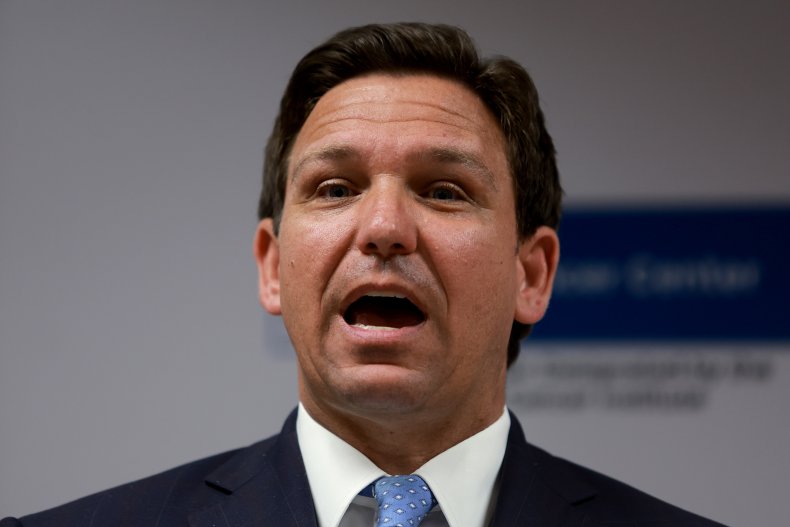 While neither Trump nor DeSantis have announced their intentions to run for the presidency in 2024, both men have long been considered the two leading candidates to eventually face off in the Republican primary.
There are also signs that DeSantis appears to be trying to distance himself from Trump ahead of a potential 2024 presidential bid.
DeSantis is reportedly not seeking the highly sought-after Trump endorsement as the Florida governor looks to win reelection in November's midterm, according to Politico.
If DeSantis hopes to overtake Trump as the number one contender for the GOP nomination - which is still at best an optimistic longshot - he may have to further distance himself from his once key ally if the January 6 hearings forever tarnish Trump's name.
However, one thing that DeSantis and Trump will likely continue to agree on is their disapproval of the January 6 hearings, and downplaying the severity of the Capitol attack.
What Ron DeSantis Has Said About Jan. 6
In the aftermath of the attack, DeSantis issued a statement condemning the violence which occurred that day while praising law enforcement's attempts to protect the Capitol building from the mob.
"Violence or rioting of any kind is unacceptable and the perpetrators must face the full weight of the law," DeSantis said in a statement. "The Capitol Police do an admirable job and I thank them for their hard work."
On January 7, 2021, DeSantis repeated his condensation of the rioters during a press conference regarding the response to the COVID-19 pandemic.
"It was totally unacceptable and those folks need to be held accountable. And it doesn't matter what banner you're flying under, the violence is wrong," the governor said. "The rioting and the disorder is wrong. We're not going to tolerate it in Florida."
For a long time, DeSantis shied away from publicly discussing the January 6 attack one way or another.
However, DeSantis did downplay the severity of the riot on the one-year anniversary, as well as criticizing media coverage surrounding the event.
"You're going to see the D.C., New York media, I mean, this is their Christmas, Jan. 6, OK, " DeSantis said. "They are going to take this and milk this for anything they could to try to be able to smear anyone who ever supported Donald Trump."
"Let's just be clear here, when they try to act like this is something akin to the September 11 attacks, that is an insult to the people who are going into those buildings," DeSantis added. "And it's an insult to people when you say it's an insurrection, and then a year later, nobody has been charged with that."
DeSantis continued to attack the January 6 committee and the media focus around it after the first few televised hearings had taken place.
"Why aren't they doing hearings about more energy? Why aren't they doing hearings about inflation? Why are they constantly beating this dead horse?" DeSantis told reporters on June 15.