Republican candidates taking on former President Donald Trump in the 2024 GOP primaries had mixed reactions to news of his federal indictment on Thursday, although many of them agree that the charges stem from the "weaponization" of the federal government.
Trump is facing seven counts in connection to the Department of Justice (DOJ) investigation into his handling of classified documents retrieved from his Mar-a-Lago estate in Palm Beach, Florida. Details of the DOJ indictment have yet to be released, but Trump attorney Jim Trusty told CNN Thursday night that the counts include an Espionage Act charge and several "obstruction-based" counts.
The indictment marks the second time that Trump has been criminally charged since announcing his 2024 reelection campaign and is the first time a former U.S. president has faced federal charges. Trump is already facing 34 felony counts related to business fraud stemming from Manhattan District Attorney Alvin Bragg's investigation into various hush money payments made during the 2016 presidential campaign.
The former president enjoys a healthy lead over his opponents for the next GOP nomination, and previously received a polling boost after facing an indictment from Bragg's office. But several of his challengers denounced the DOJ's indictment on Thursday, including GOP candidate and entrepreneur Vivek Ramaswamy, who promised to pardon Trump on "January 20, 2025" if he is elected to the White House.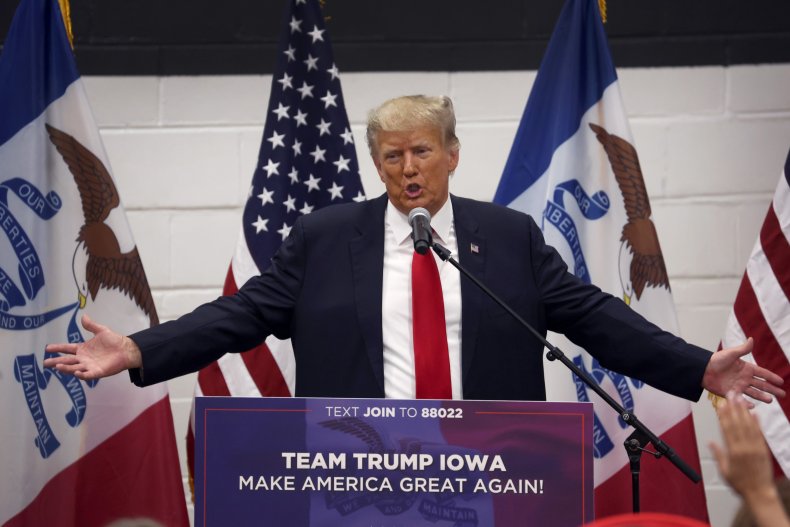 "We can't have two tiers of justice: one for Trump, another for Biden," Ramaswamy tweeted Thursday. "I never thought we'd see the day when the U.S. President deputizes the DOJ to arrest his lead rival in the middle of an election."
Radio talk show host and filmmaker Larry Elder, who is also running for the GOP nomination, called Trump's charges "More partisan prosecution!" over Twitter. And South Carolina Senator Tim Scott told Fox News' Harris Faulkner that America is facing "a justice system where the scales are weighted."
When reached for comment, a spokesperson for Florida Governor Ron DeSantis directed Newsweek to a recent tweet from the governor, which adamantly dismissed the DOJ's indictment despite sharing a rather rigid relationship with Trump in recent weeks.
"The weaponization of federal law enforcement represents a mortal threat to a free society," DeSantis wrote on his Twitter account. "We have for years witnessed an uneven application of the law depending upon political affiliation. Why so zealous in pursuing Trump yet so passive about Hillary [Clinton] or Hunter [Biden]? The DeSantis administration will bring accountability to the DOJ, excise political bias and end weaponization once and for all."
South Carolina Governor Asa Hutchinson did split from his Republican counterparts on Thursday, however, and called for Trump to drop out of the race over his recent charges.
"Donald Trump's actions—from his willful disregard for the Constitution to his disrespect for the rule of law—should not define our nation or the Republican Party," Hutchinson wrote in a statement shared to his Twitter account. "This is a sad day for our country. While Donald Trump is entitled to the presumption of innocence, the ongoing criminal proceedings will be a major distraction. This reaffirms the need for Donald Trump to respect the office and end his campaign."
Former New Jersey Governor Chris Christie took a fairly neutral stance after Trump wrote about his indictment on his Truth Social account, and encouraged his followers to wait and "see what the facts are when any possible indictment is released."
"As I have said before, no one is above the law, no matter how much they wish they were," Christie wrote on Twitter. "We will have more to say when the facts are revealed."
Former Vice President Mike Pence was noticeably quiet Thursday night, but stated during a town hall event the day prior that he believed any federal charges against Trump would be "divisive" for the country.
"Let me be clear that no one's above the law," Pence said during his live forum with CNN Wednesday. "But with regards to the unique circumstances here ... I would just hope that there would be a way for them to move forward without the dramatic and drastic and divisive step of indicting the former president of the United States."
Former South Carolina Governor Nikki Haley was also quiet Thursday evening.
The former president has repeatedly denounced the investigations against him as a "witch hunt," and said in series of posts to his Truth Social account that his federal indictment marks a "dark day" for the country.
Trump also launched a new fundraising effort Thursday evening, asking for donations to help fight against the "election interference" by the DOJ and promised supporters that with their "support, we will once again surge even higher and prove that our America First movement truly is UNSTOPPABLE."
The White House and the DOJ declined comment to Newsweek.