What VP Candidate Kamala Harris Has Said About a Second Stimulus Check
As negotiations for a new federal economic relief package enter into October, many Americans are wondering if they will ever see another round of the direct payments last authorized by Congress in March.
While both Republicans and Democrats generally agree that a second round of stimulus checks are needed to bolster the struggling economy, they disagree on the size and scope of such a measure. And Senator Kamala Harris, the Democratic candidate for vice president, stands out on the issue even among her own colleagues.
In May, Harris touted the idea of monthly stimulus checks, introducing the Monthly Economic Crisis Support Act along with Democratic Senators Bernie Sanders and Ed Markey. Dubbed the Harris-Sanders-Markey (HSM) plan, the bill provides up to $2,000 per month to those earning up to $120,000 per year. The legislation would be retroactive to March, meaning that if the bill passes in October, Americans will receive an additional seven months' worth of payments.
The HSM plan says that a maximum of three dependents per family could also receive $2,000 each, meaning that a family of five could receive up to $10,000 per month. The bill states that the payments would continue for three months after the declared end of the coronavirus pandemic.
Additionally, every U.S. resident is eligible to receive payment, whether or not they file taxes or have a Social Security number. This means undocumented immigrants could receive the money, in addition to U.S. citizens.
The Institute on Taxation and Economic Policy conducted an analysis of the plan, finding that its 10-month price tag could be at least $5.6 trillion—more than twice the amount of the Coronavirus Aid, Relief and Economic Security Act signed by President Donald Trump in March. The CARES Act provided the first round of stimulus checks to qualifying individuals, giving them a one-time direct payment of $1,200.
During an appearance on MSNBC in July, Harris spoke about her proposed plan, arguing that people "below a certain income level" need the $2,000 each month.
"We need to give people $2,000 a month as recurrent payments...to help them and sustain them through these months of crisis so at the end of it, they can get back up on their feet instead of falling deep, deep, deep into the crevices of this crisis," she told host Chris Hayes.
The Monthly Economic Crisis Support Act was read twice in the Senate in May and referred to the Committee on Finance for debate, where it currently remains.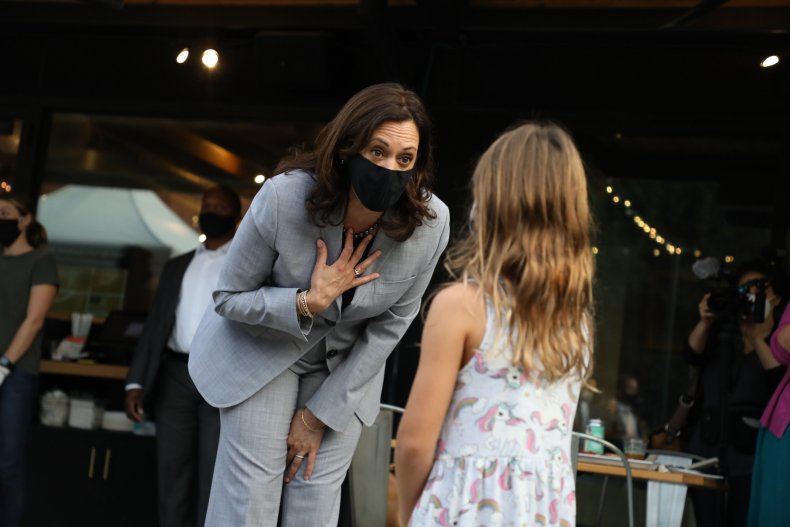 Harris, a former San Francisco district attorney and California attorney general, was elected to the Senate in 2016. Democratic presidential candidate Joe Biden named her as his running mate in August, calling her a "fearless fighter for the little guy and one of the country's finest public servants."
While the HSM plan is unlikely to pass in Congress because of a lack of bipartisan support, if Harris becomes vice president in November and Democrats gain control of the Senate, it's possible that a Biden-Harris White House could push lawmakers to approve the monthly stimulus checks, according to Forbes.
Biden, however, appears to be more focused on the country's overall economic recovery than he is on authorizing direct payments. He has voiced support for more stimulus checks, but the former vice president has not yet endorsed Harris' HSM plan.
During an April interview with Politico, Biden said he wanted the next economic relief bill to be "a hell of a lot bigger" than the CARES Act, which had a price tag of roughly $2.2 trillion. A policy adviser for Biden's campaign told Axios in August that Biden's campaign has "always contemplated the need for additional stimulus" and planned to put the specifics in motion after the inauguration, if Biden wins.
And with Congress still in a stalemate over a new relief package, Americans could easily go without another round of direct payments until after the election. While Democrats and Republicans largely agree that both another relief package and more stimulus checks are needed, monthly payments seem out of the question, particularly in the GOP-controlled Senate.
And even in the House, which could vote on its updated Health and Economic Recovery Omnibus Emergency Solutions (HEROES) Act as soon as Thursday, lawmakers seem to favor a one-time round of $1,200 payments.
Treasury Secretary Steven Mnuchin, who has restarted talks with House Speaker Nancy Pelosi and Senate Majority Leader Mitch McConnell this week, said Wednesday night that direct payments in any bipartisan legislation will be "similar" to the first round provided by the CARES Act.
Newsweek contacted Harris' office for comment but did not hear back in time for publication.