'What We Do in the Shadows' Stars Weigh In on Nandor and Guillermo's Relationship
The relationship between vampire Nandor the Relentless and his familar-turned-bodyguard Guillermo de la Cruz is one of the highlights of What We Do in the Shadows, but it takes a different turn to what fans might expect of it in Season 4.
While Guillermo may have appeared to have been in love with Nandor since the show started, so much so that some fans have dubbed their pairing "Nandermo" and hope they will become a couple, it seems this won't happen in reality onscreen.
Season 4 sees Nandor and Guillermo reunite after a year apart following their separation in Season 3, and as the vampire decides to finally find love, he has to look back, way back to one of his partners from before he became a creature of the night, and he asks Guillermo to be his best man at the wedding.
Kayvan Novak and Harvey Guillén, who portray Nandor and Guillermo respectively, spoke to Newsweek about the new avenues their characters' relationship is taking.
Kayvan Novak and Harvey Guillén on Nandor and Guillermo's Relationship in 'What We Do in the Shadows'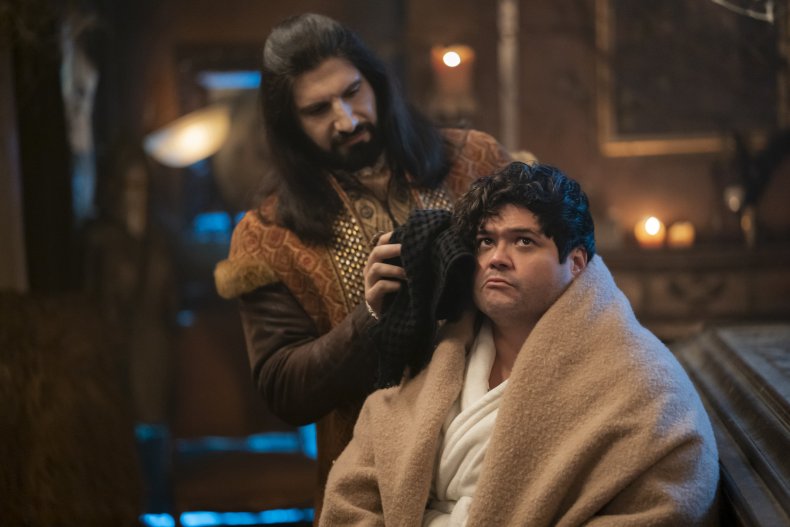 For Guillén, it was interesting to see Nandor and Guillermo's love for each other take a different form that is typically expected, arguing that there are many ways people can express their affection for one another and this is just how it works for these two.
"I love that time has gone by, so a year has gone by since we last saw them when we thought they were gonna go on this adventure, and I think that both the characters have a lot of love for each other," Guillén explained.
"What kind of love that is, you know, yet to defined, but they're fine in their own space, separated and given time between both seasons, and in their time, in their world, a year has gone by and they both have found new interests, have found new things that they are passionate about.
"But, also, seeing them come back together and [Nandor] asking [Guillermo] to be the best man for his wedding that he has yet to pick a bride for is really nice.
It's like they have such a close relationship, so I like it. I was surprised at first [thinking] 'Oh, wow,' but also the fans really love to see Nandermo together.
"But they do have love for each other, and it's like there's different forms of love and it doesn't have to necessarily be that they're married to one another. I just think it's a great connection they have."
Novak added to his co-star's sentiment as he went on: "Yeah, I think Nandor asking Guillermo to be his best man at his wedding before he's even chosen a bride kind of, for me, it was like 'that's sweet' because Nandor [...] can't admit that he needs Guillermo so he's just coming up with ridiculous reasons to keep him around, and this is one of those reasons and I think that's really sweet.
"I think he probably had a bit of a, I mean, the relationship had a bit of an identity crisis, I'd say, because Guillermo was no longer just the slavish slave to his master. He is now like, 'Well, I'm a de la Cruz and I've got Van Helsing blood, and I can actually kick your a**' or at least have a go at doing that.
"So the way that they've evolved their relationship and just kind of made it, It's more of a bromance now in a way, I guess, this season. I think it is anyway, that's my take, that's my hot take."
On Guillermo and Nandor's Separate Romances
Although some viewers might be sad to learn that Nandor and Guillermo won't be getting together anytime soon, the characters actually have a few romantic prospects of their own.
As previously mentioned, Nandor is seeking out love from a former life which he is making a reality by using the help of a Genie (Anoop Desai), while Guillermo appears to have a secret partner who gets a brief, but memorable, mention in Episode 1.
Guillén was adept at not giving away too much about Guillermo's mysterious new partner, sharing that Guillermo does have someone in his life who he met in the period between Season 3 and 4, but fans will have to wait and see what they're like.
"Well, I mean, he left to London with Nadja and, again, being away and having time to think and meet new people and learn new skills.
"He has met someone, and I think that we'll meet that person in future episodes. But yeah, he is himself having a secret romance, and he's excited to maybe share that or not share that, because it could go either way, especially with this group of family and friends. So, who that person is you'll have to [wait to] find out."
Novak, meanwhile, admitted that Nandor's romance prospects were interesting to him mainly for the comedic opportunities he would have with new cast member Desai, who plays the Genie-turned-matchmaker for the vampire.
The actor shared: "He's mentioned his backstory so many times... they've brought that to life in an ingenious way through this genie.
"I think I was more apprehensive about who was going to play the genie because I was like, 'holy s**t this genie has got some some lines! He's in about 17 episodes, he's in more episodes than I am so he better be a nice guy because there's only so many times I can fake laugh at his jokes.'
"But, we were blessed with Anoop Desai, he was just a fantastic actor and just an all around wonderful human being, and it was a real pleasure to work with him over almost the entire season. You know, he keeps texting me 'any news on season six, season seven?' How ambitious this guy is."
What We Do in the Shadows premieres with its first two episodes on FX at 10 p.m. ET on Tuesday, July 12, and the show will also be available to stream on Hulu.