'What We Do In The Shadows': Everything We Know About Seasons 5 and 6
What We Do in the Shadows fans rejoice! FX has confirmed that the show's loveable vampire roommates will return for two more seasons.
Nick Grad, president of original programming at FX Entertainment, announced on Monday, June 6 that the show had been renewed ahead of its Season 4 release.
In a statement, Grad shared: "There's a lot of life left in our favorite vampires from Staten Island and FX couldn't be more thrilled to commit to two additional seasons of this phenomenal series.
"What We Do in the Shadows excels on every level, from the brilliant cast and surprising guest stars to the producers, writers, directors and crew. We can't wait for everyone to enjoy season four, knowing that the next two are on the way."
Everything We Know So Far About 'What We Do In The Shadows' Seasons 5 and 6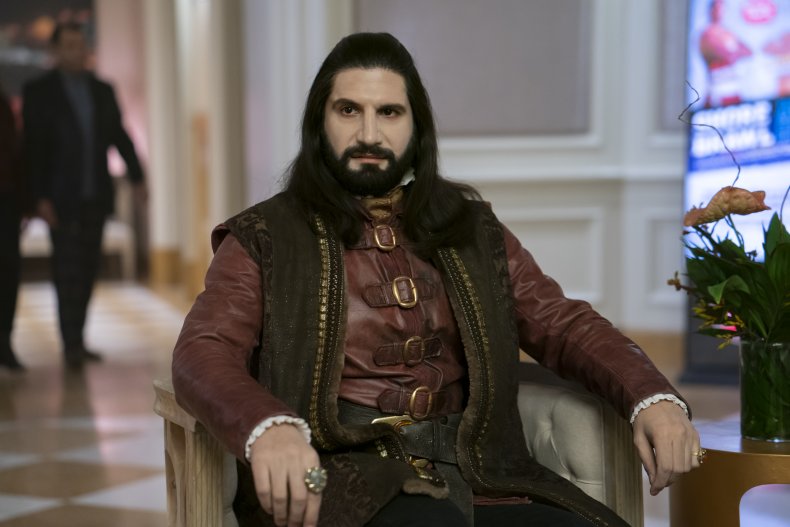 In an interview with Newsweek, showrunner Paul Simms confirmed that he and his team were "currently writing" the next season ahead of the launch of Season 4 on FX on Tuesday, July 12.
Simms also discussed the new seasons at a press conference in support of Season 4, which he attended alongside fellow producer Stefani Robinson and the cast of the show.
He explained that they already knew how the show would end but that it wouldn't come in the next two seasons, saying: "We have an end in mind, it's just a matter of figuring out when the right time to do it is.
"But we definitely have [an end], we know we have at least two more seasons worth of stories to tell and then we'll figure out what happens after that."
The show's lead cast consists of Kayvan Novak, Matt Berry, Natasia Demetriou and Mark Proksch as vampires Nandor, Laszlo, Nadja and Colin Robinson, and Harvey Guillén as their human familiar-turned-bodyguard Guillermo.
Neither Simms, Robinson nor the cast have commented on whether they will (or won't) return in Seasons 5 and 6, but it's safe to assume that they are likely to do so in some capacity, given Proksch's Colin Robinson died in Season 3 only to be reborn in the season's closing moments.
Season 4, which premieres with its first two episodes on Tuesday, July 12, sees the characters decide to open a vampire night club in order to help pay for the repairs needed for their home, which has fallen into a state of disrepair after being a year apart.
This story, as well as how the vampires try and raise Colin Robinson so that he doesn't become an energy vampire again, are the main plot points of the new episodes, and their actions will likely play a part in future seasons too.
What We Do in the Shadows Season 4 premieres on FX on Tuesday, July 12, at 10 p.m. ET, and it will be available to stream on Hulu the next day.