'What We Do in the Shadows' Star Natasia Demetriou Raves Over 'Genius' Vampire Nightclub
Natasia Demetriou has called her What We Do in the Shadows character Nadja's storyline in Season 4 a "stroke of genius."
The actor, who has portrayed the vampire since the FX show's first season, was full of enthusiasm when she spoke to Newsweek about the new episodes and how things have changed for Nadja.
Season 3 saw Nadja make the tough decision to leave Staten Island to take a position on the Supreme Vampiric Council in London, a role she soon grew to hate because of its bureaucracy. This led her to return home with one plan in mind: To open the best vampire nightclub there has ever been.
'What We Do in the Shadows' Star Natasia Demetriou Raves Over 'Genius' Vampire Nightclub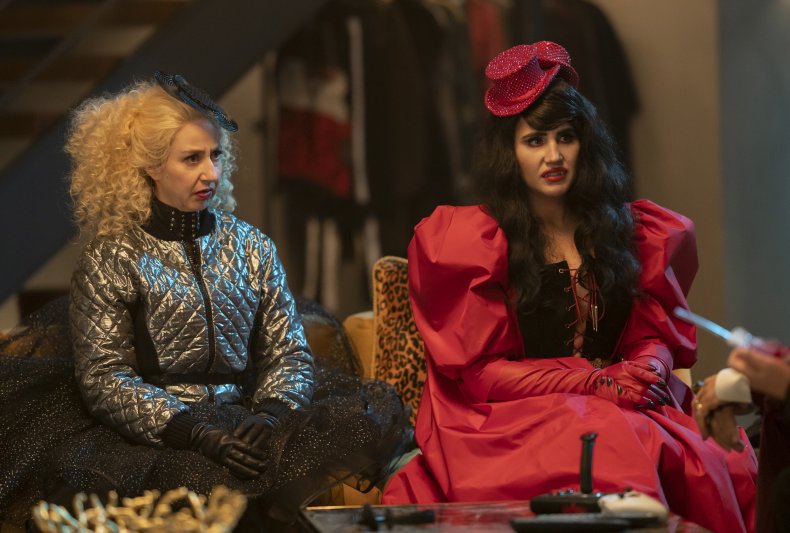 This party destination for Staten Island's creatures of the night will receive its grand opening in the show's third episode, aptly titled "The Grand Opening," which premieres on FX on Tuesday, July 19.
When asked about the nightclub, Demetriou was quick to share her joy as she said: "I loved it, I'm so excited about Season 4.
"I mean, I just think everything that's funny about vampires, you know, dancing, being disgusting and filthy, and horny, and, you know, over the top could all happen […] having it all put in a nightclub it's just, I think it's a stroke of genius.
"I thought it was such a good idea. Yeah, there's some really fun [moments], [it was] very fun to do that nightclub sort of act."
Nadja decides to construct the nightclub at the old vampiric council facility, meaning she is in constant contact with The Guide (Kristen Schaal) who at first isn't too keen on the idea of the building being revamped but is eventually convinced to let it happen and becomes particularly close to Nadja.
This meant that Demetriou shares most of her scenes with Schaal, which the actor thoroughly enjoyed.
"It was really fun. I mean, it's so fun to try to play all the different dynamics of all the couples, you know having her sort of [follow my character around]," Demetriou said.
"As a person, I'm not a very dominant figure in my friendship group so to have someone who is impressed by me and wants to dress up and be like my character, that is really good for my own personal self-confidence. It was quite nice.
"But, yeah, it was really good fun. I thought all this stuff [was great], I just really loved everything they wrote around the nightclub and everything like that, it was just so funny having the sort of childishness, and all that sort of stuff."
"So far [this is] probably my favorite season that we've done, I thought it was all just genius."
On Nadja and Laszlo's Marriage in Season 4
Nadja's marriage to Laszlo (Matt Berry) is one of the pillars of What We Do in the Shadows, with the vampire couple's love for one another spanning centuries and not letting up anytime soon, even when they don't spend as much time together in Season 4.
Laszlo has Baby Colin Robinson (Mark Proksch) to take care of while Nadja is fairly busy with the vampire nightclub, meaning the two lovebirds aren't often together, though this doesn't mean they care for each other any less.
In fact, as the seasons have gone on, Laszlo has spoken exceptionally highly of his wife, showering her with praise and telling her how much she means to him, with Nadja reciprocating.
Demetriou reflected on what it was like to work with Berry and on Laszlo's gushing declarations of love, in particular, telling Newsweek: "I mean, it was incredible. You know, me and Matt in real life are really close and we have a very, like, jokey relationship, so it's quite… because we're British you're not being sincere, it's not something that comes like very easily.
"So, in those moments I actually did feel a bit like it was a really lovely, sweet moment and I think that works when you've got everything else [in the show] being really stupid, a few little moments of real sincerity."
She focussed particularly on the scene in Season 3 where Laszlo talked of how much he loves Nadja and why his London cohorts refusal to accept her for being from a lower class led him to vow never to return to his homeland.
Of this, Demetriou shared: "We did a few [scenes] with the script and a few a bit looser, and he went, 'I know exactly what I'm gonna say.' It was very lovely, yeah, a very sweet moment."
Berry, who was in the interview with his co-star, added: "I agree with that, because if you're a good actor—this shouldn't make any sort of difference, but it does—if you get on with the people that you're working with, especially when you're doing things like comedy, and you have a a shorthand with them anyway, it makes that stuff so much easier.
"Because you can go off-piste and do anything and it's not going to throw [the other person]. If anything, you'll kind of get them sort of jazzed up, which is the best outcome for this job.
"You've got two people that are on the same sort of wavelength, it's like two musicians. If they're both there with each other, then that's when you get the best stuff, I think."
What We Do in the Shadows Season 4 airs Tuesdays on FX at 10 p.m. EDT, and episodes are available to stream on Hulu.