'What We Do in the Shadows' Star Matt Berry on Easter Egg He Tried to Sneak into Season 4
What We Do in the Shadows is full of references, clever nods and even cameos from every possible sphere of the vampire genre on TV and film, but Matt Berry had a different Easter Egg (hidden feature) in mind for Season 4.
The actor, who portrays vampire Laszlo, previously included a nod to his show Toast of London in Season 3, and Berry spoke with Newsweek about what he hoped to include in What We Do in the Shadows' new episodes, which premiere on Tuesday, July 12.
Berry also spoke about Laszlo's Colin Robinson problem, a storyline that was set up in Season 3 after the energy vampire died at the age of 100 only to be reborn, with Laszlo deciding to raise the child.
Matt Berry on the Easter Egg He Tried to Sneak into 'What We Do in the Shadows' Season 4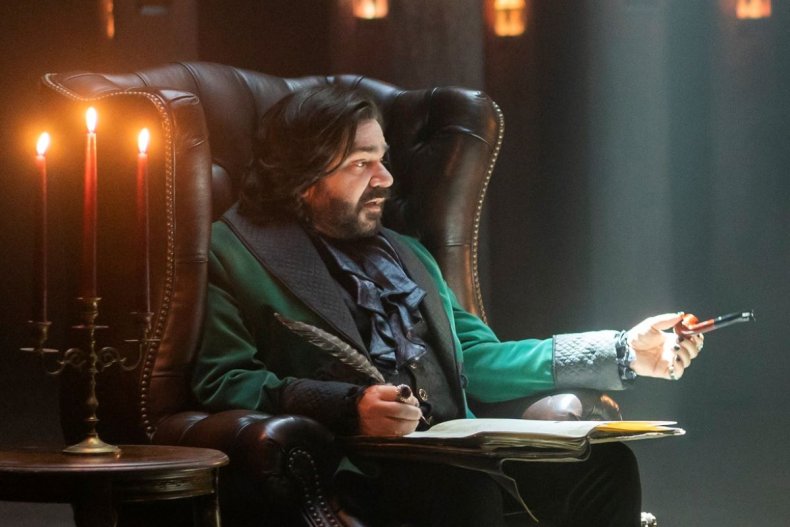 What We Do in the Shadows regularly makes reference to the vampire genre, for example, Wesley Snipes reprized his role as Blade and Tilda Swinton played her Only Lovers Left Alive character Eve in the show's first season.
But Berry wanted to include a wholly different Easter Egg for fans in Season 4, a nod to Star Wars.
For fans who may not be aware of Berry's involvement in the iconic sci-fi franchise, the actor appears in The Book of Boba Fett, the Disney+ series that came out in January, as a droid named 8D8.
Berry wanted to make a subtle reference to the character in Shadows but in the end he wasn't allowed to do so, because he wasn't allowed to tell anyone of his involvement in the series.
When asked if he was able to sneak in another Easter Egg like the Toast of London nod in Season 3, Berry told Newsweek: "No, the only other one I wanted to do, but couldn't because I wasn't allowed to tell anybody, I wanted one of Baby Colin's toys to be my character from Star Wars.
"Just like a little figure that I could just sort of pass to him, which is the same thing as like playing the Toast of London theme tune. I did that not thinking it would even be noticed, let alone ending up in the show.
"Paul noticed it, and that's why it ended up there. But I just did it just to see what would happen. But that's the only other time I was sort of [planning on] cross-fertilizing, but I wasn't allowed to tell anyone so I couldn't."
He went on: "Probably I could do it this time [in Season 5], if there's any kids toys lying around, but I don't think there'll be any place for it."
Matt Berry Didn't Work with Mark Proksch At All in Season 4
Mark Proksch's character Colin Robinson suffered a gruesome fate in Season 3 of Shadows when he died and his body, literally, caved in.
The final moments of the season revealed, though, that Colin wasn't dead and in fact had just been reborn and was now a baby, with Laszlo deciding to take care of him rather than travel with his wife Nadja (Natasia Demetriou) to England.
"I understand why they chose Laszlo to do that, because he seems the least likely father figure to anything or anyone," Berry said of his character's Season 4 story line.
"He seems wholly intent on [focusing on] his own pleasure, and other people come a very, sort of, fast second. So that's why I think he was chosen because he was the most unlikely character to be doing that."
Despite Proksch being on set with the cast at times and his face being superimposed onto the body of a child actor, Berry revealed he never saw his co-star.
"I didn't work with Mark... it was just child actors of different ages and sizes, and then he did his bit months [later]. I mean, he's still doing it I think, or he's just finished.
"So, yeah, I didn't work with him at all last year, though it looks like I'm never apart from him."
Laszlo and Nadja Aren't Together Much in Season 4, But They Still Love Each other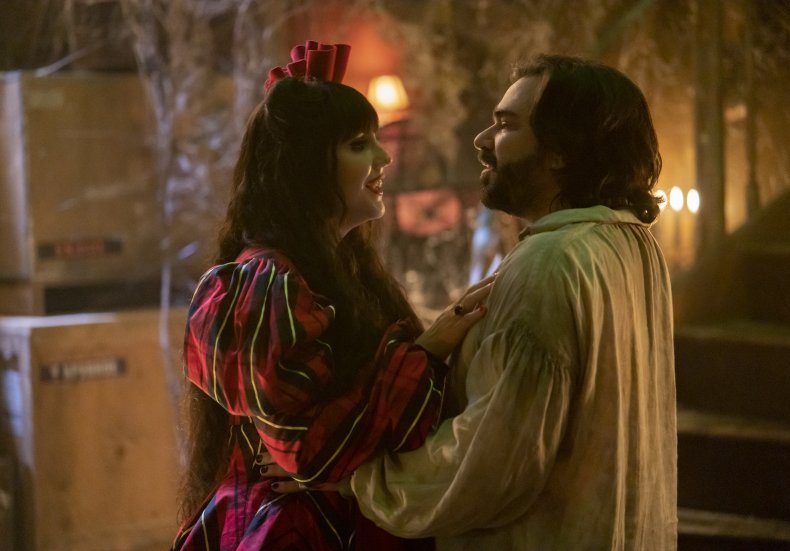 Berry spoke alongside co-star Natasia Demetriou, who portrays Laszlo's wife Nadja. The pair reflected on their characters' relationship in Season 4 and how, even though they were apart, they are inseparable.
Laszlo's hands are pretty full with raising Baby Colin, while Nadja is keen to launch her vampire nightclub in the new episodes, which means they don't spend a lot of time together onscreen.
Berry said: "Well, they weren't separated in terms of story but in terms of being together onscreen for the [fourth] season they're not together that often at all.
"Nadja has a nightclub, Laszlo has that boy. So, you know, their time is very much sort of taken up elsewhere. But, yeah, I'm glad that they weren't separated."
Demetriou added to her co-star's sentiment, telling Newsweek that while their characters aren't together as often, she relished the scenes they did get to share together.
"Some of the funniest stuff to do, I think, is when we get to do Nadja [and] Lazlo stuff together, because they're such a stupid couple," Demetriou said. "And they're so endlessly enamored with themselves and with each other, which is a very funny thing to do, because they're both such stupid characters.
"So the fact that they're just like, 'we're so happy, everything's amazing all the time. Let's have a dance,' yeah [it's a] funny thing, funny to sort of do."
Speaking of Laszlo and Nadja being "endlessly enamored" with each other, the couple share a particularly amorous reunion in Season 4's premiere episode. even with fellow vampire roommate Nandor and bodyguard Guillermo there watching.
Of the appeal of their characters love for each other, Berry went on: "The usual thing is to have sort of, like, in situation comedy, any comedy really, is to have couples that don't like each other, or are sort of fighting with each other.
"That's the norm and that's what you see all the time, and the reason why this is interesting, I think, is because the opposite is happening and in comedies it's very rare I think."
Demetriou added: "They've been together for hundreds of years and they cannot get enough of each other, it's so funny."
What We Do in the Shadows Season 4 premieres with its first two episodes on Tuesday, July 11 at 10 p.m. EDT on FX. The show will also be available to stream on Hulu.