What's Next in Second Stimulus Negotiations After Trump Bristles at $600 Checks?
President Donald Trump's opposition to the bipartisan economic relief package passed by Congress this week has thrown a huge wrench into what lawmakers viewed as a settled deal over the bill.
Although Republicans and Democrats admitted that neither side was entirely pleased with the $900 billion package, they'd expected that payments to Americans would be swiftly approved before Christmas. Treasury Secretary Steven Mnuchin, who led the Trump administration's negotiations with congressional leaders, said Monday that Americans would begin seeing funds in their bank accounts as early as next week.
Then, on Tuesday evening, Trump released a video message voicing his opposition to the package and demanding that Congress modify the bill to increase the stimulus checks from $600 to $2,000. The president also took issue with foreign aid and other government spending included in the package, as the coronavirus relief was part of an omnibus funding bill to keep the government running next year.
In an unusual twist, leading Democrats quickly supported the president's call for larger stimulus checks. Meanwhile, prominent Republican lawmakers reasserted their opposition to direct payments to Americans. What happens next is not certain, but House Democrats are attempting to push through an amendment to increase the stimulus checks to $2,000. Progressives pointed out that they'd been urging Congress to give out checks of this size months ago.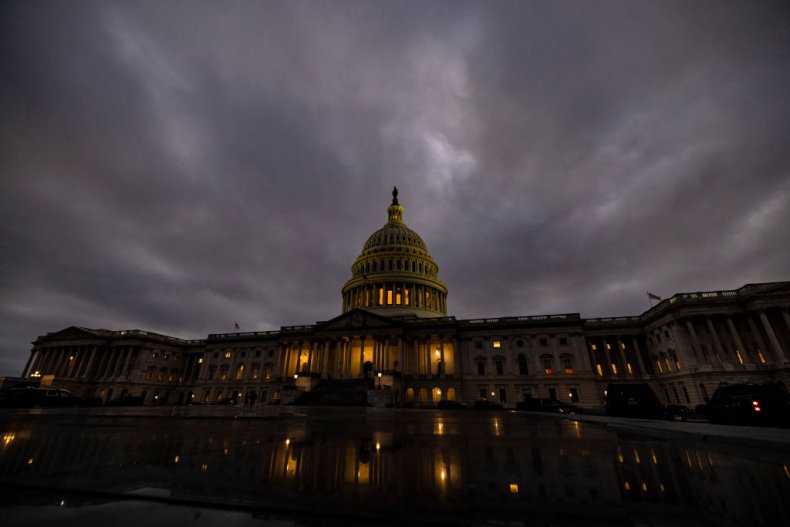 "I first introduced a bill to provide a $2,000 direct payment with @SenKamalaHarris & @EdMarkey 7 months ago. Now, Mr. President, get Mitch McConnell and your Republican friends to stop opposing it and we can provide working class Americans with $2,000. Let's do it," Senator Bernie Sanders, a Vermont independent who caucuses with Democrats, tweeted on Tuesday.
Meanwhile, Senator Rand Paul, a Kentucky Republican and close ally of Trump, and other GOP lawmakers dismissed Trump's demand for larger checks.
"It's a really foolish, eggheaded, left-wing, socialist idea to pass out free money to people," Paul told Fox News on Wednesday morning. "So I part ways with the president on giving people free money."
Later that day, Senator Marsha Blackburn, a Tennessee Republican, voiced her opposition to direct payments in an interview with Fox News.
House Democrats tried Monday morning to pass a measure to raise the checks' amount to $2,000 through a unanimous consent vote. But House Republicans stymied that effort. House Speaker Nancy Pelosi said Thursday morning there would be a roll call vote on the direct payments on Monday. She attacked Republicans for blocking the effort.
"This Christmas Eve morning, House Republicans cruelly deprived the American people of the $2,000 checks Trump agreed to support. On Monday, the House will hold a vote on our stand-alone bill to increase economic impact payments to $2,000," Pelosi tweeted.
"To vote against this bill is to deny the financial hardship that families face and to deny them the relief they need," she said in a statement.
While Democrats support Trump's call to increase the stimulus payments, Pelosi has also urged the president to sign the bill passed this week to keep the government funded and get some relief out to struggling Americans sooner than later. In her Thursday statement, the California Democrat expressed her hope that the president would sign the current legislation by Monday.
Even if the $2,000 stimulus payments are approved by the House, it's unclear how the Republican-controlled Senate will respond. Senate Majority Leader Mitch McConnell and other top Republicans had already opposed significantly larger relief proposals backed by Democrats. McConnell previously pushed for a much smaller stimulus package totaling just $500 billion.
At the same time, some Republican senators have advocated for larger stimulus checks. Senator Josh Hawley, a Missouri Republican, joined with Sanders to push for an amendment raising the checks' amount to $1,200 before the legislation was approved. Although that effort failed, Hawley said he told the president to veto any legislation without adequate stimulus checks.
In addition to Trump's calls for larger direct payments, he also criticized bill's funding for foreign countries and other government priorities. Ironically, these measures—which came in the omnibus government funding portion of the bill and are unrelated to the economic relief part—were largely from the Trump administration's budget requests. It's unclear if the president misunderstands the scope of the package or is simply attacking the foreign spending for political posturing.
"I understand the frustration of the president. I understand the presentation, but blindsiding folks and doing this at the last second to me is not conducive, because the American people are the ones who lose in this fight," Representative Tom Reed, the Republican leader of the Problem Solvers Caucus, told CNBC's Squawk Box on Thursday. The Problem Solvers Caucus had put forward the initial version of the $900 billion relief package that ultimately passed with wide bipartisan support.
Meanwhile, unemployment benefits for millions of Americans are set to expire by the end of the year. Millions of Americans continue to file continuing jobless claims each week, and some 50 million Americans are reportedly going without adequate food while millions are on the verge of losing their homes. The bipartisan relief package aimed to address many of these needs by providing an additional weekly federal unemployment payment of $300, as well as extending a moratorium on evictions. Nutrition assistance was included in the package as well.
Newsweek reached out to press representatives for the White House, Pelosi and McConnell for comment but did not hear back in time for publication.