'Wheel of Fortune' Contestant's Answer Causes Audience Member to Yell Out
A Wheel of Fortune contestant's incorrect guess of the final remaining letter in a puzzle caused an audience member to loudly yelp during Monday's installment.
During the premiere episode of Teen Week, contestant 10th grader Khushi was seen making her way through the board as she worked toward solving the puzzle in the Food & Drink category.
After correct guesses, Khushi was left with two remaining letters on the puzzle, which at that moment read: "FRE_ _ TROPICAL FRUIT."
Instead of solving, Khushi guessed an H, which filled in the last letter of the first word, leaving the puzzle displaying as "FRE_H TROPICAL FRUIT." With one letter missing, the contestant appeared to be flummoxed.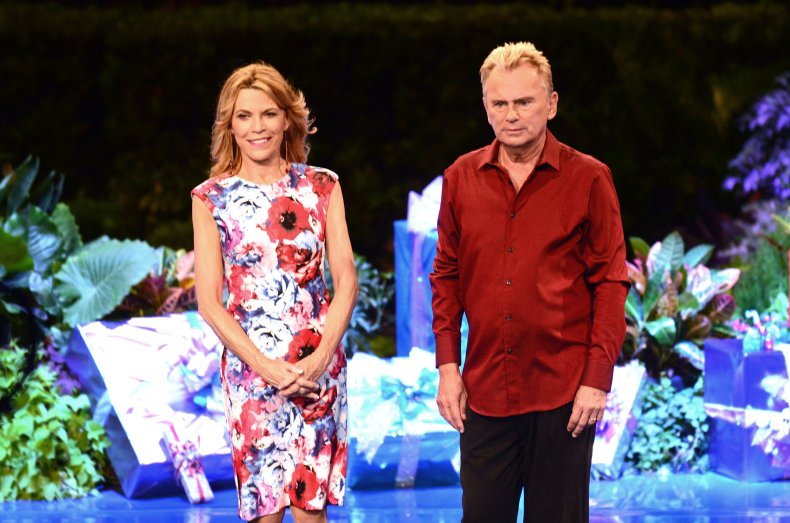 "Solve it or spin it or... but do something quickly," said host Pat Sajak as the clock ran down, prompting the contestant to have another turn of the wheel.
After she had another spin of the wheel, Khushi incorrectly guessed that the missing letter was a G, prompting an audience member to yell out in horror. As Khushi appeared to turn her head in the audience member's direction, others watching the action live in the Los Angeles studio were heard groaning.
Another contestant called Julianna then stepped in to correctly solve the puzzle as "FRESH TROPICAL FRUIT," scooping not only $650 but a luxury trip to the Caribbean island of Antigua worth $10,000.
As the dust settled, Sajak attempted to explain how contestants can sometimes be stuck for an answer, even when it appears obvious to viewers.
"You know when that happens and you're sitting at home, you're saying, 'How in the world can that [not be solved]?'" Sajak said. "But, you know, sometimes it's a word that just doesn't want to come into focus for you."
A clip of the unfortunate moment was shared on Twitter, where one game show fan wrote: "I don't think I've ever heard a single audience member audibly have such a violent reaction on Wheel of Fortune, as this lady did when a poor contestant called a G in 'Fresh.'"
Over the years, several Wheel of Fortune clips have gone viral for such moments as similar contestant blunders or the show's stringent rules denying a player a bonus prize win.
In March 2022, Sajak defended other contestants who were mocked on social media for struggling to solve a puzzle. After an initial guess of "another feather in your hat" turned out to be wrong, attempts including "another feather in your lap" and "another feather in your map" were put forth before the correct answer of "another feather in your cap" was given.
He wrote on Twitter: "It always pains me when nice people come on our show to play a game and win some money and maybe fulfill a lifelong dream, and are then subject to online ridicule when they make a mistake or something goes awry.
"Last night's 'Feather in your cap' puzzle was a case in point. Sitting at home, it seems incredible that they couldn't solve it, but I knew in real time what was happening.
"The first attempted solve was 'Feather in your hat' which, by the way, is how a lot of people say it. So all three players thought it was a good solve, and were stunned when I said it was wrong."
Urging those commenting on the viral moment to "have a little heart," Sajak said that finding humor in the moment is different to relentlessly mocking the players.
"Good-natured laughter is one thing," he wrote in his lengthy Twitter thread. "Heck, they laughed at themselves. But, hey, cut them some slack. Unless you're there, you have no idea how different it is in the studio.
"I have fun with players and I tease them occasionally, but when things go wrong, I feel for them, and I try to salve the wounds on camera and off. So, yeah, it was an oddly entertaining puzzle and it's okay to laugh at the situation. But have a little heart.
"After all, you may be there one day. And no one wants to be trending on Twitter."
Update 2/21/23, 5:45 a.m. ET: This story has been updated to add extra information.