'When We Rise' and The (Sorta) Long History of Queer TV Movies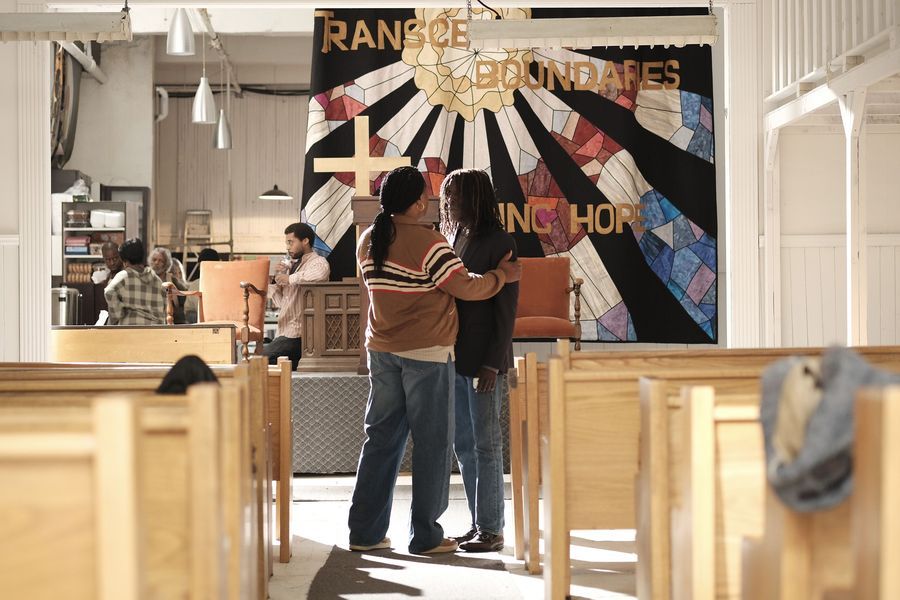 When We Rise, the much hyped, little-watched ABC mini-series about the gay rights movement didn't fair well with viewers or critics. The writing was called "choppy," the wigs were mocked and the ratings abysmal. If this were any other mini-series, it would be forgotten like most made-for-TV movies (sorry Kirstie Alley, we still like you). What's different with When We Rise is it's about the gay community, an organized and vocal minority, on a major network, and was created by Dustin Lance Black, the Oscar winning writer behind Milk. It had all the ingredients to succeed. What went wrong?
Slate's J. Bryan Lowder contends that the diversity of the LGBTQ community is partly the reason why it didn't work. "When We Rise is undeniably scattered. But, taken as a simulacrum of the LGBTQ civil rights struggle in America, its messiness is actually apropos. We are a beautifully messy people, our history a tangle of mistakes and triumphs, great leaps forward and devastating knocks back."
Related: Newsweek Rewind: 30 Years Ago, Scientists Discovered the Cause for AIDS
Perhaps Rise's scope, telling multiple stories over many decades, was the problem. Or it tried to please every group that makes up LGBTQ. Or maybe it was just bad.
But there have been other LGBTQ TV movies that have depicted the "messy" history of the gay rights movement with much more success. In many cases, TV movies led the way for queer representation in media, taking the chances the film industry often wasn't willing to take.
It's important to recognize the TV movies that came before When We Rise (starting in 1972!), and the impact they had at the time they were released. These movies mirrored major moments in the gay rights movement—the very moments When We Rise tried to portray—allowing a piece of the movement to come into the homes of the "average" Americans who wouldn't normally be exposed to queer content.
That Certain Summer (1972)
That Certain Summer is credited with being the first major TV movie to address homosexuality. An ABC movie, it's about a young son coming to terms with his father's homosexuality. Starring Hal Holbrook and Martin Sheen, it was controversial (not surprising in the Nixon-era). Sheen told the Dallas Voice in 2007, "I'd robbed banks and kidnapped children and raped women and murdered people, you know, in any number of shows. Now I was going to play a gay guy and that was like considered a career ender. Oh, for Christ's sake! What kind of culture do we live in?"
It's no coincidence that the release of That Certain Summer came just a few years after the Stonewall riots in New York City. From there the gay rights movement grew, as Pride marches occurred across the country and the visibility of gay Americans was becoming more common. In San Francisco, a camera shop owner known as the Mayor of Castro Street was just beginning his campaign to become the first openly gay person elected to public office. Six years later Harvey Milk would be elected to the Board of Supervisors, and then subsequently assassinated in 1978.
An Early Frost (1985)
An NBC movie starring Gena Rowlands and a young Aidan Quinn (fresh off his Desperately Seeking Susan success with Madonna), An Early Frost is about a young lawyer who not only tells his family he's gay, but also that he has AIDS. It was the first major TV movie to address AIDS. Rock Hudson had just died and the general public was still learning about the disease; An Early Frost humanized the epidemic.
HIV/AIDS changed the narrative for LGBTQ representation in popular culture. Suddenly being gay equaled AIDS, whether you had it or not. Because of this, most TV movies from 1985 until the late 1990's revolved around somebody having HIV/AIDS, with one notable exception…
My Two Loves (1986)
An ABC film starring Oscar nominated actress Lynn Redgrave about a widow who gets into a relationship with a male friend of her dead husband, only to be surprised when she starts to have intimate feelings for her female co-worker and friend. The New York Times' John O'Conner noted in a review in 1986 the limitations of showing same-sex intimacy on TV, "Passion between the two women is restricted to rather tentative hugging; ecstasy seems limited to washing each other's hair." Since its first airing, it has gone on to become a cult classic in lesbian representation.
Tales of the City / And the Band Played On (1993)
1993 is hands down a banner year for queer representation in popular culture. Tony Kushner's epic play Angels in America premiered on Broadway (more about this later), Tom Hanks changed the game for gay stories on film with Philadelphia, and on TV, Tales of the City and And the Band Played On gave two very different perspectives of the queer experience.
Tales, originally a column by Armistead Maupin, then a book, was about a group of queer and straight (but mostly queer) people living in an apartment complex in San Francisco in the 1970's. It featured gay men, lesbians, bisexuals, drag queens, straight people who sometimes went a little gay, Laura Linney being Laura Linney, but most importantly, it featured Oscar winning actress Olympia Dukakis as a transgender woman who ran the building. For the first time in a long time, a queer film wasn't about AIDS. The epidemic was still very much a concern, and it would be another 4 years before the "AIDS cocktail" was introduced, a series of drugs that had a dramatic positive impact on the lives of people living with HIV and AIDS. Tales served as an escape, with a little bit of comedy, and Laura Linney.
That same year, And the Band Played On, based on Randy Shilts epic book of the same time, came out and served as a history of the AIDS epidemic up until that point. This TV movie wasn't made for queer people to see themselves represented, it was made for straight people to see the struggles queer people, especially gay men, had to deal with during the height of the AIDS epidemic. Like Roots in 1997, And the Band Played On used household names in key roles in order to get a mainstream audience to watch, but also to get them to connect with the face of AIDS. Richard Gere, just three years after Pretty Woman, played a closeted man living with the disease.
Serving in Silence: The Margarethe Cammermeyer Story (1995)
Bill Clinton promised during the 1992 presidential campaign that he'd abolish the ban on gays in the military. Actually doing that proved difficult once he got in office, and he settled for "Don't Ask, Don't Tell" a.k.a. "Stay in the Closet Or Else." But that issue became central to the gay rights movement, and Serving in Silence: The Margarethe Cammermeyer Story came to represent that part of the movement. Starring Glenn Close and Judy Davis, Silence told the story of Margarethe Cammermeyer, a decorated soldier who was discharged from the army after 20 years of service for admitting she's a lesbian. It was films like Silence that started to tell stories of struggles within the LGBTQ community that didn't directly involve AIDS. As the community gained more rights, TV took more chances in telling complex and nuanced stories.
The Matthew Shepard Story / The Laramie Project (2002)
Matthew Shepard, a gay college student in Wyoming, was murdered in October of 1998. His death occurred less than a year after Ellen DeGeneres came out of the closet on her sitcom Ellen. The amount of attention these two events got changed the narrative for LGBTQ stories on TV. They were too big to ignore. After 1998, TV movies started dealing with topics like hate crimes, or telling transgender stories, or just basic stories about characters that happen to be gay—Will & Grace, Queer as Folk, The L Word, etc. The Matthew Shepard Story aired on NBC in 2002, the same day HBO aired The Laramie Project. The Matthew Shepard Story, starring Stockard Channing, took a more traditional TV movie storytelling approach, whereas The Laramie Project took a more documentary approach, using prominent actors through interviews to piece together the story of the hate crime. But the fact that both came out on the same day, while it took over 10 years from the 1970's to the 1980's for more queer centered TV movies to be made, is a testament to how quickly things changed for queer representation on TV.
Angels in America (2003)
Meryl Streep, Emma Thompson, Al Pacino, Mary Louise Parker and Mike Nichols involved in an epic mini-series about queer identity, AIDS, and Mormonism? Queer-themed TV movies had never seen this kind of star power and quality filmmaking. Beyond how groundbreaking it was, seeing that caliber of talent take part in a queer TV movie sent a message of acceptance to queer people and straight allies during a time when President George W. Bush had just announced his intention to amend the Constitution to define marriage as a union between one man and one woman with the Federal Marriage Amendment. But besides all that, Meryl Streep played three characters, one of them being an Orthodox male rabbi. Can you even?!
Normal / Soldier's Girl (2003)
Before 1999, there weren't many stories about the transgender experience. In 1999, Boys Don't Cry ushered in a new dialogue about the "T" within LGBTQ that for many years left some people confused. In 2003, two very different films premiered, but their impact on TV opened doors for alternative stories to be told. Normal, starring Oscar nominee Tom Wilkinson and Oscar winner Jessica Lange, is about a married couple who, later in their marriage, the husband tells his wife he's a woman. It follows her journey transitioning, and her wife's acceptance. Soldier's Girl is the true story of Private Barry Winchell, who was beaten to death by a group of his fellow army privates for his relationship with a transgender woman, Calpernia Addams. Both of these films show the complicated, and sometimes dangerous, lives transgender Americans are forced to live just because of their gender.
Noah's Arc: Jumping the Broom (2008)
OK, this isn't a great movie, but it illustrates a very important point about queer TV movies: they don't create enough storylines about queer people of color. It's shameful how few there are. Of course there are queer people of color in many TV movies (the lesbian couple in the Oprah Winfrey produced The Women of Brewster Place comes to mind), but very, very few TV movies focus exclusively on a queer person of color. Noah's Arc, originally a TV series, is the exception. It's about the wedding of a central character, and though it's a fun watch, what it lacks in depth about the queer person of color experience is painfully obvious.
The Normal Heart (2014)
It's almost like queer TV movies went full circle with this one, going back to the well-worn topic of AIDS. What sets The Normal Heart apart is it's told through the lens of history rather than telling a story of a living history like so many AIDS-centered TV movies before it did. The history Normal Heart offers is that of the early days of the AIDS epidemic in New York City, one of the epicenters of infection rates and activism. Originally a groundbreaking play by Larry Kramer—if you don't know who he is and you're queer, quick, Google him immediately and tell all of your friends—Heart is part personal story about surviving a living hell and part political statement.
Unlike past TV movies that were made mainly for straight people to understand LGBTQ life, Heart serves as a history lesson for everyone about survival, government involvement in our lives (and the lack thereof), and what can happen when a community unites to create change. In many respects, the history depicted in Heart was the beginning of the new gay rights movement, a dramatic shift from civil rights to human rights. AIDS humanized LGBTQ people in a way that one could argue led to the rapid pace of achievements the community has made since the start of the epidemic: housing rights, employment rights, the right to adopt, marriage rights.
It's these TV movies, and others like it that didn't make the list, that attempted to show queer life to American TV audiences. They weren't always successful—remember Common Ground? How bout If These Walls Could Talk 2?—but what they accomplished in terms of representation is nonetheless important. ABC took a chance on When We Rise, and it will live on in multiple formats, a noteable footnote to present day ratings. Our history might be complicated and messy, but When We Rise is an example of why diverse queer stories need to keep being told, and TV networks need to keep giving these stories a chance.
Related Stories:
- Ireland Lifts Lifetime Ban on Gay Men Giving Blood
- Being Hunted For Holding Hands With Another Man
- Why We Should Cut Faye Dunaway Some Slack for Her Oscars Screwup