Where Gavin Newsom Stands in Polls 5 Days Ahead of California Recall Election
With just five days until California's recall election, polls largely suggest that Democratic Governor Gavin Newsom is well positioned to fend off the GOP-backed effort to remove him from office.
Just a few weeks ago, polls showed Newsom's support barely above water. Most surveys of California voters suggested that barely more than 50 percent wanted to keep the governor in office, with some polls showing the figure to be less than half. Under the rules of the recall, over 50 percent of voters must choose to keep Newsom in office in order for him to remain as governor.
Recent polls have shown more substantial support for Newsom just ahead of the September 14 election. Polling released Wednesday by Spectrum News/Ipsos found that the Democratic governor's favorability among registered voters stood at 58 percent. By contrast, Newsom's closest competitor—Republican Larry Elder—was viewed favorably by just 26 percent of California's registered voters.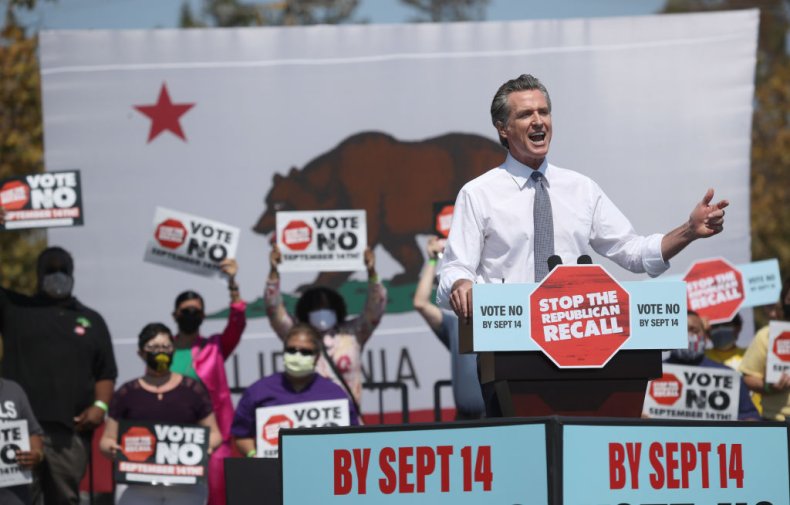 That means, according to the survey, that Newsom is viewed favorably by more than twice as many voters as the GOP hopeful is. The poll was conducted from August 26 to 31 and has a margin of error of 3.1 percentage points among California's registered voters.
Another poll, released on Wednesday by YouGov, showed that 57 percent of likely voters said they want to keep Newsom in office. The Democratic governor also led Elder by 22 points when respondents were asked which of the two candidates they preferred. The survey was conducted from August 26 to September 1, with a margin of error of 2.8 percentage points.
Polling by Suffolk University carried out from September 6 to 7 showed that 58 percent of California voters wanted to keep Newsom. Meanwhile, just 41 percent said they wanted to remove the governor. Survey results from the Public Policy Institute of California revealed similar results, showing 58 percent in support of the Democratic governor and just 39 percent opposed. That poll was conducted from August 20 to 29.
The Trafalgar Group, which accurately predicted former President Donald Trump's 2016 win, conducted a poll from September 2 to 4. That survey showed Newsom above water but in a less comfortable position. Just 53 percent of respondents said they wanted to keep the governor, while 43 percent said they wanted him removed.
The average of recent polls regularly updated by FiveThirtyEight shows about 54.3 percent of Californians want to keep Newsom in office. According to that average, just about 42 percent want him to leave the governor's mansion. That's a 12.3 percent margin in favor of Newsom.
For Newsom to remain in office, more than 50 percent of California voters must cast their ballots in his favor. If less than 50 percent of voters back the governor, the challenger with the highest number of votes will win and become California's next governor. Elder has been polling the highest, but his polling average is just 25.6 percent, according to FiveThirtyEight. However, that could still be enough to send Elder to Sacramento if the current governor's support is less than 50 percent.
Even though Newsom appears well positioned to win in the recall, many Democrats have raised concerns and urged voters not to be complacent.
"California: do not mess with this recall. We need folks to TURN IN THEIR BALLOTS. Vote NO and drop it in the mail tomorrow," Representative Alexandria Ocasio-Cortez, a New York progressive Democrat, tweeted on Wednesday in support of Newsom. "Don't sleep on this. It takes 5 mins but it's urgent. We have so much work to do already and a nightmare fuel recall election is the last thing we need."
Vice President Kamala Harris, who previously served as a senator for California, campaigned with Newsom on Wednesday.
"Everyone has to vote no," Harris said. "I voted no, my husband Doug, the first second gentleman, voted no, and we sent in our ballots. We all have to vote no."