Where Have Confederate Statutes Been Removed? Virginia Mayor Latest to Issue Order
The debate over whether Confederate monuments should be left standing in dozens of cities around the U.S. has reached a head in recent weeks as worldwide Black Lives Matter protesters have called for the removal of what they deem as harmful, racist imagery.
Richmond, Virginia, Mayor Levar Stoney became the latest official to announce plans for the statues' removal, issuing a surprise executive order during a city council meeting Wednesday morning.
The order called for the immediate removal of all Confederate statues in the city, of which there are many given its history as the Confederacy's former capital.
"Today, I have the ability to do this through my emergency powers," Stoney said during the meeting. "I think we need to act today."
About an hour after Stoney's announcement, work crews arrived at the Stonewall Jackson statue, which is perched along the city's infamous Monument Avenue.
By around 2 p.m. Wednesday, hundreds had gathered in front of the statue to witness its imminent removal, according to the Richmond Times-Dispatch.
Stoney said that immediate removal "will expedite the healing process for the city, a former capital of the Confederacy constantly grappling with that legacy," according to a press release sent to Newsweek from Stoney's office.
The statues will be placed in temporary storage until city leaders ultimately decide what to do with them, the release stated.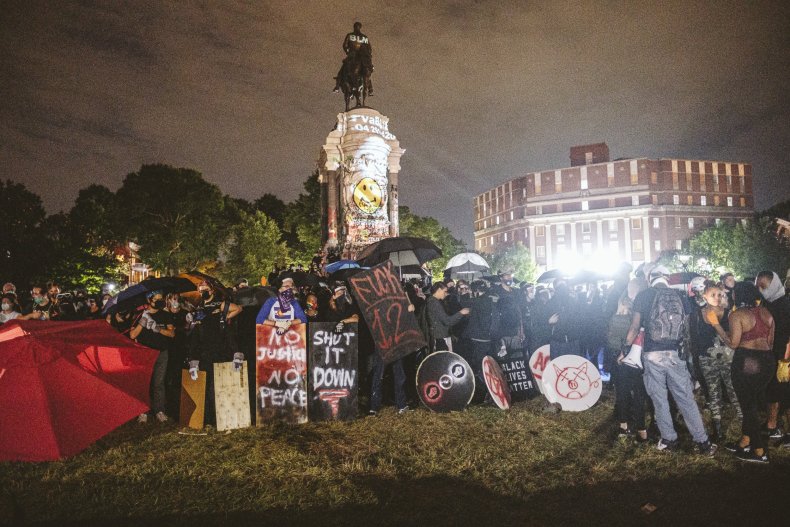 Stoney is not the first U.S. government official to order the removal of monuments associated with slavery and racism.
City officials in Charleston, South Carolina, unanimously voted to remove a statue of former vice president and slavery advocate John C. Calhoun. Hundreds gathered early June 24 to witness its removal.
New York City Mayor Bill de Blasio announced June 21 that the statue of former president Teddy Roosevelt would be removed from its place at the entrance to New York City's American Museum of History.
The controversial monument shows Roosevelt riding a horse with a Native American and African American man standing on either side next to Roosevelt's horse.
"The American Museum of Natural History has asked to remove the Theodore Roosevelt statue because it explicitly depicts Black and Indigenous people as subjugated and racially inferior," according to a statement from de Blasio's office.
North Carolina Gov. Roy Cooper, a Democrat, announced June 20 that he would remove all Confederate monuments from the state's Capitol grounds after protesters had already toppled two.
Kentucky Gov. Andy Beshear, also a Democrat, tweeted a photo of workers removing a statue of Confederate President Jefferson Davis on June 13, after he had called for its removal.
Democratic House Speaker Nancy Pelosi asked a House committee on June 10 to remove 11 statues of Confederate leaders, which stand in the National Statuary Hall collection at the U.S. Capitol.
Just one day earlier, on June 9, Jacksonville, Florida, Mayor Lenny Curry had said that all Confederate monuments in the city would be taken down following the removal of one near City Hall.
Randall Woodfin, the mayor of Birmingham, Alabama, ordered the removal of a large Confederate statue on June 1 after protesters had attempted to take it down themselves.
Protesters have taken matters into their own hands in several cities across the country, toppling or defacing Confederate monuments and those of other controversial figures, including Christopher Columbus.
On Juneteenth, protesters in San Francisco tore down a statue of Union Army leader Ulysses S. Grant, who was believed to have enslaved at least one person before the start of the Civil War.
Before Stoney issued his executive order Wednesday, protesters in Richmond had already torn down monuments of Jefferson Davis and Confederate leader Williams Carter Wickham on their own.
President Donald Trump has repeatedly criticized the removal of these statues, promising long prison sentences for vandals.
"I just had the privilege of signing a very strong Executive Order protecting American Monuments, Memorials, and Statues - and combatting recent Criminal Violence," Trump tweeted Friday. "Long prison terms for these lawless acts against our Great Country!"
The executive order prescribes prison sentences of up to 10 years for anyone guilty of the "willful injury of Federal property," while vowing to prosecute vandals "to the fullest permitted under Federal law."