'Where Is the NRA?' Gun Rights Group Slammed for Silence on Amir Locke
Attorney Ben Crump slammed the National Rifle Association (NRA) and gun rights activists Wednesday over their silence on the Amir Locke case after Minnesota prosecutors said the Minneapolis police officer who shot and killed him will not be charged.
"Where [are] the Second Amendment supporters for Black people who have a right to bear arms?" Crump said at a news conference in New York City alongside Locke's mother. "Where is the NRA? They should be outraged."
Officers were executing a no-knock warrant early in the morning of February 2 when Locke, who was Black, grabbed his gun, at which point one of the officers shot him. Locke, 22, owned the gun legally and had a concealed carry permit, according to his family's legal representation. He also had no criminal history and was not the target of the warrant.
At Wednesday's news conference, Crump said, "They keep promoting Second Amendment gun rights to protect your home, to protect your sanctuary, but that applies to Black people too. Her son was one of those people who had every right to the Second Amendment."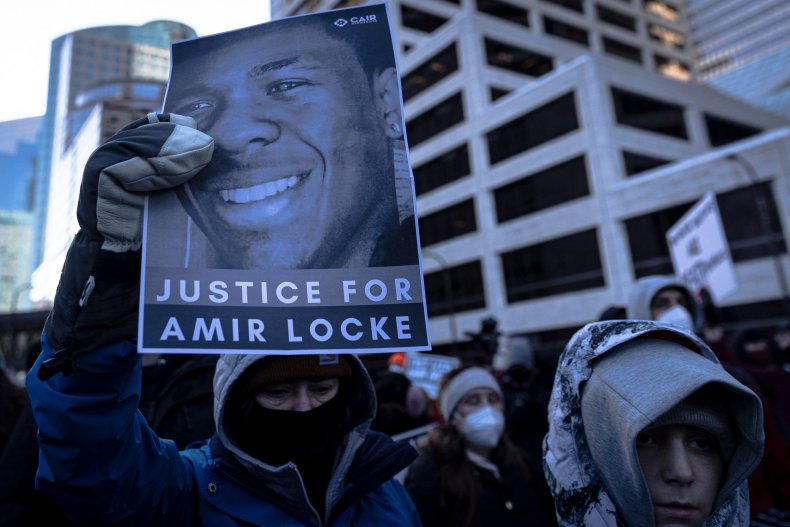 In documents, the Hennepin County District Attorney's Office said Wednesday that Locke's perspective was ignored because, under Minnesota law, the use of force is viewed only through the lens of the officer, not the victim.
"We recognize that Mr. Locke may have been sleeping and that he, like others in the apartment, may have perceived the officers' entry to be someone breaking into the apartment," the district attorney's office said. "We do not dispute this and believe that it is possible that is exactly what happened here."
Newsweek reached out to the NRA for comment but didn't receive a response before publication. On its website, the NRA frequently shares stories of citizens using their Second Amendment rights in cases of self-defense.
Asked by The Intercept in February about the NRA's silence on the case, spokesperson Amy Hunter said the organization has "a long-standing policy of not commenting on ongoing investigations."
The Minnesota Gun Owners Caucus, on the other hand, issued a statement defending Locke.
"As seen in the body-worn camera video released by Minneapolis Police, Mr. Locke appears to be sleeping on the couch during the execution of a no-knock warrant," said the group's chairman, Bryan Strawser. "He is awoken with a confusing array of commands coming from multiple officers who are pointing lights and firearms at him."
Rob Doar, the group's senior vice president of government affairs, added, "Mr. Locke did what many of us might do in the same confusing circumstances, he reached for a legal means of self-defense while he sought to understand what was happening."
Karen Wells, Locke's mother, and civil rights activist Al Sharpton also spoke at the press conference, alongside Crump. Wells vowed further action on behalf of her son, telling reporters she's not "Minnesota nice."
"I am not disappointed, I am disgusted with the city of Minneapolis," she said.
Sharpton said they will call for a federal investigation into Locke's death.