Which Countries Are Communist? Cuba Will Get Weapons From Russia and Visit China, North Korea and More in Leader's First World Tour
Cuba was reportedly set to receive a massive loan to purchase Russian weapons, and its recently selected president makes his debut world tour to meet the communist-run island's historic allies.
Cuban President Miguel Díaz-Canel was scheduled to begin his 12-day international trip Wednesday, heading to Russia and fellow communist powers North Korea, China, Vietnam and Laos. In a statement Monday, Cuban Foreign Ministry General Director of Bilateral Affairs Emilio Lozada said that "in each of these countries, the Cuban president will be received by the highest authorities of the State and the Government, with whom he will discuss the main topics of their respective bilateral agendas and analyze international issues of common interest."
Before this trip, the 16th session of the Cuban-Russian Intergovernmental Commission for economic-commercial and scientific-technical cooperation met Monday in Havana. While an official readout of the meeting did not refer to defense agreements, Russian newspaper Kommersant reported Saturday that Russia would offer Cuba a $50 million state loan to be used to purchase and repair military equipment.
The commission was held concurrently with the Russia-Latin America Business Forum in Havana. At the forum, Russian Deputy Prime Minister Yury Borisov discussed making "major investments" in Cuba and praised Latin Americans for "not bending under Western pressure," according to the state-run Tass Russian News Agency.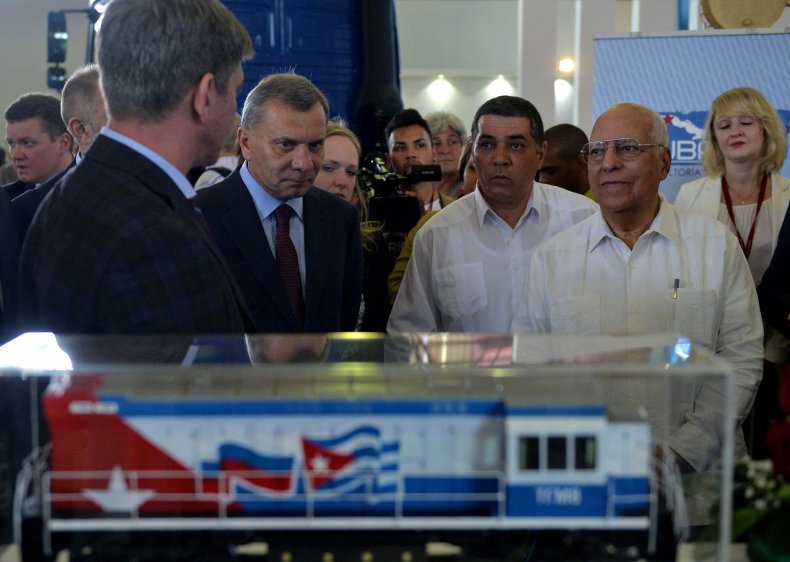 Cuba, however, has paid dearly for resisting political pressure from the United States to abandon its communist system. Following Fidel Castro's 1959 revolution that ousted U.S.-backed leader Fulgencio Batista, the new government nationalized U.S. industries, compelling President Dwight D. Eisenhower to launch a diplomatic and economic blockade of Cuba in 1960, which was later expanded under his successor, John F. Kennedy, to include almost all exports two years later, after the U.S. attempted to overthrow Castro's government during the 1961 Bay of Pigs invasion.
As a result, Cuba grew close to the Soviet Union—a relationship made infamous in the U.S. by the 1962 Cuban Missile Crisis—and to China as well. While Cuba firmly sided against the U.S. throughout the Cold War, it attempted to remain neutral throughout the Sino-Soviet split. To date, Havana maintains robust ties to both Moscow and Beijing as it once again seeks to form a united front against Washington.
Cuba's anti-imperialist stances have also made it a close ally of North Korea. The two countries jointly supported communist insurgencies in the Congo, Angola, Eritrea and Ethiopia in Africa, as well as Arab nations battling Israel in the Middle East. Havana and Pyongyang have both faced extensive economic restrictions imposed by the U.S. Meanwhile, North Korean supreme leader Kim Jong Un has recently bolstered relations with his ally in the Western Hemisphere.
Elsewhere in Asia, Vietnam and Laos have maintained friendly relations with Cuba. The Caribbean nation is widely believed to have played a role in the successful North Vietnamese and Vietcong efforts to expel U.S. forces in 1975. Vietnam has since established itself as a major trade partner in Cuba, second in the region only to its top competitor China.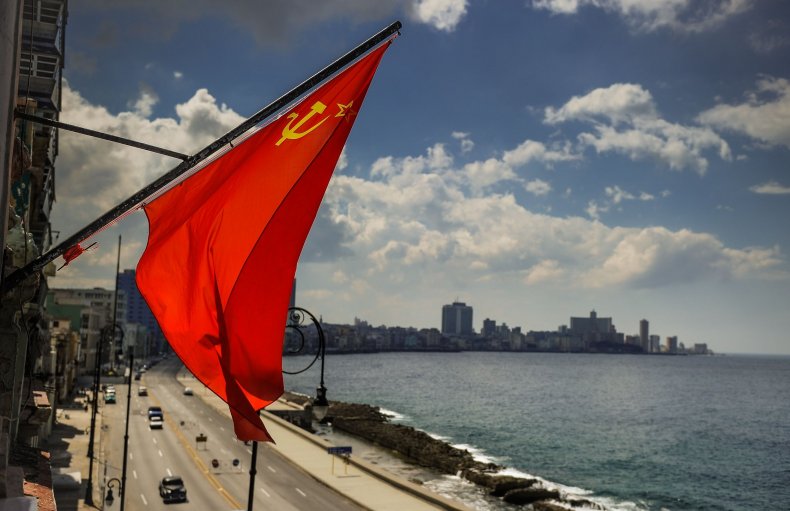 Since the fall of the Soviet Union and a number of its communist allies, these five countries remain the only official current communist states. Many others—such as Nepal and close Cuban ally Venezuela—are led by communist or socialist parties—but are generally not considered to be communist by constitutional nature.
Díaz-Canel became Cuba's president in April after he was selected through a National Assembly vote. He succeeded 86-year-old Raúl Castro—brother of Fidel, who ceded the position in 2011 and died in 2016. Díaz-Canel became the first person outside of the Castro family to hold the position since Osvaldo Dorticós Torrado, who was replaced by Fidel Castro in 1976.
While President Barack Obama attempted a rapprochement with Cuba in late 2014 and onward, President Donald Trump has since dismissed these efforts and vowed to adopt a hard line against the Caribbean state just 90 miles off the coast of Florida. Relations further soured when Trump administration blamed mysterious symptoms that plagued U.S. diplomats in Havana on sonic attacks, an accusation that Díaz-Canel has called a "fallacy" and a "defamatory story."