Cold War 2018? North Korea and China Build Relations with Cuba, Bringing Old U.S. Foes Together
North Korea and China have taken measures to boost their ties with Cuba, bringing together communist Cold War-era powers often critical of U.S. policies that often still target them today.
Wednesday marked the 58th anniversary of relations between North Korea and Cuba, which were established just months after the 1959 revolution that saw Fidel Castro overthrow a U.S.-backed government and embrace Soviet assistance. Castro's pivot toward communism and Moscow led Washington to cut political and economic ties with the Caribbean island nation just 90 miles off the coast of Florida and orchestrate numerous attempts to oust and assassinate its leader. Commemorating Wednesday's occasion, official ruling Korean Workers' Party Central Commission newspaper Rodong Sinmun said that "the Korean people and the Cubans have strengthened friendly relations in the struggle to build socialism."
The article hailed the Cuban people for weathering "imperialist invasions" along with the "military threat" and "economic blockade" among other hostile moves from Washington. It said Cubans "have been active supporters of the struggle of the justice of the people, who are pushing for the red flag of the revolution without violence and oblivion in the face of pressure and sanctions of the imperialists" and "are making great strides in building socialism, overcoming the trials and challenges they face."
The praise came just days after North Korea sent its second envoy to Cuba in less than two months and at a rare period of relative calm between the U.S. and Pyongyang. However, this historic warming in relations risked being disrupted, as President Donald Trump suddenly appeared to reverse course while lashing out at North Korea's top ally, China.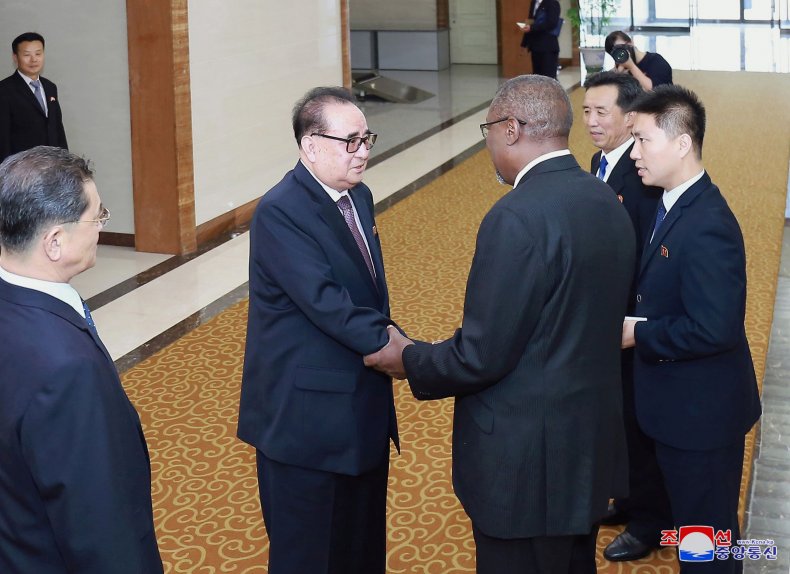 Just as former President Barack Obama made history by meeting then-Cuban President Raul Castro in an effort to thaw ties in 2016, Trump took the unprecedented step of meeting North Korean supreme leader Kim Jong Un in June. While Trump has criticized and made efforts to reverse Obama's attempts at rapprochements with Cuba—and, more seriously, Iran—he has reached out to the hermit kingdom and find a deal that would see the reclusive, authoritarian state abandon its nuclear weapons in exchange for a lifting of sanctions.
Kim has agreed to such a deal, while Trump has praised the young ruler for his efforts—which include dismantling several key military sites, freezing nuclear and longer-range missile tests, freeing U.S. prisoners and returning the remains of U.S. soldiers who died fighting alongside South Korea in a 1950s war that signaled the Cold War's first armed clash. North Korea has been notoriously guarded about its nuclear weapons, treasuring them as a deterrent against foreign aggression and Pyongyang has called on the U.S. to take steps such as officially declaring peace.
The U.S. has declined to offer any concessions until full denuclearization was achieved and has threatened to restart joint war games with South Korea. On Friday, Trump abruptly canceled what would have been Secretary of State Mike Pompeo's fourth trip to North Korea "because I feel we are not making sufficient progress with respect to the denuclearization of the Korean Peninsula" and "because of our much tougher trading stance with China, I do not believe they are helping with the process of denuclearization as they once were (despite the U.N. sanctions which are in place)."
Trump has previously leveraged North Korean and Chinese relations against one another, but the latest move appeared to be centered around an ongoing trade conflict between Washington and Beijing, which the latter has referred to as "the biggest trade war in economic history." With tit-for-tat tariffs and disputes over geopolitical influence in the South China Sea that have spoiled relations between the world's top two economic powers, Beijing also shook hands with Havana.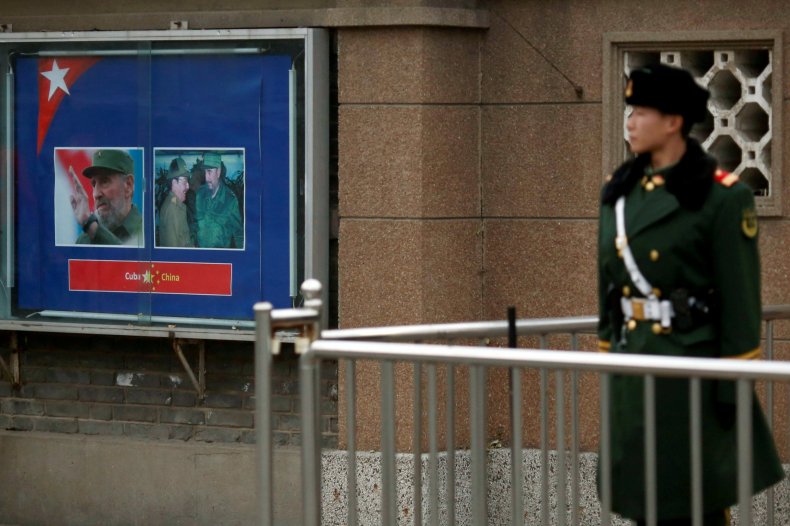 Rodolfo Reyes Rodríguez, the Cuban Foreign Ministry's director for multilateral affairs, met with Chinese Assistant Foreign Affairs Minister Zhang Jun in the Chinese capital Wednesday. During their talks, Zhang "highlighted the excellent state of bilateral relations, as well as the historic and profound cooperation that Cuba and China maintain in the multilateral sphere, with broad consensuses on core issues of the international agenda. Likewise, both parties ratified their commitment in defense of multilateralism and in opposition to the unilateral measures of hegemonic countries," according to the Cuban Foreign Ministry.
Rodríguez was also received by Li Junhua, head of China's Department of International Organizations and Conferences in a meeting described by the ministry as "a fraternal meeting where the political will of Cuba and China to continue promoting the economic and social development of the people, as a priority and fundamental right. Likewise, the Chinese interlocutors reiterated their country's support for Cuba in the fight against the blockade imposed by the United States almost 60 years ago."
Nearly six decades after the Cuban Revolution, the U.S. economic embargo remains and tourism is still officially outlawed. Obama's reforms, however, have opened up a dozen ways for U.S. travelers to visit the island. Although U.S.-Cuban relations have deteriorated in the wake of mysterious symptoms affecting Washington's diplomatic staff in Havana last year, the State Department lowered the level of caution over travel to Cuba on Thursday and announced its embassy there had resumed full services the following day.