'Whisper in Your Ear': Latinos for Trump Highlights Biden Touching Allegations With 'Despacito' Lyrics
On Wednesday, Latinos for Trump, a group rallying Latino support for Republican President Donald Trump's re-election campaign, released a video that uses the 2019 hit "Despacito" by Luis Fonsi and Justin Bieber to highlight allegations of inappropriate touching by Democratic presidential candidate Joe Biden.
The nearly 40-second video places lyrics from the Spanish-language song alongside footage of Biden attempting to kiss the hair of two younger females. As this footage plays, the song says, in English, "Want to slowly breathe on your neck / let me whisper in your ear."
One of the women in the video is Stephanie Carter, wife of former Defense Secretary Ash Carter. In March 2019, Stephanie said that Biden had placed his hands on her shoulders during her husband's 2015 swearing-in ceremony "as a means of offering his support." She has called the shot of Biden kissing her head "misleadingly extracted from what was a longer moment between close friends."
The Latinos for Trump video then shows footage of Lucy Flores, a former Nevada assemblywoman, speaking to CNN about when Biden made her feel "uneasy, gross, and confused" during a 2014 campaign event. In 2014, she was a 35-year-old Democratic nominee for Nevada's lieutenant governor.
Newsweek subscription offers >
"I felt Joe Biden put his hands on my shoulders, get up very close to me from behind, lean in, smell my hair, and then plant a slow kiss on the top of my head," Flores told CNN in the 2019 footage used in the Latinos for Trump video.
Newsweek subscription offers >
Newsweek contacted the Biden campaign for comment.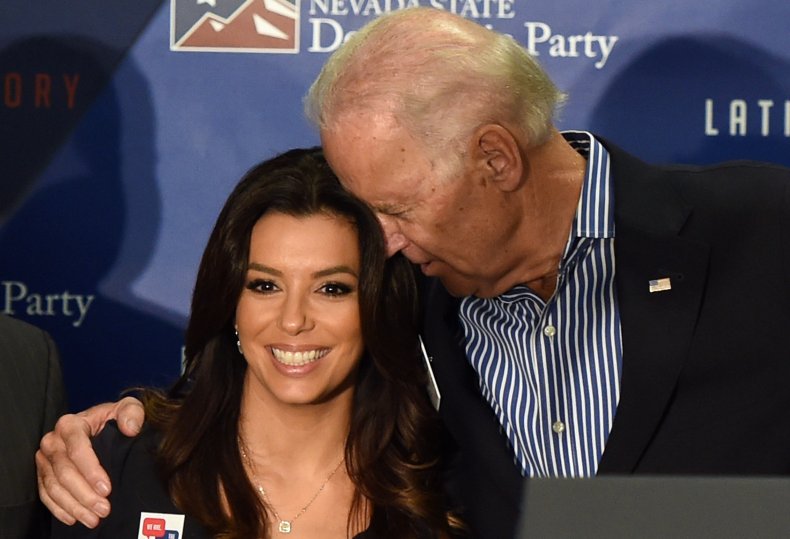 Flores first publicly discussed her allegations about Biden in an essay published on March 29, 2019. She wrote the essay to discuss his character in light of his then-potential presidential run.
In the essay, she said that while she didn't believe Biden's behavior was "a sexual assault or anything of that nature," she added, "It's completely inappropriate ... it does not belong in any kind of a professional setting, much less in politics."
Despite her allegations, when asked if she would vote for Trump in the next election, Flores answered, "That's not even a question, of course I would support Biden."
In the past, at least eight women have alleged becoming uncomfortable after Biden touched them or violated their personal space. One woman, former Biden aide Tara Reade, accused him of rape, though Biden has vehemently denied the allegations.
In a 2019 video, Biden said, "Social norms have begun to change," and he pledged to be more mindful of women's personal space, though he stopped short of apologizing for his past behavior.
"I hear what they're saying. I understand it. I'll be much more mindful. That's my responsibility, and I'll meet it," Biden said in the video.
At least 15 women have accused Trump of inappropriate touching and sexual misconduct since the 1970s.
'Whisper in Your Ear': Latinos for Trump Highlights Biden Touching Allegations With 'Despacito' Lyrics | U.S.