Stacey Abrams Thinks Tara Reade Is Lying About Her Joe Biden Sexual Assault Allegation
Former Democratic Georgian gubernatorial candidate Stacey Abrams has said she doesn't believe Tara Reade's sexual assault allegations against presumptive Democratic presidential nominee and former Vice President Joe Biden.
"I believe women deserve to be heard," Abrams told VICE TV host Anand Giridharadas on VICE TV's cultural talk show "Seat At The Table" on Tuesday. "I believe their allegations deserve to be vetted. They deserve to have an investigation."
Abrams said women deserve space to describe their experiences, but added that she wouldn't support Biden as a candidate if she believed Reade's allegations.
"We are obliged to serve justice to those who have been wronged," Abrams continued. "For me, if I thought that this man had done that, then I could not be in this space."
Reade filed a criminal complaint with the Washington Metropolitan Police Department in early April accusing Biden of pushing her against a wall and penetrating her with his fingers in 1993. Reade served as a former aide for Biden during his years as Delaware's senator during the 1990s.
Although Abrams has previously indicated that she believed Biden's denials of Reade's allegations, her comment came before Biden himself personally denied them in a live May 1 televised interview on MSNBC's Morning Joe. "No, it is not true. I'm saying unequivocally it never, never happened. And it didn't. It never happened," Biden said.
"I believe Joe Biden," Abrams told Don Lemon in late April. "I know Joe Biden, and I think that he is telling the truth and that this did not happen."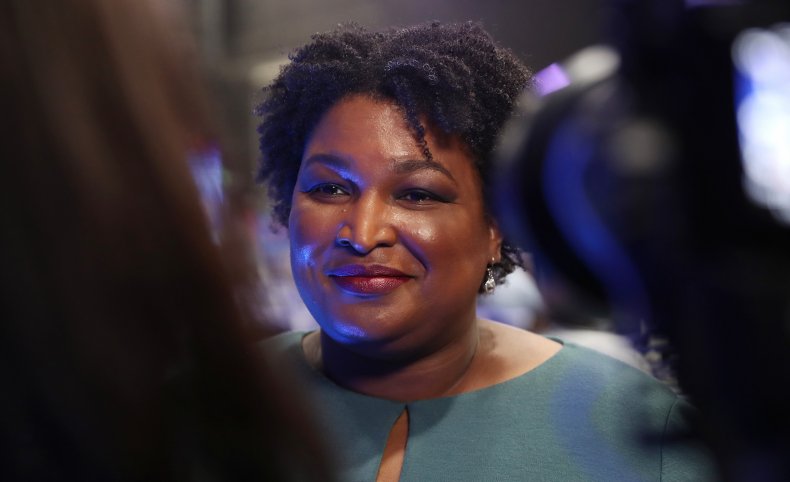 In a statement issued on the same day, Biden urged "responsible news organizations" to "examine and evaluate the full and growing record of inconsistencies in [Reade's] story, which has changed repeatedly in both small and big ways."
"News organizations that have talked with literally dozens of former staffers have not found one—not one—who corroborated her allegations in any way," his statement continued.
Biden reiterated his denials on a Tuesday interview with ABC's Good Morning America, stating, "At the end of the day, the truth is the truth. That's what should prevail and the truth is this never happened. This never happened. That's the truth."
Abrams has expressed interest in serving as Biden's running mate, saying she could help turn out voters of color in the November election.
"As a young black woman growing up in Mississippi, I learned that if you don't raise your hand, people won't see you and they won't give you attention," she explained when asked about her outspokenness on wanting to be Biden's running mate.