John Kelly Joked 'God Punished Me' With Trump's White House Chief of Staff Job
President Donald Trump's White House chief of staff joked that he wanted to keep his job running the Department of Homeland Security, but "God punished me" with a West Wing office.
"The last thing I wanted to do was walk away from one of the great honors of my life, being the secretary of Homeland Security, but I did something wrong and God punished me, I guess," Kelly quipped during a Thursday event celebrating the security agency's 15th anniversary, The Hill reported.
Trump named Kelly as his chief of staff in July 2017 after his predecessor, Reince Priebus, resigned from the post. Kelly, a four-star Marine general, has only served as the secretary of the Department of Homeland Security since January.
"I wish I had worked harder in the six months I had in the job, to not only better protect the men and women that get beat up so badly every day, but to really advertise in a much more effective way how good you are," Kelly said.
Kelly's tenure has been rocky from the start, though he was initially widely lauded as a sober voice and disciplinarian that the White House needed. He is now reportedly considering candidates to succeed Hope Hicks as White House communications director.
Hicks is expected to resign in the coming weeks, making her the third member of the Trump administration to walk out from that post—not including former press secretary Sean Spicer, who filled the position in an acting capacity twice, and Jason Miller, who Trump first picked for the job in December 2016. Miller stepped down just two days later.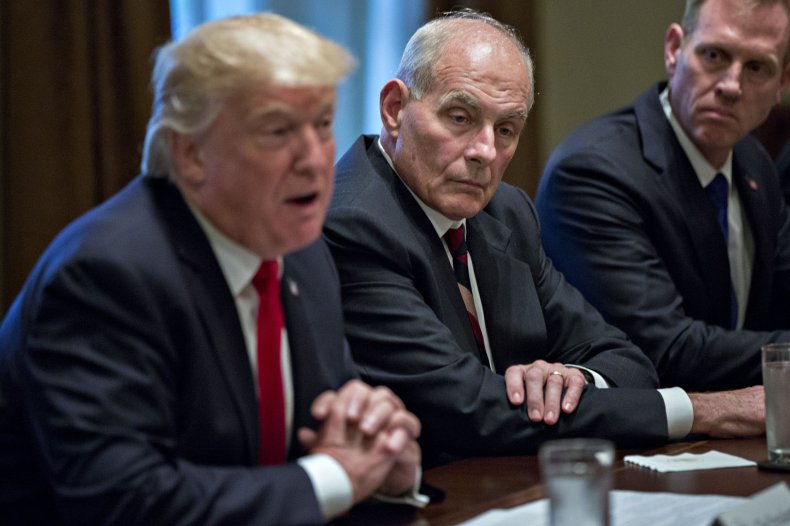 Kelly joined the White House team days after Anthony Scaramucci blew in to run communications. Three days after Kelly's arrival, Scaramucci also resigned in ignominious fashion.
Kelly himself has not escaped calls for resignation. In Early February, he defended former White House staff secretary Rob Porter's character to the Daily Mail—despite knowledge that Porter's two ex-wives told the FBI he physically and verbally abused them, and that he would be denied permanent security clearance.
"Rob Porter is a man of true integrity and honor, and I can't say enough good things about him. He is a friend, a confidante and a trusted professional," Kelly told the site. "I am proud to serve alongside him." He later walked those comments back. Porter has denied the abuse allegations.
Two days after Porter resigned, Kelly told White House officials he would be willing to resign over how he managed fallout from the abuse allegations.
The Porter scandal shed new light on the dozens of White House staffers who still don't have permanent security clearance. On Friday, a five-page memo announced that Trump's son-in-law and senior adviser Jared Kushner, as well as all other White House aides operating under an interim security clearance would have their clearance downgraded.
Trump's relationship with Kelly might also be souring. In December 2017, a Vanity Fair article, citing two anonymous sources, reported that Trump had grown tired of Kelly's input after the chief of staff told Democratic lawmakers and Fox News that he had educated Trump on the nuances of building a U.S.-Mexico border wall. Kelly said Trump's desire for a wall had been "uninformed," according to the Washington Post.