White House Feared 'Incredibly Sick' Donald Trump Would Die of COVID—Author
Former President Donald Trump was far sicker from COVID-19 than was revealed publicly, according to a journalist whose book details the final throes of his administration.
Wall Street Journal senior White House reporter Michael Bender said that the state of the former president after he had contracted the disease in October 2020 was "worse than we knew," although he did not believe that the White House had conspired to keep his condition under wraps.
"The Trump White House was just not built in a way to ... coordinate any kind of high-level scheming to hide what happened," Bender told Mediaite. "It was Trump, he wasn't even talking to (Mark) Meadows, his chief of staff about what was happening.
"I'm not sure how much he consulted with the doctor on some of these things," Bender said, which meant there were a number of competing versions of when he tested positive."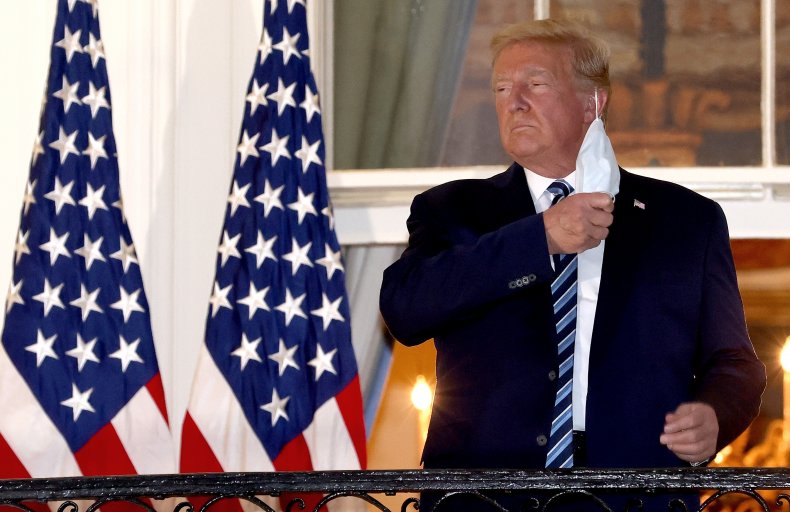 Trump tweeted on October 2, 2020, that he and the former first lady Melania Trump had tested positive for COVID. Later that day he went into the Walter Reed National Military Medical Center for monitoring.
The previous day, Trump had attended a fundraiser at his Bedminster, New Jersey, golf course. CBS had reported at the time that the event was still held after the Trump team had learned of adviser Hope Hicks' tested positive.
Trump supporters who attended the event quarantined themselves afterwards following the ex-president's diagnosis, ABC News reported.
Meanwhile, Bender, who wrote the book, Frankly, We Did Win This Election: The Inside Story of How Trump Lost, said his sources had told him that Trump had tested positive before he went to Bedminster, but he simply thought it was a false positive test, which he had had before.
"It's unfathomable that he would put at risk his own health, as a President of the United States, and those around him to go," Bender said, "to say nothing of the donors to go to Bedminster. And there are people that say that's incorrect."
After his diagnosis, Bender said Trump was "incredibly sick," but that Trump was "putting on airs as best he can to seem normal," carrying his own bag to the hospital.
According to Bender, Trump's condition hit home with his entourage when he arrived at Walter Reed and dropped his bag on the ground exhausted. "Everyone's natural instinct was to take a step back," he said.
In February, The New York Times reported that Trump's condition was more serious than publicly known, with sources telling the paper that officials believed he would be put "on a ventilator."
Meanwhile, when asked if Trump or people in the White House thought that the president might die, Bender told Mediaite, "yes, yes, all of the above."
Newsweek has contacted a Trump spokesperson for comment.