Lincoln Memorial and White House March is Largest Protest Nationwide While Trump Says Crowd is 'Much Smaller'
A rally at the Lincoln Memorial in Washington, D.C., and a march to the White House saw the largest turnout yet at a protest over the death of George Floyd.
Tens of thousands descended on the nation's capital on Saturday, Reuters reported, carrying signs bearing slogans such as "Justice for George" and "Stop killing black people." It was reportedly the largest demonstration against police brutality and systemic racism yet as protests sparked by Floyd's death entered a 12th day.
Yet President Donald Trump downplayed the numbers and insisted the crowd near the White House—which has been fortified with fencing in recent days—was "smaller" than expected.
"Much smaller crowd in D.C. than anticipated. National Guard, Secret Service, and D.C. Police have been doing a fantastic job. Thank you!" Trump tweeted.
According to the Associated Press, Saturday saw the largest outpouring of demonstrations after many cities, including Washington, D.C., lifted curfews that had been imposed in a bid to quell unrest.
The mood at the rally in the capital was also in stark contrast to earlier in the week.
Chaos had erupted on Monday after police cleared peaceful protesters from Lafayette Square with chemical spray and smoke grenades just before Trump walked from the White House to a nearby church for a photo op in a move that was widely condemned. A large military and law enforcement presence in the nation's capital also left many on edge.
But on Saturday, there was an almost "festive atmosphere" among the protesters gathered at the newly renamed Black Lives Matter Plaza near the White House, according to Reuters.
Go-go music blared from a truck and a number of dance parties broke out during the day, according to the Associated Press. Songs such as "Sweet Caroline" by Neil Diamond and "Alright" by Kendrick Lamar also blared from loudspeakers during the day.
The crowd was also visibly diverse, with people of all races and ages in attendance, despite the ongoing risk posed by the coronavirus pandemic.
"It feels like I get to be a part of history and a part of the group of people who are trying to change the world for everyone," Jamilah Muahyman, a Washington resident who was at the demonstration near the White House, told Reuters.
"This is us walking across the Pettus Bridge," Kendyll Myles added to the Associated Press, referring to site of the 1965 civil rights march in Selma, Alabama. "This is that type of awakening that our country needed."
Washington D.C. Mayor Muriel Bowser, who has become embroiled in a feud with Trump after criticizing his response to the protests, addressed the the crowd of protesters.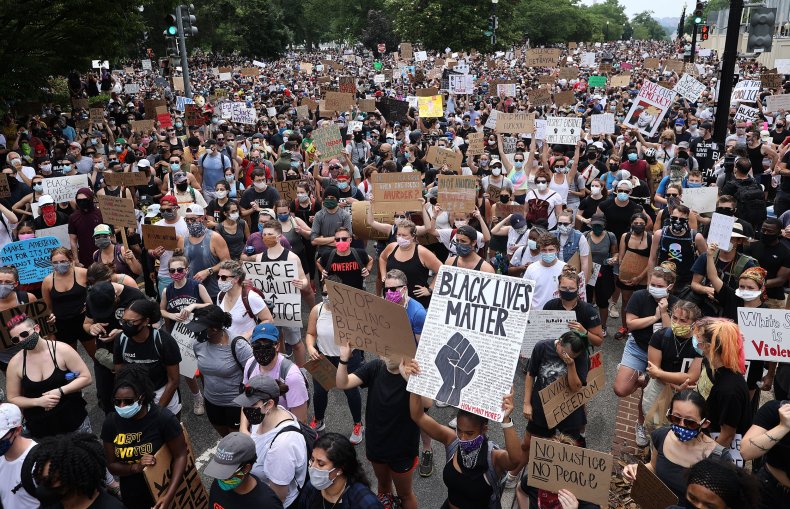 Standing atop a podium a few blocks away from the White House, Bowser praised them for demonstrating peacefully and wearing masks.
"If you're like me, and you saw George Floyd's life snuffed out for the world to see, you know that we have to speak up loudly for more justice and more peace," Bowser said.
On Friday, Bowser contracted workers to paint "Black Lives Matter" in giant yellow letters across a two-block section of a busy street leading to the White House.
But the D.C. chapter of the Black Lives Matter Global Network criticized Bowser's gesture as a "performative distraction from real policy changes." By Saturday evening, protesters had added a second mural on 16th Street near the first that said "defund the police."
Trump also tweeted his criticism of Bowser on Saturday, calling her "grossly incompetent." He added: "If the great men and women of the National Guard didn't step forward, she would have looked no better than her counterpart Mayor in Minneapolis!"
Floyd's death on May 25 after a white Minneapolis police officer was filmed kneeling on his neck for almost nine minutes as he gasped for air sparked protests in the city that quickly spread across the U.S. and beyond.
Some of them have erupted into violence as police resorted to heavy-handed tactics to enforce curfews imposed in cities including New York and Washington, using batons, tear gas and rubber bullets to disperse otherwise peaceful protesters.
Instances of arson, looting and vandalism in several cities have been blamed mostly on outside instigators by authorities and activists.
Tensions at many protests have calmed since all four officers were charged in Floyd's death earlier this week. Derek Chauvin, the officer filmed pinning Floyd down, had his charged upgraded to second-degree murder while the three others were taken into custody and charged with aiding and abetting.
But huge numbers of protesters rallied in cities including New York, Philadelphia, Chicago and Los Angeles as well as in small communities across the country on Saturday during a 12th day of protests since Floyd's death.
Most stayed peaceful, although police in Seattle used flash-bang grenades in a confrontation with demonstrators in the city's Capitol Hill district.
Philadelphia saw its largest demonstration over Floyd's death as thousands gathered at the Philadelphia Museum of Art before marching peacefully through Center City, the Philadelphia Inquirer reported.
In New York City, KABC reported that an estimated 20,000 people marched across the Brooklyn Bridge to Manhattan on Saturday evening.
The station reported that hundreds of peaceful protesters continued to march even after Saturday's 8 p.m. curfew came into effect and police were seen escorting them.
Demonstrations were also held in four other continents, ending in clashes between protesters and police in London and Marseille, France.