A Parade of Unanswered Questions for Donald Trump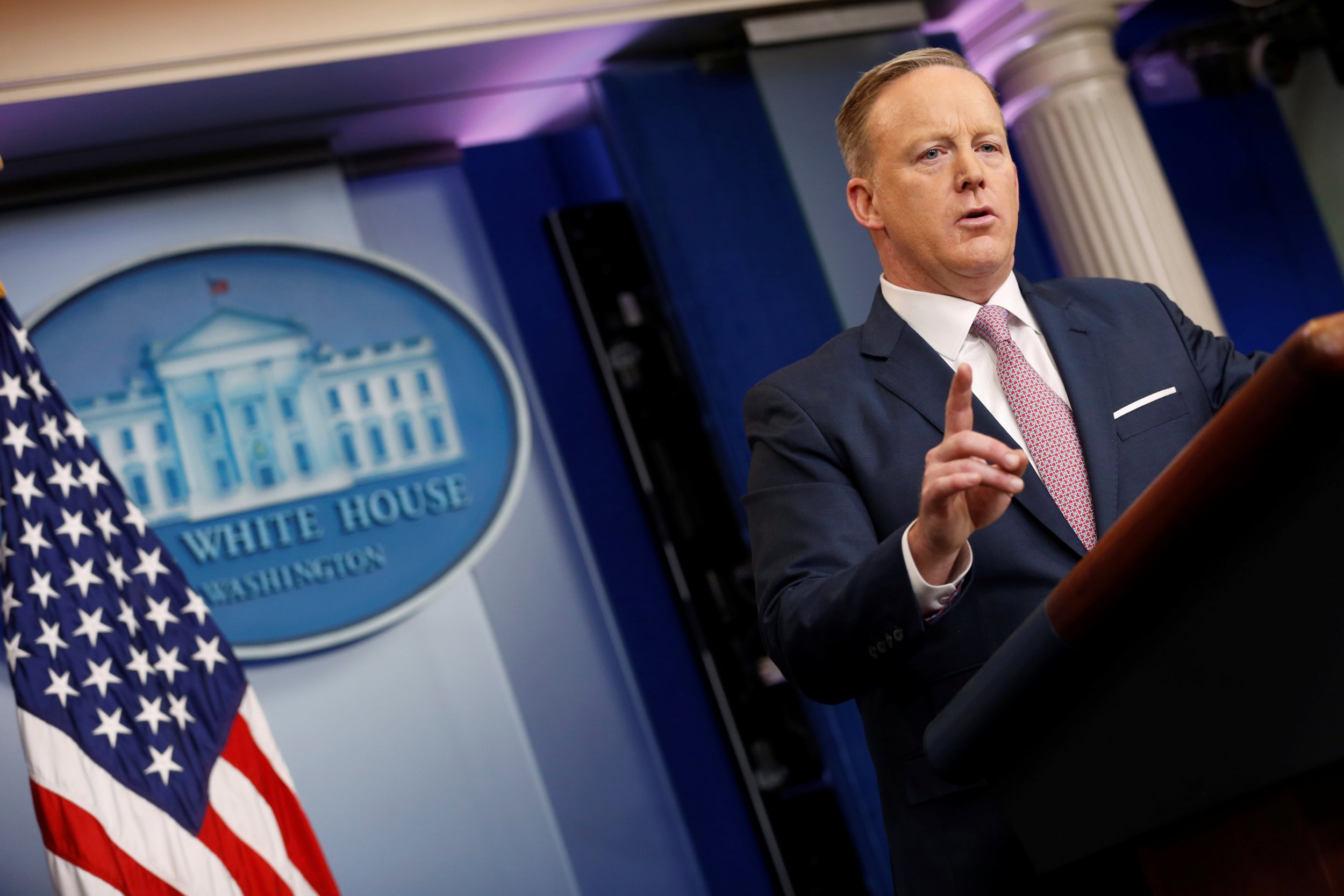 "I will get you guys the executive orders ASAP," Press Secretary Sean Spicer promised a filled press room of reporters as he ended Wednesday's White House briefing, which erupted before he finished the sentence.
A parade of unanswered questions which follows the new president has settled into a daily routine. White House staff, including Spicer, have often referenced how early Trump's tenure is in response to many of follow-up requests to the president's own statements, which are often tweeted with little known context. It's an excuse which will quickly wear thin—and it seems to work incredibly well for now.
Shortly after the briefing began, Newsweek's Nina Burleigh reported on what may likely be the parade's focus on Thursday. Senior staff within the Trump administration have used private RNC email accounts. Burleigh explains:
Senior Trump administration staffers including Kellyanne Conway, Jared Kushner, Sean Spicer and Steve Bannon have active accounts on a Republican National Committee email system, Newsweek has learned. The system (rnchq.org) is the same one the George W. Bush administration was accused of using to evade transparency rules after claiming to have "lost" 22 million emails.
Among other half-updates, the Department of Homeland Security will be tasked to find ways to limit the budget on sanctuary cities for refugees and immigrants coming into the country, Spicer indicated. Another of Trump's executive orders will call for a "physical barrier" to be built along the US-Mexico border, as well as expand detention sites for immigrants who cross it.
Trump wants to investigate voting irregularities and illegal voter registration, including but not limited to incidents during the 2016 presidential election, Spicer said, noting that Trump "campaigned to win the electoral college, not the popular vote... with all due respect" to New England, he specified. The pointed statement, which separates electoral voters with popular voters, seemed to contrast with calls by the president to unify the nation with a positive national sentiment toward him.
During Press Secretary Sean Spicer's second White House briefing, he was unable to evidence to support President Donald Trump's claim that he lost the popular vote due to voter fraud, Michelle Gorman reported for Newsweek on Tuesday. Wednesday's live briefing, which began shortly after 1 p.m. ET, was scheduled to begin at 1:30 p.m. ET.
Related: How Paul Ryan Learned to Love Donald Trump
During Wednesday's briefing, Spicer was expected to address continued questions regarding Trump's plans to upend a multitude of policies put into law or official federal policy by executive order under his predecessor, President Barack Obama. Key to Trump's efforts to reshape federal policy is the Affordable Care Act repeal progress. As Newsweek's Matthew Cooper reports, the Trump administration is signaling that it's inclined to devolve Medicaid into a block grant program for the states rather than keeping it an open-ended entitlement from Washington. The effort would lead to substantial cuts in the program and certainly undo the Affordable Care Act, which was largely built around expanding Medicaid.
Trump is also expected to restructure or target cuts related to the Environmental Protection Agency, but no further specific details on his plans were provided on Wednesday. The administration shut off the EPA's public communications and grant approval process through a private order which only became known through an anonymous leak by a concerned agency employee to Congress, The Huffington Post reported.
More recent Trump Administration news from the past 24 hours:
A Parade of Unanswered Questions for Donald Trump | U.S.