As White House Touts 90 Percent Vaccinations for Federal Workers, U.S. COVID Cases Rise
The White House said Monday that over 90 percent of federal workers have received at least one dose of a COVID-19 vaccine ahead of President Joe Biden's required deadline. Even so, the vaccination success comes as coronavirus cases are on the rise throughout much of the country.
In September, the Biden administration set a November 22 deadline for the nation's 3.5 million federal workers to be fully vaccinated. A senior official said a vast majority of those workers have received their vaccination in time, while just 5 percent requested or received an exception or an extension.
The high compliance rate among federal employees is seen as a success for Biden, who hopes the efforts will serve as an example for private businesses and workplaces to issue their own vaccine mandates. The administration is aiming to implement a vaccination-or-testing requirement for all businesses with 100 or more workers by January, but it is facing an obstacle in federal court.
"As the progress across the federal government has shown, these requirements work," a senior White House official said Monday. "We hope that our implementation can serve as an example for other businesses of every size to move forward with similar measures that will protect their workforce, protect their customers and protect our communities."
On Wednesday, more details will be published about the vaccination rate at each federal agency. The White House official added that Monday's deadline is not an "end point" and that agencies will be implementing an "education and counseling" process for those who have not yet received the jab, according to The Hill.
Monday's vaccination announcement comes as the U.S. is again experiencing an uptick in coronavirus cases. Daily cases are now topping more than 90,000, while more than 30 states are seeing sustained upticks in infections, according to The New York Times.
States such as Georgia, Idaho, Illinois, Massachusetts, Kentucky, Mississippi, Montana, New Hampshire and Alaska have even experienced a 100 percent increase in new infections over the past week. In the hardest-hit regions, such as the Northeast and Midwest, hospitalizations are also beginning to soar.
Public health experts have raised concerns that the situation could become worse as cold weather sets in and more people travel this year for the Thanksgiving holiday.
"We do expect to see a surge in new cases over the holidays as people get together more and travel more," Gypsyamber D'Souza, a professor of epidemiology at the Johns Hopkins Bloomberg School of Public Health, told NBC News. However, she said this year's holiday effect will likely have less severe consequences because numerous Americans have gotten vaccinated.
"The good news is more than two-thirds of Americans have been vaccinated, and that means any increase in new cases will lead to less burden of hospitalization and deaths than it did last year," she said.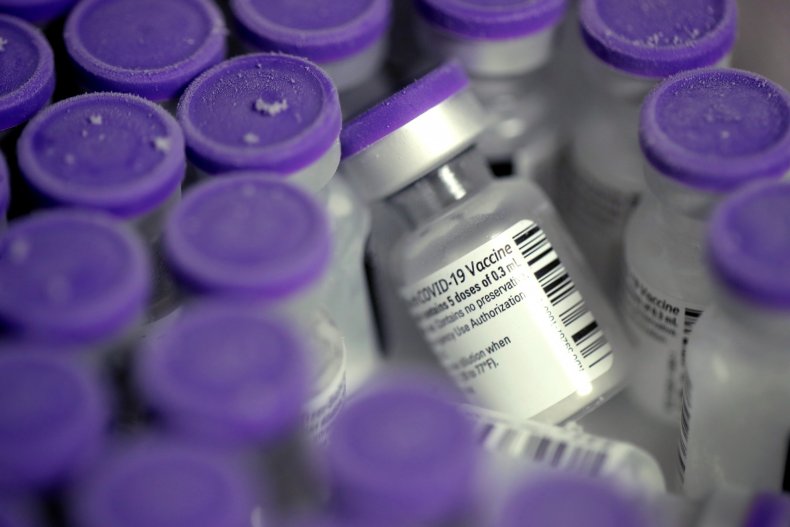 Dr. Anthony Fauci, Biden's chief medical adviser, also warned about rising cases throughout the country. But he said last week that those who are fully vaccinated should feel comfortable about gathering with loved ones for the holiday.
"When you're with your family at home, goodness, enjoy it with your parents, your children, your grandparents," he said. "There's no reason not to do that."
So far, over 69 percent of the U.S. population has received at least one dose of a COVID-19 vaccine, while more than 59 percent are fully vaccinated, according to the U.S. Centers for Disease Control and Prevention.