White Supremacist 'Jack Corbin' Charged With Sending Racist Threats to BLM Activist to Interfere With Charlottesville Election
A white supremacist has been charged with allegedly making racist and violent online threats against a Black Lives Matter activist in order to interfere with an election in Charlottesville, Virginia.
Daniel McMahon, 31, of Brandon, Florida, has been charged with willful interference with a candidate for elective office, bias-motivated interference with a candidate for elective office, threats to injure in interstate commerce, and cyberstalking in connection with alleged racially-motivated threats he made against a prospective City Council candidate in January 2019.
While only named in the indictment as D.G, McMahon's alleged victim is reported to be Charlottesville Black Lives Matter co-founder Don Gathers.
Gathers announced on January 7 that he would be formally unveiling his plans to run as a Democrat candidate for the Charlottesville City Council the following day.
As reported by The Daily Progress, Gathers instead said on January 8 that he is delaying his campaign as a result of "recurring issues" with his health as well as resigning from the Charlottesville Police Civilian Review Board.
Gathers announced he would not be seeking office after McMahon by "threat of force and violence" used his social media accounts to intimidate and interfere with his campaign.
Charlottesville was the scene of the "Unite the Right" neo-Nazi rally in 2017 in which counter-protester Heather Heyer was killed by white supremacist James Fields.
"As alleged in the indictment, this defendant was motivated by racial animus and used his social-media accounts to threaten and intimidate a potential candidate for elective office," U.S. Attorney Thomas T. Cullen said in a statement.
"Although the First Amendment protects an individual's right to broadcast hateful views online, it does not give license to threats of violence or bodily harm. We will continue to prioritize cyber-threat cases, including those giving rise to civil rights violations."
According to Right Wing Watch, McMahon is a well known racist troll who goes by many aliases online such as "Jack Corbin," "Pale Horse" and "Dakota Stone."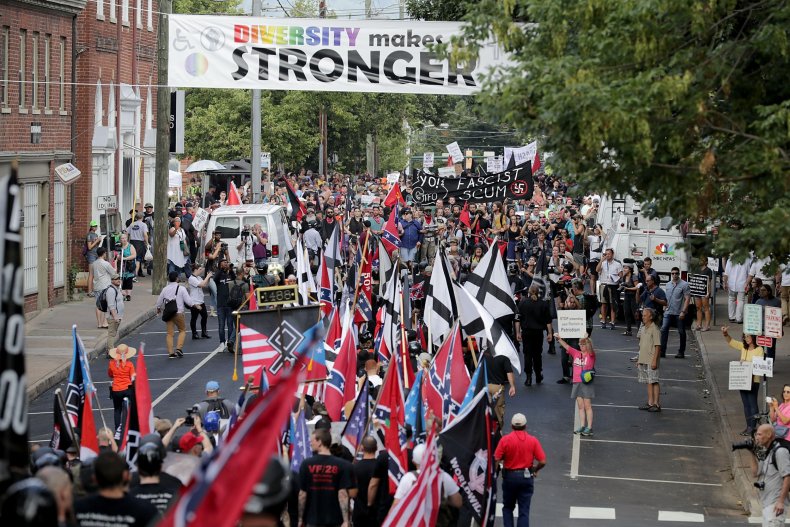 Using the "Jack Corbin" alias, the suspect was found to have communicated with alleged Tree of Life synagogue gunman Robert Bowers on the infamous social network Gab.
The Southern Poverty Law Center said Bowers and "Corbin" frequently collaborated to dox anti-fascist activists online.
The suspect was alleged to have also praised the man accused of murdering 11 people in Pittsburgh last year as having "more balls" than other white supremacists.
McMahon described himself as a "Goddamn fascist" who considers it is an American right to believe the Holocaust is "100% fake" using his Corbin name.
"The alleged targeted and racially motivated actions by Daniel McMahon were an attempt to disrupt the American political process," added David W. Archey, Special Agent in Charge of the FBI's Richmond Division. "The FBI remains committed to protecting the civil liberties of all Americans."
In a statement to the Associated Press, McMahon's attorney, Nick Matassini Jr., said his client "categorically denies" all of the charges against him.
"He is looking forward to his day in court," Matassini added.