Who Is Aiden Fucci? Florida Teen Admits Brutal Murder of Tristyn Bailey
A teenage boy accused of murdering a 13-year-old classmate in a depraved attack that saw her stabbed 114 times has changed his plea at the 11th hour to confess his guilt.
Aiden Fucci was just 14 when he killed Tristyn Bailey in a ferocious attack in a wooded area of St. Johns County, Florida, back in 2021.
Now aged 16, he finally admitted killing the cheerleader on Monday, on what would have been the first day of jury selection for his trial.
The pair had both attended Patriot Oaks Academy and were captured walking together by a surveillance camera earlier on the night of her death, May 9. The following morning —Mother's Day—the girl's family became concerned when she didn't come down to help make a special breakfast for her mom and discovered she was missing.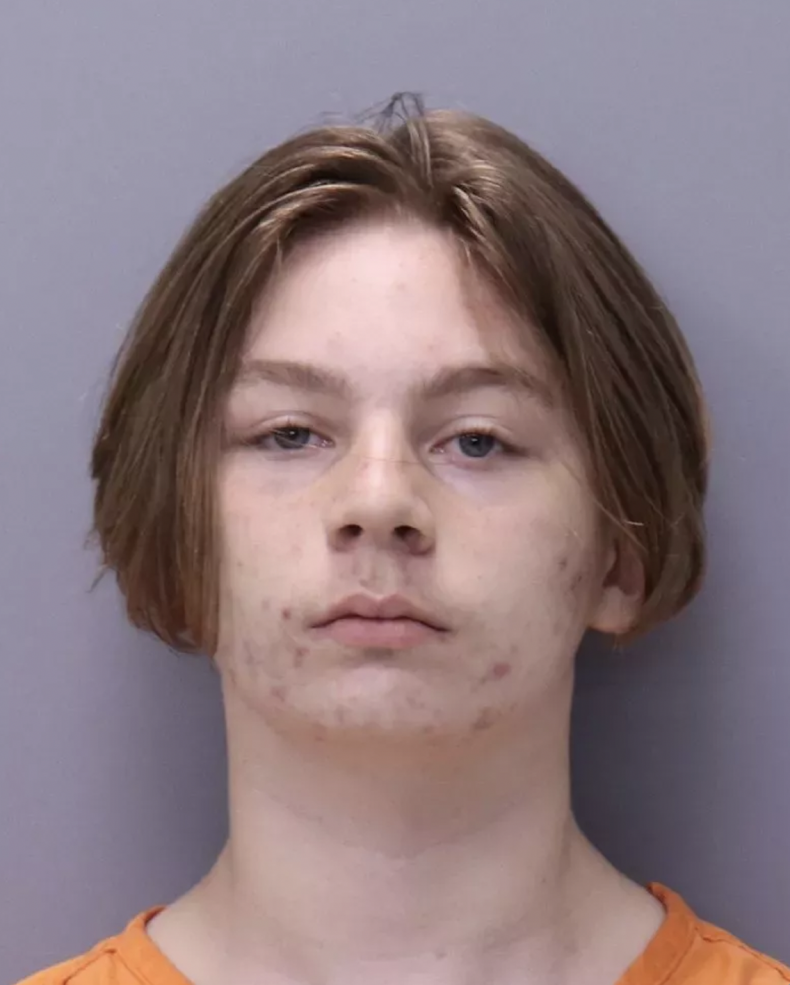 A huge police search was launched and investigators arrested Fucci later that day. Bailey's body was eventually found at 6 p.m. near a retention pond, not far from Fucci's home.
Besides the surveillance camera footage, officers found blood-stained clothes in his bedroom as well as the sheaf for the buck knife used as the murder weapon, which had been found near the victim. Fucci's mom, Crystal Smith, was charged with tampering with evidence after she allegedly tried to clean the blood from Fucci's jeans.
Fucci was initially charged with second-degree murder and held without bail but the charge was later upgraded to first-degree murder when prosecutors said the killing suggested premeditation. He was charged as an adult.
Despite the overwhelming evidence stacked against him, Fucci continued to maintain his innocence until this week, forcing his victim's family to face the prospect of a graphic and distressing trial.
After suddenly pleading guilty to first-degree murder on Monday he said: "I just want to say I plea guilty and I'm sorry for the Bailey family and my family."
Bailey's family have not yet publicly commented on the news. In the past, they have discussed setting up local initiatives in her honor.
"Through acts of kindness and love as a community we can drive out evil together," the family said in a statement.
Fucci repeatedly changed his story before pleading guilty, so his motive for brutally attacking his classmate has never been revealed and mystery remains about the schoolboy killer.
Who is Aiden Fucci?
Bizarrely, Fucci took grinning selfies and videos while sitting in a patrol car after his arrest and uploaded them to the social media app Snapchat.
"We're having fun, in a f****** cop car," he said. In another sickening post, he typed: "Hey guys has anybody seen Tristyn lately."
At a virtual pre-trial hearing back in September 2021, Fucci was seen rocking back and forward, mumbling to himself: "Please don't let the demons take my soul. The demons are going to take my soul away."
News channel WJXT-TV spoke to a mental health expert, who had not met Fucci, but told the news station that it was hard to assess whether he was feigning mental illness or was genuinely disturbed.
A report released by the St. Johns County Sheriff's Office in July 2021 revealed that Fucci was a heavy cannabis user who had discussed fantasies with his friends in which he expressed a desire to kill and mutilate. An unnamed teenage friend claimed they had always believed that Fucci's bloodlust was a coping mechanism in response to his allegedly difficult homelife.
Fucci was sent to Duval County Jail before his trial and, according to First Coast News, has been involved in multiple physical fights there. He once had to be pepper-sprayed by corrections officers, the paper added.
He is not eligible for the death penalty and now faces at least 40 years behind bars.
Fucci is next set to appear in court for a hearing on February 23.