What You Need to Know About Joe Biden's Children Hunter and Ashley and His Sister Valerie
With President-elect Joe Biden's inauguration on Wednesday, the United States will greet a new First Family.
While the president-elect, vice president–elect and their families usually partake in a parade down Pennsylvania Avenue ahead of the ceremony, this year a Virtual Parade Across America will be held in its place. While the details of Biden's inauguration are still mostly unannounced, his family will likely still play a big role in his swearing-in.
Here's a quick look at the Biden family:
Children
The president-elect has two children: Ashley and Hunter Biden. Ashley is his only daughter with his wife, Jill Biden. Hunter's mother and Biden's first wife Neilia Hunter Biden was killed in a car crash in 1972. Biden's daughter Naomi was killed in the same car crash. Biden's other son Beau, a former attorney general of Delaware, died of brain cancer in 2015.
Hunter Biden
Hunter Biden is an attorney and investment advisor. He has been the subject of much scrutiny from the president-elect's critics. Hunter's position on the board of Burisma Holdings during President Barack Obama's administration has led to many accusations of corruption from right-wing figures, including President Donald Trump. Many of these conspiracies have been debunked.
In December, the Justice Department opened an investigation into tax issues for Biden. "I learned yesterday for the first time that the U.S. Attorney's Office in Delaware advised my legal counsel, also yesterday, that they are investigating my tax affairs. I take this matter very seriously but I am confident that a professional and objective review of these matters will demonstrate that I handled my affairs legally and appropriately, including with the benefit of professional tax advisors," he said in a statement at the time. Despite the attacks, the president-elect has regularly stated how "proud" he is of his son.
Ashley Biden
Biden's 39-year-old daughter was the executive director of the Delaware Justice Center from 2014 until 2019. Biden also started a clothing company called Livelihood in 2017, which she called a "socially and ethically conscious apparel company, with a focus for our launch on hoodies, that is inspired by and gives back to extraordinary everyday people" in a 2017 video for the University of Delaware.
During a Tuesday interview on the Today show, Ashley Biden spoke about how the Trump administration was not following traditional protocols for the transition of power. Despite calling it "unfortunate," she said, "I think we're all OK with it."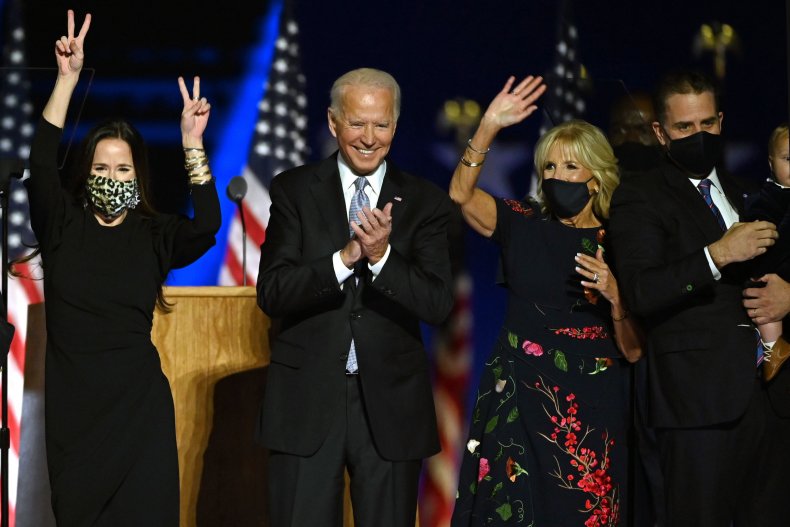 Siblings
Biden is the oldest of four children to his parents Joseph Robinette Biden Sr. and Catherine Eugenia "Jean" Biden. His three younger siblings are Valerie Biden Owens, Jim and Frank.
Valerie Biden Owens
Owens has been a regular presence in Biden's many runs for office. According to The Washington Post, she's been helping his campaigns since he ran for class president in high school. According to Vogue, she was the campaign manager for Biden's 1972 Senate run and subsequent re-election. She was a senior adviser during his 2020 campaign, after assisting in both Biden's 1988 and 2008's presidential bids.
Biden included his sister in his acceptance speech after winning the 2020 election. "I see my buddy Tom—Sen. Tom Carper down there and I think—I think [Delaware Sen. Chris] Coons is there and I think the governor's around. Is that Ruth Ann? And that former Gov. Ruth Ann Minner? Most importantly, my sisters in law and my sister Valerie," he said before announcing his victory.