Gary Oldman's Oscar win for his portrayal of Winston Churchill in Darkest Hour Sunday night is again raising some uncomfortable questions about his past in the era of Time's Up and #MeToo.
As Oldman, 59, took the stage at the Academy Awards to collect his best actor prize, chatter on social media turned to domestic violence accusations against him by his ex-wife Donya Fiorentino. The couple were married between 1997 and 2001 and have two sons together, Gulliver and Charlie. Fiorentino also has a daughter, Phelix, from her first marriage to director David Fincher.
In 2001, Fiorentino claimed in legal documents that Oldman hit her with a telephone in front of their sons when they were just toddlers. The alleged abuse happened during a heated argument between the two. "I picked up the phone to call the police, Gary put his hand on my neck and squeezed," she said at the time. "I backed away, with the phone receiver in my hand. I tried to dial 911. Gary grabbed the phone receiver from my hand, and hit me in the face with the telephone receiver three or four times. Both of the children were crying."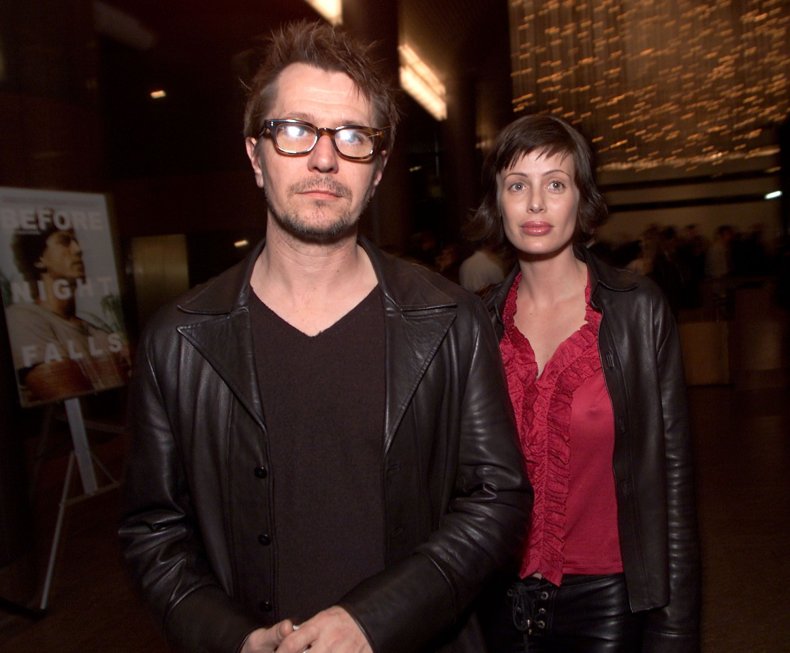 On Sunday, these historic claims again spread like wildfire across Twitter—particularly in the wake of Hollywood working to eradicate sexual misconduct and gender inequality after producer Harvey Weinstein was accused of mistreating hundreds of women last October.
During their 2001 divorce, Oldman contested that Fiorentino's account was "replete with lies, innuendoes and half-truths." He claimed that in January that year, Phelix, Fiorentino's daughter, found her lying unconscious from a drug overdose and accused his ex-wife of "paranoia and jealousy."
Ultimately, Oldman was awarded custody of their two sons when they divorced. In November, he told The Washington Post, "This was a deeply personal and painful time in my life and I appreciated the due diligence of all involved. I was most thankful for the outcome."
Oldman had been married twice before he married Fiorentino. First, to British actor Lesley Manville, who was also nominated for an Oscar Sunday night for her role in Phantom Thread, and then Kill Bill star Uma Thurman.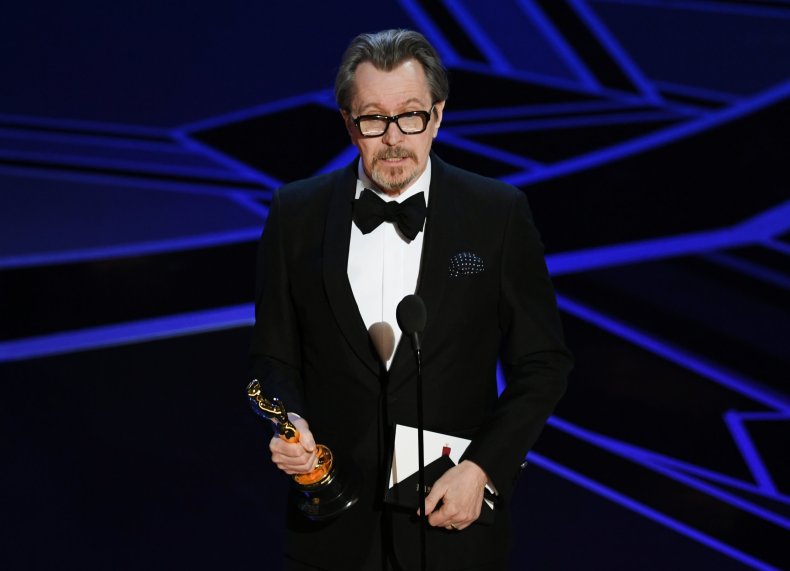 Oldman married twice more after divorcing Fiorentino: He married Alexandra Edenborough in 2008, but divorced in 2015. He wed his current wife, Gisele Schmidt, in September 2017. She accompanied him to the Oscars.
In February, as Oscar buzz grew around Oldman, Fiorentino gave an interview to the U.K.'s Mail on Sunday, again reiterating her claims that the actor physically abused her during the course of their four-year marriage.
"He stole my children and ruined my life. The truth needs to be told. I would like Gary to stand up and take responsibility for his actions. Will he? Who knows? He has always denied everything," she said.
Fiorentino added: "I have $20 in my purse. I've got nothing else he can take from me. I'm not speaking out to hurt Gary. In fact, I wish him well. He's a brilliant actor and he fully deserves his Oscar. But when you are nominated for an Academy Award you have to be held to a higher standard."
This is the second consecutive year that the Oscar winner for best actor has been blighted by their alleged treatment of women. Casey Affleck, who won the award in 2017, was dogged by claims of sexual harassment by two women who worked with him on the 2010 movie I'm Still Here. Affleck chose not to attend Sunday's Oscars.