Who Is Kathleen Peterson's Daughter Caitlin and Where Is She Now?
Kathleen and Michael Peterson had the real-life Modern Family. Michael Peterson had two sons, Clayton and Todd, from his previous marriage, and Kathleen Peterson had one daughter, Caitlin Atwater, from her first marriage. Michael Peterson also had two adopted daughters, Martha and Margaret Ratliff.
Together, Kathleen and Michael Peterson raised their five kids together in Durham, North Carolina. They did not have any children of their own together.
As seen in The Staircase, Caitlin Atwater is set to play a big role in dividing the Peterson family and the case against Peterson. So, who is Kathleen Peterson's daughter Caitlin and where is she now? Newsweek has everything you need to know.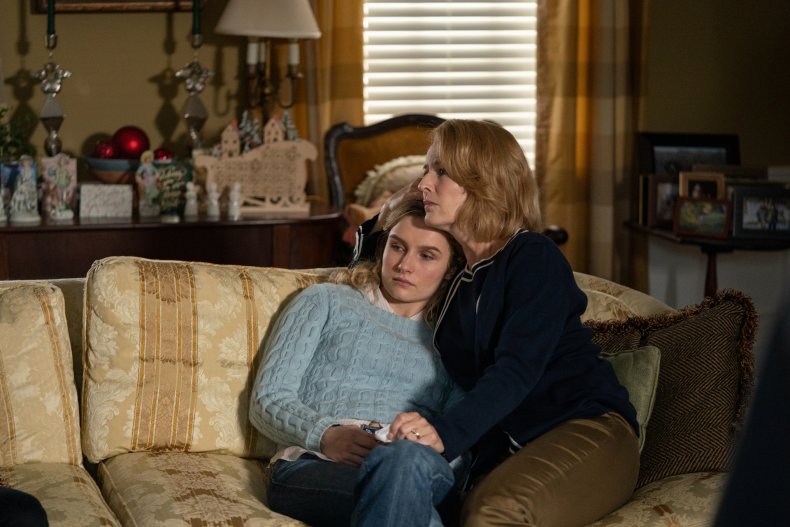 Who Is Kathleen Peterson's Daughter Caitlin Atwater?
Caitlin Atwater is Kathleen Peterson's first and only child. Her father is Fred Atwater, Kathleen's first husband.
On December 9, 2001, Caitlin's mother Kathleen Peterson, was found dead at the bottom of the staircase in the home she shared with her husband, Michael Peterson.
She was found with injuries to the head. An autopsy would later rule she died from blood loss as a result of severe injuries, some of which were the result of being beaten with a blunt object.
At the time of her mother's death Caitlin was studying at Cornell University. At first she supported her stepfather and after his arrest told the press of his innocence.
She said: "My mother and Mike had an absolutely loving relationship and there is no way that either of them would ever wish any sort of harm on the other one."
However, Caitlin's opinion changed after she saw her mother's autopsy photographs that depicted horrific injuries. Her stepfather's lies, including about his sexuality, also played a role, as depicted in the HBO Max miniseries, The Staircase.
Ahead of her stepfather's trial for first-degree murder in 2003, Caitlin acting as administrator of her mother's estate, with the support of her father Fred Atwater, filed a wrongful death claim in a civil case against Michael Peterson.
On February 1, 2007 Caitlin Atwater and Michael Peterson settled the wrongful death claim for $25 million, which was finalized on February 1, 2008.
However, she is unlikely to receive any money from Michael Peterson.
The legal settlement reached between Caitlin and Michael Peterson meant if he ever tried to financially benefit from Kathleen Peterson's death, the proceeds would go directly to Caitlin until his $25 million debt is settled, according to The Cinemaholic.
In 2019, Michael Peterson published two memoirs, Behind the Staircase and Beyond the Staircase. All of the proceeds went to charity.
Caitlin would go on to be a key witness on the prosecution side during her stepfather's trial. She was the only one of the Peterson children who would speak out against Michael Peterson.
Michael Peterson was convicted of murder in 2003 and sentenced to life in prison but was released on bond in 2011, pending a retrial.
In February 2017, after years of appeals and facing a new trial, Peterson submitted an Alford plea to the reduced charge of voluntary manslaughter. An Alford Plea is a plea where the defendant admits that the evidence against them would likely lead to a finding of guilty beyond a reasonable doubt, but the defendant does not always admit to the crime and asserts their innocence, as Peterson did.
After entering his Alford Plea, Peterson was sentenced to time already served, meaning he was allowed to leave prison for good.
Where is Kathleen Peterson's Daughter Caitlin Today?
Today, Caitlin is married and is now known as Caitlin Clark. According to PopSugar, she has twins and lives in northern Virginia with her husband, Christopher.
At the time of Michael Peterson's trial, Caitlin disassociated herself from the Peterson family, alongside her aunts (Kathleen Peterson's sisters), Candace Zamperini and Lori Campbell.
Following Michael Peterson's conviction, Caitlin seemingly moved on with her life. For example, she lived in London for a few years when her husband graduated from law school.
Speaking to Indy Week in 2017, Caitlin said: "The only thing that I have to say about the trial and all the subsequent fallout is that, if there was any closure to possibly come from all of this, it came after sitting through the entire trial and listening day after day to all the evidence—on both sides.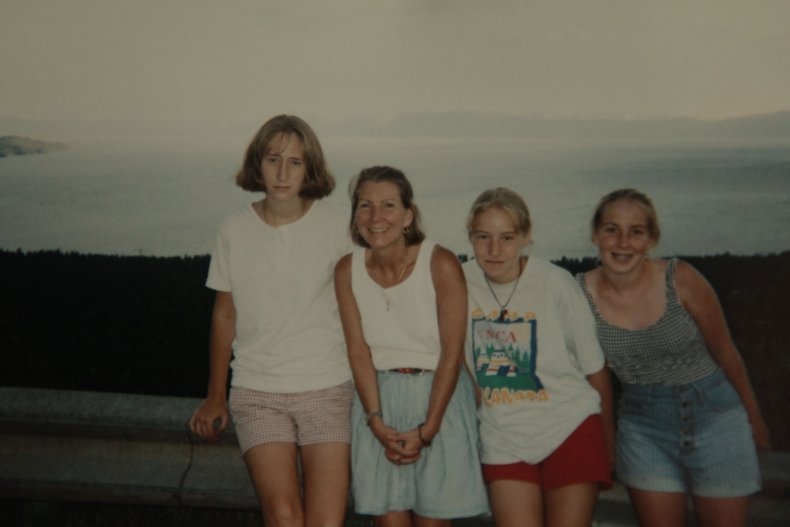 "And after the closing arguments, when all was said and done, I felt confident that I knew what happened. I knew what happened to my mom. While there's no true closure that can ever come for an event like this, for a loss this deep, I was ready to walk away and start moving forward with my life."
In the same interview, which was carried out by her close friend Ken Fine, Caitlin shared she was continuing her mother's legacy through her children.
After sharing photographs of her current life with her kids beside a similar photo of her as a child, Caitlin reflected: "That's clearly like, I'm trying to be my mother. This is how I grew up, and I'm trying to give that to my kids. It's crazy sometimes, but there is so much of me channeling her."
In October 2017, Caitlin's lawyer, Jay Trehy, filed another complaint against Michael Peterson to keep the wrongful-death lawsuit alive.
Trehy told the News & Observer: "I don't think he has any money," explaining the intention was to ensure Michael Peterson did not profit whatsoever from the case.
The Society's Olivia DeJonge portrays a young Caitlin in The Staircase on HBO Max.
The Staircase airs Thursdays on HBO Max.