Who Is Lanny Davis? Michael Cohen's Lawyer Is a Washington Insider With Long List of High-Profile Clients
Lanny Davis, the lawyer best known for serving as Bill Clinton's special counsel during the presidential impeachment hearings, has thrown his hat into the ring for another potential Washington showdown after being hired by President Donald Trump's former lawyer Michael Cohen.
Weeks after his appointment, Davis was responsible for handing over a secretly recorded conversation between Cohen and Trump to CNN. In the tape, Cohen and Trump discuss plans to buy the rights to playboy model Karen McDougal's story about an alleged 10-month affair with the president, which ended in April 2007.
Many were quick to suggest that Davis may not have taken Cohen on as a client as he has now "turned a corner in his life and he's now dedicated to telling the truth" and instead is jumping on an opportunity to embarrass and exact revenge on Trump as a favor to the Clintons, whom he first met at Yale in the 1970s.
"Is he using Michael for his own purposes?" Sam Nunberg, a former colleague of Cohen, told the New York Times. "I'm somebody who loves publicity stunts. I give that one a 'C.'"
Whatever Davis's motives, it is not the first time that the career choices of the veteran lawyer, lobbyist and cable news talking head have come under scrutiny, including allegations that he is only prepared to publicly defend those who pay him.
In fact, Davis's list of clients is so vast that he has also represented the parent company of the National Enquirer—the tabloid that allegedly paid McDougal $150,000 for the exclusive story detailing her alleged affair with Trump that never ran.
In a 2009 column titled "The Lanny Davis Disease and America's Health Care Debate," journalist and lawyer Glen Greenwald described Davis's career as "long and consistent as it is sleazy."
Greenwald added, "He's presented by numerous media outlets as an independent analyst who opines on the news of the day—yet does so almost exclusively in order to promote the interests of those who are paying him, relationships which are often undisclosed."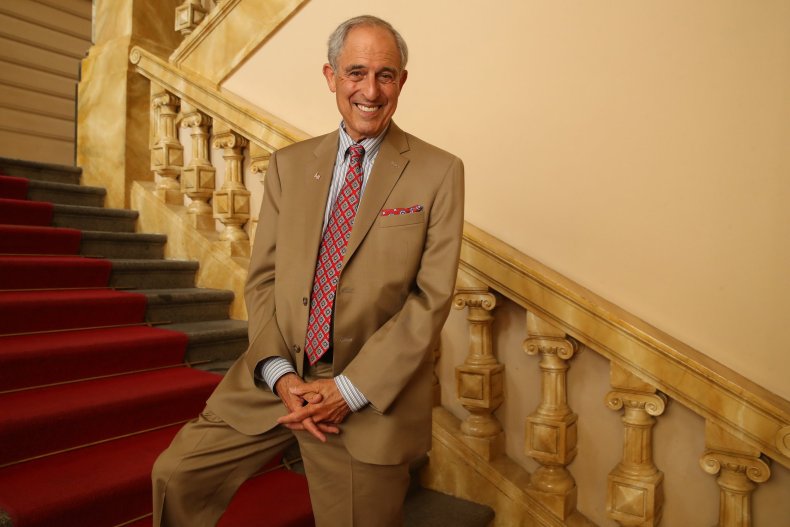 Among some of Davis's high-profile clients noted by Greenwald in his damning piece include the Honduran oligarchs who helped push the 2009 coup that eventually led to President Manuel Zelaya being overthrown.
"If you want to understand who the real power behind the [Honduran] coup is, you need to find out who's paying Lanny Davis," Robert White, president of the Center for International Policy, said at the time.
Davis has also been criticized for representing not one but two dictators in a short space of time. According to a 2013 profile of Davis in The Washington Post, the lawyer was paid $1 million by Equatorial Guinea's dictator Teodoro Obiang Nguema in 2010 "on a promise that Obiang would initiate democratic reforms"—a promise the dictator did not keep.
He was also paid $100,000 a month to act as an advocate in Washington for Ivory Coast leader Laurent Gbagbo. He quit in 2010 after refusing to take a call from then-President Barack Obama during attempts to avoid a civil war in the country.
Elsewhere, Davis's other clients include Washington Redskins owner Daniel Snyder, who hired the lawyer while the team was battling to keep its name.
Deadspin wrote about the move in an article titled "Daniel Snyder Hires the One Man in Washington Worse Than Daniel Snyder."
"When the client who can't be defended brings on the fixer who will defend anything, the issue is settled. All that's left is the billing," it adds.
His other sporting clients include Penn State during the Jerry Sandusky child abuse scandal and New York Yankees slugger Alex Rodriguez while he was being investigated for allegedly using performance-enhancing drugs.
Davis also listed disgraced film producer Harvey Weinstein as a client, although he stopped working with the media mogul at the height of his rape and sexual assault scandal. According to The New York Times, Davis quit after Weinstein refused his suggestion to adopt a "more conciliatory tone" as the allegations came forward.
Explaining his decision for working with his latest client, Davis said: "Like most of America, I have been following the matter regarding Michael Cohen with great interest.
"As an attorney, I have talked to Michael many times in the last two weeks.
"Michael Cohen deserves to tell his side of the story–subject, of course, to the advice of counsel."