Who Is Mark Judge? Kavanaugh Classmate Describes 'Swimming in Alcohol' at High School Parties
A former classmate of Supreme Court nominee Brett Kavanaugh has come under scrutiny after he was implicated in a sexual assault allegation against the judge.
Christine Blasey Ford alleged that Kavanaugh sexually assaulted her at a party in 1982 when both were in high school, alleging that his classmate and friend Mark Judge was in the room when the alleged attack occurred.
Ford, now a 51-year-old research psychologist in Northern California, has accused Kavanaugh and Judge of locking her inside a bedroom at a house party, after which Kavanaugh allegedly pinned her down on a bed and tried to remove her one-piece bathing suit and the clothes she wore over it while Judge looked on.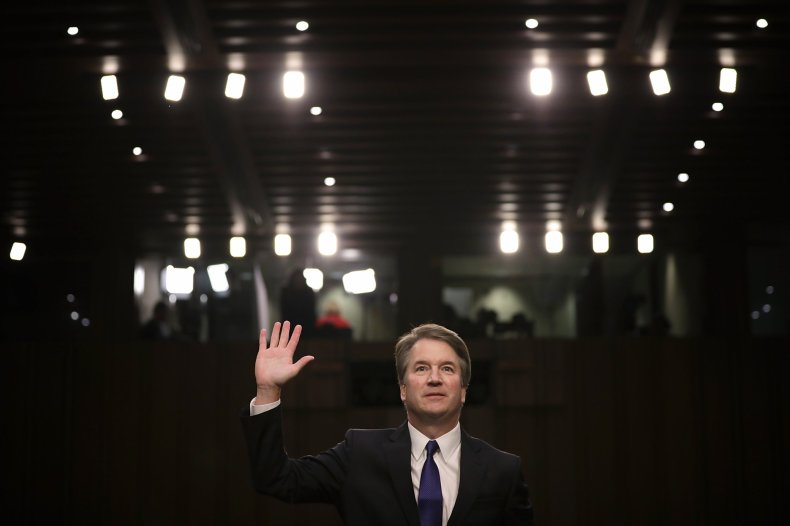 Both men have denied the accusation, with Judge telling The New York Times that he never witnessed such an attack and that such behavior would be out of character for Kavanaugh and his peers at Georgetown Preparatory School.
Judge's own writings about his time at the boys' school have come under scrutiny, writings in which Judge, now a journalist and author, described spending his high school days "swimming in alcohol" and lusting "after girls" from nearby Catholic schools.
While none of Judge's memoirs make any mention of the incident described by Ford, or any other alleged sexual assault, some have argued that they paint a picture of what Judge and Kavanaugh's teenage years were like, in addition to providing some insight into what the journalist's attitude toward women might be.
Even Judge's high school yearbook has come under the microscope, with The Washington Post pointing out that his own yearbook page includes a quote from Noel Coward that appears to support violence against women.
"Certain women should be struck regularly, like gongs," the quote reads.
In two memoirs, Judge also reportedly described attending a "masturbation class," having "lusted after girls" and attending alcohol-fueled parties.
In one memoir, titled Wasted and written in 1997, Judge mentions "Bart O' Kavanaugh" who gets drunk, passes out and throws up in a car. While it appears to be a reference to Brett Kavanaugh, Judge has not confirmed it as such.
In his 2005 memoir, God and Man at Georgetown Prep, Judge wrote that the school was "positively swimming in alcohol," adding that his class "partied with gusto–often right under the noses of our teachers," according to CNN.
In the same book, the journalist also wrote about forming the building blocks of his career by co-publishing an underground newspaper in his senior year, which focused on documenting his school's party scene.
In one issue, a music teacher at the school was pictured at a bachelor party "chugging a beer, surrounded by a group of us with raised mugs, sitting down while being entertained by [a] stripper," The Post reported.
Judge has said that his high school experiences sent him down a path toward alcoholism, which he said he recovered from once he rediscovered Catholicism.
In writings in the years since he graduated from high school, Judge seemed preoccupied with issues surrounding femininity and sexuality.
In one column written for The Daily Caller, Judge wrote that former President Barack Obama was the "first female president," asserting that the U.S. leader had more feminine traits than masculine.
He also claimed that former first lady Michelle Obama was "more man than her husband" due to "her love of violent movies, her fixation on fitness and death glare that appears when she doesn't like what she's hearing."
Read more: Tucker Carlson Thinks Kavanaugh Accusations Are About Abortion, Not Assault
The journalist has also written about sexual assault, railing against men accused of the act.
In a 2017 piece for the website Acculturated, Judge wrote about historic sexual assault allegations against conservative Senate candidate Roy Moore, writing: "There's never any excuse to rape" as he described the crime as being "almost akin to murder because the rapist kills a part of the human soul."
And yet Judge went on to write: "And yet, what women wear and their body language also send signals about their sexuality."
The journalist also wrote in 2015 for Splice Today about an "ambiguous middle ground" in which he said that rape could somehow be confused with shows of masculinity, arguing that "today's social justice warriors" simply "don't like a sexy damsel in distress.
"Of course, a man must be able to read a woman's signals, and it's a good thing that feminism is teaching young men that no means no and yes means yes," Judge wrote.
"But there's also that ambiguous middle ground, where the woman seems interested and indicates, whether verbally or not, that the man needs to prove himself to her. And if that man is any kind of man, he'll allow himself to feel the awesome power, the wonderful beauty, of uncontrollable male passion."
Former special counsel Ryan Goodman has pointed out how "damaging" Judge's writings could be to Kavanaugh.
Pointing to Judge's piece about the "ambiguous middle ground," Goodman wrote on Twitter that such statements could have an impact on Kavanaugh's case.
Judge appears to have deleted social media accounts after the allegations emerged against Kavanaugh.
Some have called that the journalist to be asked to testify under oath.
Both Kavanaugh and Ford are expected to provide their own testimonies before the Senate Judiciary Committee on Monday.
The vote on Kavanaugh's Supreme Court nomination has been suspended at least until senators have had a chance to hear from the judge and his accuser.