Who Is Ana Kasparian? 'Young Turks' Host's Roe v. Wade Speech Goes Viral
A clip of The Young Turks' host Ana Kasparian talking about religion and abortion from 2018 has resurfaced and gone viral on social media amid the bombshell news that the Supreme Court could overturn Roe v. Wade and reverse a half-century of recognizing abortion rights.
Who Is Ana Kasparian?
Kasparian is co-host and producer of The Young Turks (TYT), an online news show on YouTube that boasts 2.4 million subscribers and 45 million monthly uniques, according to Forbes. The magazine named Kasparian in its list of '30 Under 30' bright young leaders, entrepreneurs and stars in 2016.
The Los Angeles-born Kasparian is a child of Armenian immigrant parents. She began her career in journalism as an assistant producer for CBS Radio before eventually moving on to The Young Turks, a program created by commentator Cenk Uygur and is considered to be progressive and left-wing.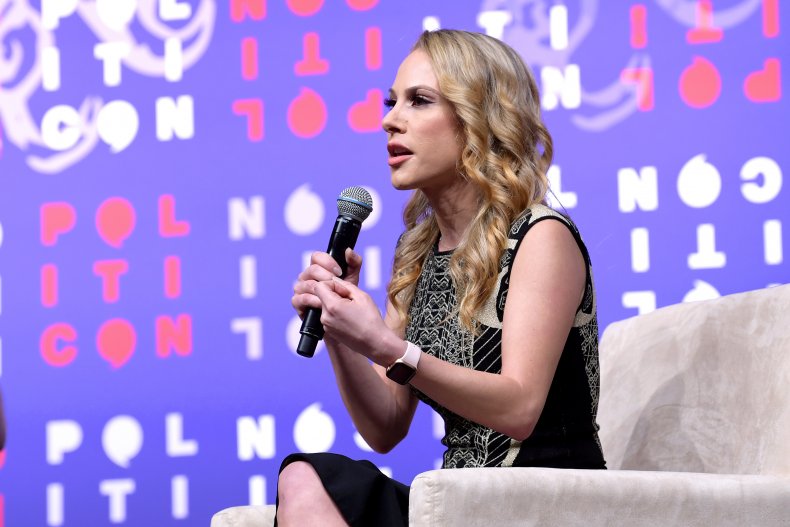 Kasparian, who's been at TYT since 2007, has often been referred to as opinionated and unapologetic in her commentary on current events. She is considered a star on the show, where she talks about politics, pop culture and lifestyle. The journalist holds a show for the channel called #NOFILTER, where she delivers her unfiltered opinion on all the latest events.
What's in the Viral Clip?
Talking about the debate between anti-abortion and abortion-rights activists in 2018, Kasparian gave fiery remarks about how the Bible has no say in telling women what to do with their bodies.
"These comments might be strong, but it's how I genuinely feel," says Kasparian in the now-viral clip from last year.
"I don't care that you're a Christian. I don't care what the Bible says. Like I feel like it's a clown show, sitting here trying to decipher what your little mythical book has to say about these very real political issues, right?
"I don't care if you're Christian. In fact, I will fight for you to have your religious liberty and practice your Christianity. I believe in that. I don't believe in Christianity, which means that you do not get to dictate the way I live my life based on your religion. I don't care what the Bible says. You have every right in the world—all those women who identify with your religion have every the right in the world to not get an abortion, to not take birth control. But they do not have the right to dictate my life and what I decide to do with my body."
"I don't care about your god**** religion. I'm so tired of having non-stop conversations about what the Bible says. You live your life in the way that you interpret the Bible—again, I don't care. But you don't get to take the Bible and tell me, 'Well, the Bible says this and this chapter and this verse'—I don't care. I don't believe in it, and I have the right based on our Constitution to not believe in it."
The resurfaced clip, shared on Twitter by user CH005Y, has generated over 245,000 views so far as of Thursday morning.
Kasparian is not less passionate about defending the right to abortion than she was last year. Reacting to the news from earlier this week that the Supreme Court might move to overturn Roe v. Wade, she yelled on air during The Young Turks.
"We don't even have paid family leave. We don't even have affordable child care in this freaking country. And the people who fight against those kinds of laws are Republicans. What do you want them to do with their kids when they have to go to work? What do you want them to do?" Kasparian said, urging journalists to ask Republicans about that.
The reemergence of the 2018 clip featuring Kasparian comes amid a recent Politico report about a leaked first draft majority opinion by the Supreme Court that indicated a possible reversal of the landmark decision Roe v. Wade on abortion rights. A final decision by the court, however, is not expected until a few months.
Newsweek has reached out to Kasparian for comment.
Correction 5/5/22, 11:22 AM ET: An earlier version of the story misstated that the earlier clip featuring Kasparian was from 2021. The correct date of the footage was 2018. We regret the error.