Who Is Paul Erickson? Boyfriend of Alleged Russian Spy Maria Butina Could Be Charged for Acting As Foreign Government Agent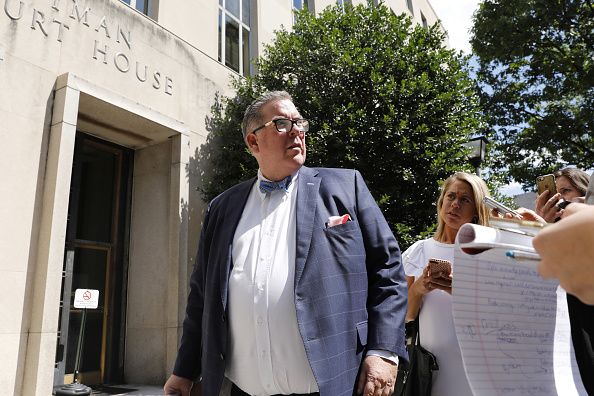 Paul Erickson, the boyfriend of accused Russian spy Maria Butina and a longtime Republican operative, may face charges.
In September, federal investigators sent Erickson a "charge letter" to inform him that he could be charged for acting as a foreign agent under Section 951 of the U.S. code, according to the Daily Beast. The letter also reportedly claimed that the Republican operative could face conspiracy charges.
A person is in violation of Section 951 if they act as an agent of a foreign government without informing the Attorney General. It is not clear if charges will be brought against Erickson, but officials from the Justice Department and the Senate Intelligence Committee are allegedly reaching out to his associates and looking into whether he worked on behalf of a foreign government.
The South Dakota native was active in local politics but dropped out of the political spotlight after a bad business deal landed him in a court battle with a fellow Republican. Some people who knew Erickson have called him a "conman," according to reports from South Dakota. Over the years, Erikson also allegedly wrote a Hollywood film, was involved in the national prayer breakfast in Washington, D.C., and was behind a television campaign to unseat former Senator Tom Daschle, a Democrat from that state.
In the 1980s, he also worked with anti-communist campaigns to send assistance to alleged "freedom fighters" in Afghanistan, Angola, Nicaragua and Lebanon.
Erickson's girlfriend, the 29-year-old American University graduate student Maria Butina, was arrested in July and charged with conspiracy. The Justice Department allegedly moved forward with her arrest because they were afraid that she would flee to Erickson's residence in South Dakota, where it would allegedly have been harder to monitor her.
Butina has been charged under Section 951 and with conspiracy. Prosecutors said that she had used Erickson's political connections to infiltrate the National Rifle Association (NRA) and other Republican circles on behalf of Russia. The FBI claimed that it had found a handwritten note in Butina's possession asking, "How to respond to FSB offer of employment?" referring to the Russian state intelligence organization.
"During the course of this investigation, the FBI has determined that Butina gained access through U.S. Person 1 to an extensive network of U.S. persons in positions to influence political activities in the United States. Butina, age 29, and U.S. Person 1, age 56, are believed to have cohabitated and been involved in a personal relationship during the course of Butina's activities in the United States," the court documents from Butina's case read.
Erickson, 56, is believed to be Person 1.
Butina also reportedly bragged about putting Russian officials in touch with the Trump campaign. Erickson also previously claimed to be working as an adviser to the Trump transition team. Butina also worked with Alexander Torshin, a Russian Central Bank official and an ally of Russian President Vladimir Putin. Torshin met with President Donald Trump's son, Donald Trump Jr., on the sidelines of an NRA convention in 2016, and some suspect that it was Butina who facilitated the meeting.
Erickson has reportedly visited Butina regularly in prison since her arrest. Butina's lawyer argued that she is just a student and that her relationship with Erickson was a legitimate one. As evidence of the sincerity of their feelings, Butina's lawyer presented a video of the couple singing Disney songs together.