Who Could Replace Jeremy Corbyn as Labour Leader?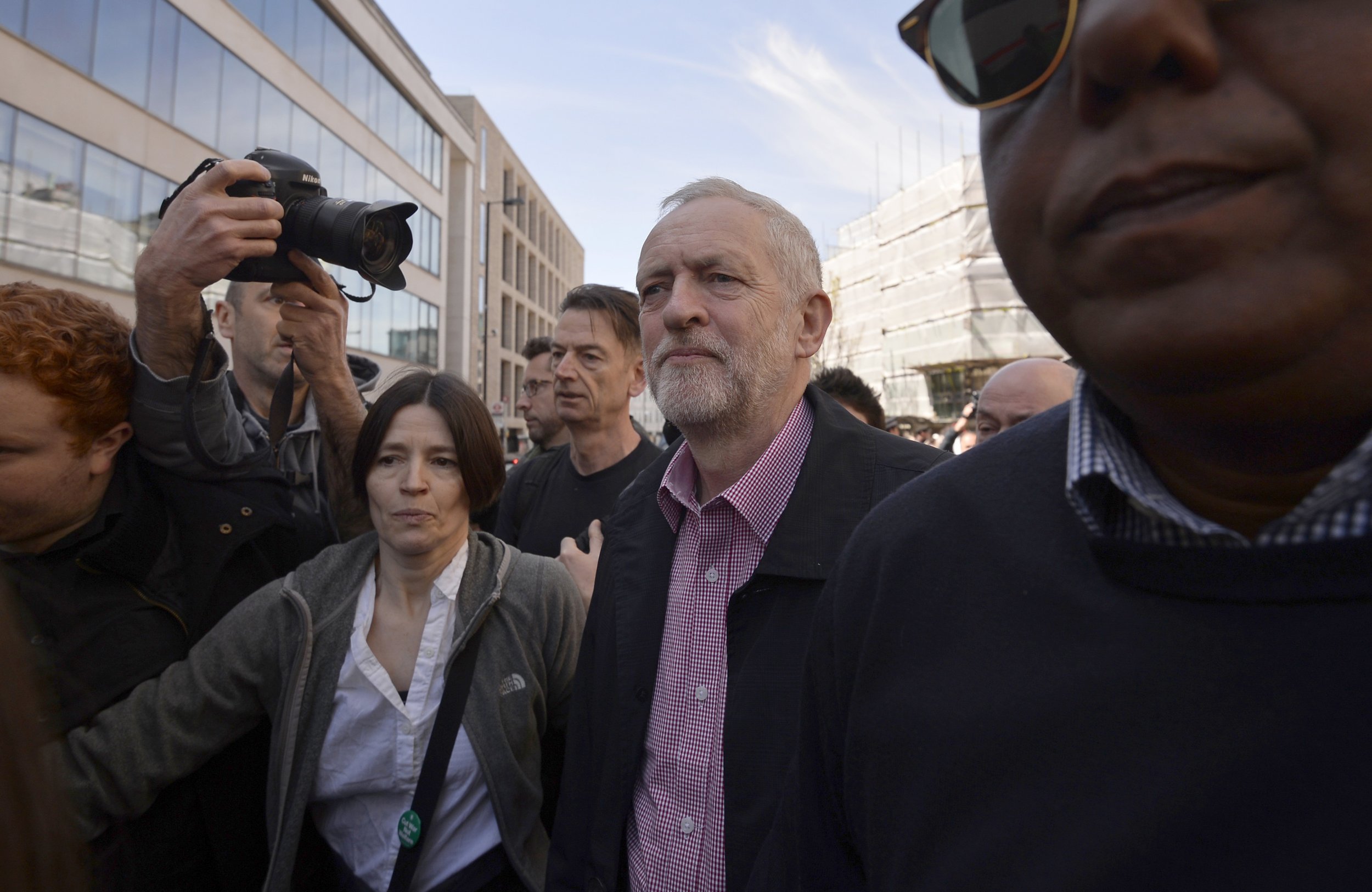 With Britain's Labour Party embroiled in a row over anti-Semitism and hurtling toward local elections on Thursday in which it could be set to lose as many as 150 council seats, attention is turning to the position of leader Jeremy Corbyn.
As virulently disliked by many of his MPs as he is adored by the left-wing membership that voted him in in a shock victory last summer, Corbyn has faced down threats and rumours of a coup almost since the moment he took office. Will this week mark the start of his demise?
The answer is still: Probably not. Despite persistently bad write-ups in the press, Corbyn's popularity among party members, who would likely make up the majority of voters in any leadership contest, has remained strong. And even though the party rulebook is ambiguous, many observers now think it would be difficult to keep him off the ballot against his will.
Nonetheless, rumours of potential moves against the leadership abound. One recurring theory says that once the upcoming EU membership referendum is out of the way on June 23, Corbyn's opponents can begin working in earnest. So, if Corbyn were to be pushed out (or even jump himself) who would take his place? Here's some possibilities.
The anointed one: John McDonnell
Corbyn and McDonnell, a fellow MP from the hard left who currently serves as Shadow Chancellor, effectively run a joint leadership already. Ken Livingstone, a key ally of Corbyn until his dramatic suspension last week, once named McDonnell as the natural follow-on if the Labour leader was "pushed under a bus."
McDonnell is the only likely contender whose views mostly align with Corbyn's. That's recognized by the membership: a recent poll of the Labour selectorate by elections analyst Ian Warren found a clear lead in the first round for McDonnell in a theoretical leadership race that did not include Corbyn.
He also couples his socialist politics—like Corbyn's unsullied by a career largely free of compromise until he took office—with a stronger tactical sense than Corbyn's. Often besting his leader's shabby chic by turning up to interviews and speeches in a slick suit, McDonnell has worked harder than most Corbynites to keep the party's focus on domestic issues, especially opposition to austerity, where his politics command wider support than on foreign and defence policy. He has sought to develop a surprisingly moderate, investment-focused economic position.
For his part, McDonnell insists he has no intention whatsoever of moving against his old ally.
Verdict: McDonnell could be Labour's great leap forwards… if he doesn't go down with his comrade.
The fall guy: Margaret Hodge
Hodge, a former minister in the Labour governments of Tony Blair and Gordon who rose to new prominence as the tough-talking chair of Public Accounts Committee during the last parliament, is well-known in Westminster circles but probably wouldn't be the obvious choice for opposition leader.
But a report in The Sun says that there's a plot underway to unite moderate MPs behind Hodge and seek to stage a coup. The thinking runs that she'd launch the challenge with the 50 MPs' nominations necessary to trigger a ballot, then bow out in favour of a centrist candidate who hadn't yet attracted fury from Corbyn's supporters.
She shouldn't be on this list really, but who knows, maybe she'd enjoy the power and make it to the end. Either way, it is an intriguing way round one of the Labour right's primary challenges—how to settle on an agreed candidate to challenge Corbyn. It might be ruined now, though, given that it's splashed all over the pages of the Corbyn lobby's least favourite tabloid.
Verdict: If her faux-bid materializes as reportedly planned, it could spark a serious crisis for Corbyn.
The bruiser: Tom Watson
Labour's deputy leader and once known as an arch-plotter (he was one of Gordon Brown's closest allies in his attempts to force his frenemy Tony Blair out of office), Watson is now Labour's Deputy Leader.
He has the rare asset of a "mandate" (a word never used so often in British public life as it was following Corbyn's shock victory) almost as large as Corbyn's. In the same September 2015 election that installed Corbyn, Watson became his deputy with just over 50 percent support in the third round of voting.
While he's largely worked—in public, anyway—to defuse rows and preserve party unity, Watson has not been afraid to weigh in and curb Corbyn's influence at key moments, such as in February when he vowed to back Prime Minister David Cameron in his support for renewing Britain's "Trident" nuclear deterrent regardless of how pro-disarmament Corbyn voted. Many of those around Watson are firmly Corbyn-skeptic.
Watson is also close with many in the trade unions, which comprise an important bloc of Corbyn's support.
Verdict: Watson has clout with the membership and with MPs, but he could end up tainted in a Corbyn collapse.
The young pretender: Dan Jarvis
Gushing testimonials to Jarvis, a rugged former soldier who entered parliament in 2011, as a potential future leader predate Corbyn's ascendency: he was among the top odds to replace former leader Ed Miliband when Miliband quit following a General Election loss in 2015. In the event, Jarvis chose not to stand.
Jarvis is reputed to be interested in the role, setting out his views on Labour's direction in a widely-covered speech this March. Despite substantial differences in ideology, he has been careful to remain fairly quiet on Corbyn, meaning he may not be so tainted in the eyes of the membership as many in the party's center. His charisma and back-story could mean he'd look less lofty and intellectual than Corbyn or Miliband, and more in touch with reality than Brown.
But many fear Jarvis, however bright his future prospects, is not yet ready for what would be the hardest job in British politics. His lack of parliamentary experience is matched with a vagueness in terms of his policy positions: it could be he needs another few years to develop and grow.
Verdict: One to watch, but not yet the Messiah many in the Labour center and right imagine.
The halfway house: Lisa Nandy
Often floated as a potential post-Corbyn unity candidate, Shadow Energy Secretary Nandy's "soft-left" politics could put her in line with both pro- and anti-Corbyn voters. That said, speculation around her has been a little less feverish since she told the New Statesman, "I genuinely don't want to do it, that's not what I've got in my mind."
Still, politicians don't always stick to their denials, and Nandy's pragmatism and lack of Corbyn's ideological baggage could stand in her favour.
The verdict: Not the favourite. But then, neither was Corbyn....
The big name: Hilary Benn
It's one of the great ironies of Corbyn's leadership that one of his most powerful foes so far has been Benn, son of Corbyn's greatest political hero, the late Tony Benn.
Hilary has long been known for placing himself further toward Labour's pro-intervention right than his father. His passionate speech in favour of launching air-strikes against the Islamic State in Syria, in defiance of his leader, earned near-hysterical praise from pundits and pro-strikes MPs. That alone means his omission from this list would probably have attracted comment.
But Benn might struggle with the membership. Many pro-Corbynites will probably never forgive him for his interventionist rabble-rousing, but a gagging clause imposed on him in return for keeping his job after that episode means he's since been unable to carve out a position distinct from the leadership. For what it's worth, he's also ruled out a bid.
The verdict: a big gun, but not necessarily for all the right reasons.
The quiet man: Owen Smith
Pontypridd MP and Shadow Work and Pensions Secretary Smith made the unusual (for a politician) step of saying what he actually wanted when asked by the New Statesman in January if he'd be interested in the leadership—it would be "an incredible honour and privilege" to do the job, he said (Newsweek is not sure Jeremy Corbyn would always agree with that view).
While not a particularly colorful or famous figure, Smith's brief has been one in which Labour have secured some of their best hits. He was one of the strongest voices opposing cuts to disability benefits —ultimately reversed—which undid Chancellor George Osborne's last budget.
The verdict: Stranger things have happened.
The ditherer: Chuka Umunna
Umunna, a polished London MP who was once a leading contender to succeed Ed Miliband, pulled out of the last Labour leadership race, citing undue intrusion into his family and private life. The question is whether he remains too damaged by that decision, and if he'd even want to consider another run so soon.
He's still popular among the party's center, and the Blairite wing who thought even Miliband was much too tough on business like his credibility in that area, as well as his strong media performances. He has also taken a strident role in the campaign to keep Britain in the European union.
Verdict: Umunna might struggle to re-start his leadership ambitions so soon.
This list isn't exhaustive: in the bag of squabbling ferrets that is the Parliamentary Labour Party, who knows who'd put themselves forward, and there's plenty of possibilities. Who have I missed? Let me know in the comments.